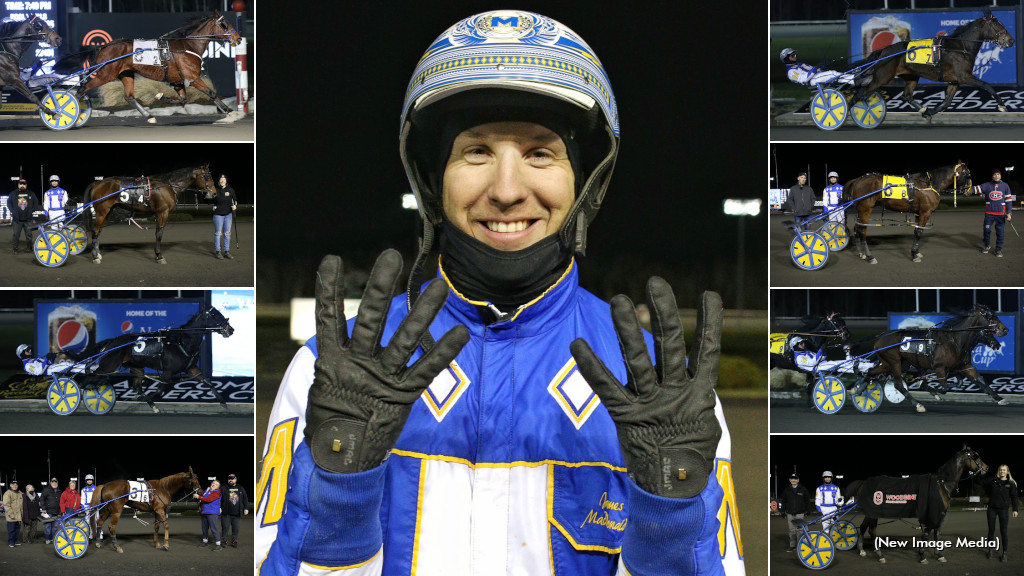 To say James MacDonald had a solid night at the office on Monday evening at Woodbine Mohawk Park would be a major understatement.
All he did was pound out a track record-setting eight wins on the 10-race card including a track record-equalling performance with trotter Locatelli in the $34,000 Preferred Trot.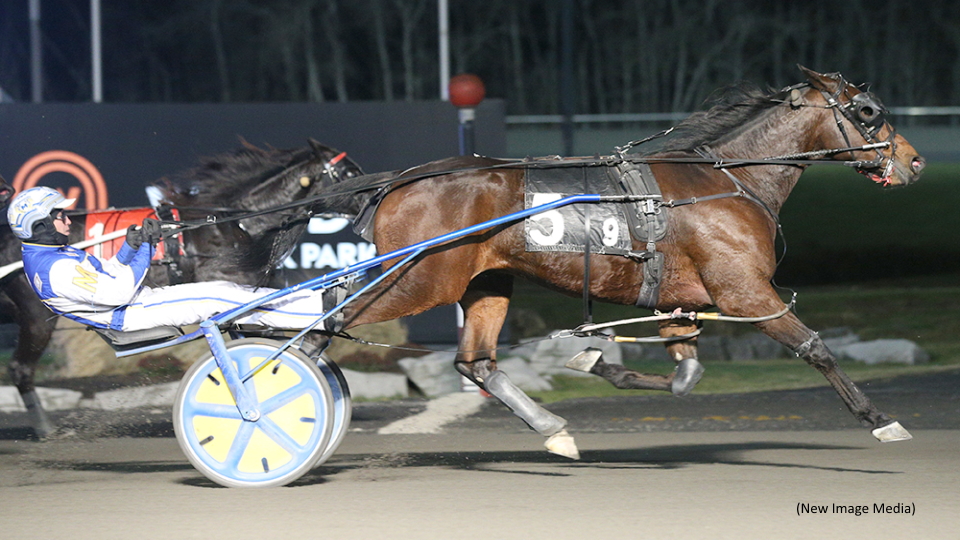 MacDonald hardly needs to make a late-season push to drum up support from the O'Brien Award voters, but it was pretty cool to sit back and watch the show.
The parade to victory lane kicked off with White Tiger, who produced a 1:53.2 triumph in Race 2. He later returned to take the checkered flag with Looks Like Moni in Race 4 following his 1:53.4 score.
A wire-to-wire triumph in 1:51.4 in Race 5 with Pointomygranson completed the hat trick, and from there it turned into a Grand Slam when he guided Resolute Bay to a 1:54.2 victory in Race 6.
Obtaining the five-bagger was next, and he did that with heavily favoured P L Opportunity in 1:55 in Race 7. He rallied Quan Blue Chip to a 1:52.3 triumph in Race 8 to give him his sixth win on the program.
MacDonald then wrote a new chapter in the track record book thanks to a track record-matching mile with Locatelli in the $34,000 Preferred Trot. The 1:50.4 clocking tied the record set earlier by older male trotters Mister Herbie (2012), Musical Rhythm (2019) and Guardian Angel AS (2019).
Locatelli sat a two-hole trip behind HP Mama B. She laid down big fractions of :26.3, :55.1 and 1:22.2 before being hauled down. Locatelli fired home in :28 to win by a length over Logan Park. Race favourite HP Mama B had to settle for third prize.
Harry Poulton, who celebrated a three-win performance on the card, trains the four-year-old son of Muscle Hill-Girlie Tough for Thestable Locatelli Group and Hutchison Harness LLC. He's won seven of 25 starts this season for earnings of over $140,000. The 11-time winner has banked just shy of $350,000 in his career.
The seventh victory on the card helped MacDonald tie Chris Christoforou's single night win record at a Woodbine Entertainment oval.
But he wasn't in the mood to share. He established a new record in the Monday finale with Never Mind N, who front-stepped to a 1:55.2 triumph in the $30,000 Pop Up Series Final.
Never Mind N got away fourth before quarter pole-moving to the engine. He sailed through fractions of :57 and 1:26.1 before scooting home in :29.1 to win by 1-1/4 lengths over Serenity Cruise in 1:55.2. Wishyoudtellme was third.
Carmen Auciello trains the nine-year-old for M T Stables Ontario Inc of Scarborough, Ont. The 18-time winner boosted his lifetime earnings to $184,268 with the win.
MacDonald is just over $400,000 away from surpassing the $10 million mark in seasonal earnings in this year's 430-win campaign. The career winner of 3,059 races has potted lifetime earnings in excess of $53 million.
To view results for Monday's card of harness racing, click the following link: Monday Results – Woodbine Mohawk Park.