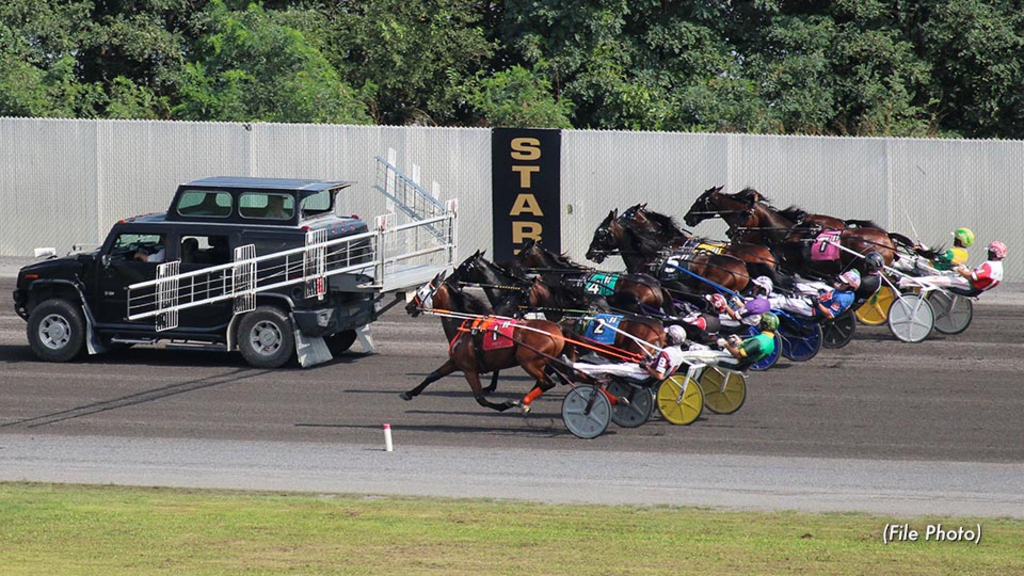 Master Swedish horseman Åke Svanstedt is the trainer of the powerhouse sophomore trotting filly Jiggy Jog S, winner of her Breeders Crown at Woodbine Mohawk Saturday evening. For an encore on Sunday afternoon (Oct. 30), he came to Harrah's Philadelphia and both trained and drove the two divisional winners of the $90,400 John Simpson Sr. Memorial Stakes for sophomore trotting fillies.
The first winner, the Father Patrick filly Virgin Mary S, was expected to win and did so with Svanstedt guiding her into the pocket behind pacesetter Unleashed Kemp. Stalking fractions of :28.4, :58, and 1:26.3, she then rallied up the inside to catch the pacesetter by a half length to equal her lifetime mark of 1:54.4. The winner is owned by Brochart Stable Inc.
The Svanstedt sweep concluded with 19-1 shot Ebbies Lady, who pulled from the pocket after the :27 quarter to take control in front of the stands. She put up middle splits of :56.3 and 1:24.4 while turning away first-over favourite Dreamonhigh, then held off the late-charging Palermo Hanover by a nose. Early leader Primadonna Deo was just a head away from taking it all in the 1:54 mile, which yielded a new mark to the victorious daughter of Southwind Frank. Åke Svanstedt Inc. shares ownership with Young Guns.
There was also a $85,200 event with two divisions for three-year-old pacing fillies as the Simpson Memorial series wound up its 2022 stay at Philly. In the first division, Todd McCarthy sent the American Ideal filly Gotthegreenlight through quick fractions of :26.3, :55 and 1:22, saw first-up favourite Captain Cowgirl back off after the latter station and then open enough of a lead to withstand the late charge of Valar Dohaeris (yet another Svanstedt, and on the pace no less) by 1-1/2 lengths in 1:51.1. Gotthegreenlight raised her lifetime earnings to $513,997 for trainer Richard "Nifty" Norman and the ownership of Patricia Stable and Kovach Stables LLC.
In the second Simpson cut, sire American Ideal completed a sweep as A Girl That Twirls lowered her mark to 1:50.4. Matt Kakaley sat third while Lyons Serenity posted the early splits of :26.4 and :55.1, moved uncovered down the backstretch to go by near the 1:23 three-quarters and then turned the stake into a romp with a 7-1/2-length winning margin for trainer Deborah Daguet and D Racing Stable Inc. A Girl That Twirls now has lifetime earnings of $296,748.
Five drivers had two wins each on the Sunday card: Todd McCarthy, Marcus Miller, Åke Svanstedt, meet leader Tim Tetrick, and Simon Allard. Allard continues his amazing streak of being Philly's top driver or co-top driver of the day during 13 of the track's last 15 cards, with 45 victories, an average of three a day, during that five-week period.
Racing is currently being conducted at Harrah's Philadelphia on a Thursday, Friday, Sunday basis; when action gets back underway on "Trottin' Thursday" (Nov. 3), the $16,200 fast-class handicap feature will find the likes of Hayek and Storm Is Raging looking to extend their current form streaks. There will also be a $2,289.58 carryover into the day's Pick 4 on the first four races.
(PHHA / Harrah's Philadelphia)