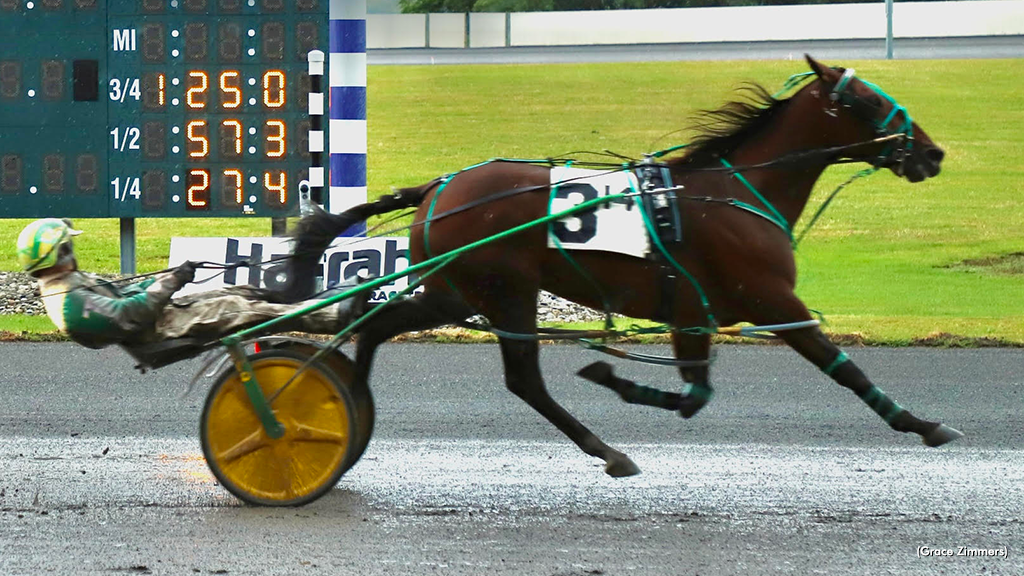 The pacing female specialists, Team Tetrick-King, won both $30,000 divisions of the Liberty Bell Stakes for three-year-old pacing fillies at Harrah's Philadelphia on Sunday afternoon (Sept. 25) while a pair of sons of Captaintreacherous were victorious in the two sections of the stakes for their colt counterparts, as the Liberty Bell stakes completed a four-day "mini-Grand Circuit" at Philly.
Beyond that, George Napolitano Jr. won just about anything else on Sunday.
The 56-year-old Napolitano, sixth in the 2022 drivers win statistics and sixth all-time among active North American drivers with 11,487 victories, won eight races on the Sunday card at Philly, where a mid-program rain didn't change the track from a "fast" condition but did slow some of the later races. Nothing or no one slowed Napolitano. His numbers for the day were 14-8-3-1 for a batting average of .714 while going over $1 million in purses for the local 2022 season, and he had a second at 12-1 and a third in three stakes drives as well.
And the afternoon was vintage "George Nap": seven of his winners came behind favourites, one behind a second choice; six of his winners traveled the front and two rallied from the pocket.
Napolitano's stakes second came with the filly Lydeo behind Captain Cowgirl, who lived to her 1-20 backing with a four-length tally in 1:53.4 in her Liberty Bell section. The daughter of Captaintreacherous boosted her record to six-for-nine and $318,804 this campaign and 11-for-18 and $569,875 lifetime for driver Tim Tetrick, trainer Jim King Jr., and owners Jo-Ann Looney King and Kenneth Frieder. Captain Cowgirl continues to hold her form after her record-setting Sires Stakes season when she became the first pacer ever to win both her preliminary point crown and her Sires Stakes championship at both two and three, and her Sires Stakes earnings of $264,374 were the most ever by a sophomore.
Tetrick and King also won the other filly section with the Sweet Lou mare Lyons Serenity, who had made breaks in her last two, and so Tetrick let her ramble early and she bottomed out the field, staying a half-length to the good of Heartbreak Hotel after that one menaced late in 1:51.3 before the rain came. Threelyonsracing owns the career earner of $305,064.
To add to his filly victory, Captaintreacherous got both siring credits in the Liberty Bell races for the misses' male counterparts. Before the rain, it was the colt Captain Cowboy (yes, a Cowboy and a Cowgirl both won), rallying up the inside for a half-length win over Code Cracker in 1:51.4 for trainer-driver Åke Svanstedt, who co-owns the winner of $251,194 with Little E LLC and PCW Racing LLC.
A gelded son of Captaintreacherous won his stake section, also going in 1:51.4, and Energetic Hanover may have had an even-better mile in that it rained hard during his race, and he had to overcome the tough first-over trip. The aptly-named "Energetic" still won by 1-3/4 lengths over Unsung Hero to raise his bankroll to $111,099 for the father/son team of trainer Brett and driver Jack Pelling and the partnership of David Mc Duffee, Melvin Hartman, Steven Arnold, and Paul Bordogna.
Harrah's Philly is currently racing on Thursdays and Fridays at 12:25 p.m. and Sundays at 12:40 p.m.; Thursday's action will feature a $22,500 handicap trot for seasoned fast-class performers.
(PHHA / Harrah's Philadelphia)