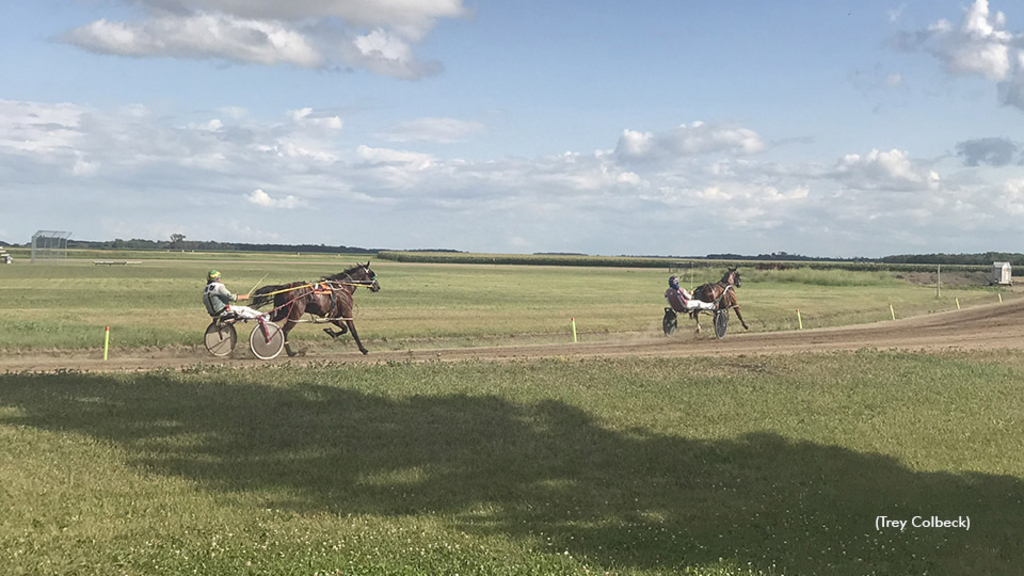 Jacqueline Grundy trainee AK Up N Attem held off his rivals to score in the $11,002 Golden Boy Stake on closing day at the Miami Fair Saturday (Sept. 3) as part of a three-win day for the trainer. 
Driver Tyler Grundy protected position with AK Up N Attem off the wings and led the field to the quarter in :30.1. Emmetts Buddy pulled from third to race wide and apply minor pressure to the pacesetter through a 1:01.2 half and three-quarters in 1:31.1. Rounding the final turn, Emmetts Buddy began gathering steam and inching closer to the leader. The Andreoli Hanover gelding's lead diminished through the stretch, however he held firm to the finish of a 2:01.1 mile to win by a nose. Jimmysinthehouse finished third and Jay Dees Scooter took fourth.
Co-owned by Jacqueline Grundy with driver Tyler Grundy, AK Up N Attem won his sixth race from 17 starts and pushed his earnings to $18,666. 
Grundy also conditions Andys Treasure, who took the $12,460 Juvenile Stake in 2:05.1. The Andreoli Hanover colt swept from third after a :32.1 first quarter to lead past a 1:05 half. He was chased to three-quarters in 1:35 by AK Nite Lady but cruised for home to win by 3-1/2 lengths. Irish Luke, who led at the first quarter, faded to third and AK BLack Badger finished fourth.
A homebred for Aurel Vodon, Andys Treasure won his third race from four starts and has now earned $13,130. Tyler Grundy sat in the sulky.
Jacqueline Grundy's other win came in the second race on the card with Pure Addition, who took the $4,000 Fillies and Mares Pace going coast-to-coast in 1:59.1. The six-year-old Riverboat King mare stopped the clock in 1:59.1 to win by a length over HF Flower with Sheslikefinewine third. Aurel Vodon owns Pure Addition, who won her 33rd race from 86 starts and has now banked $126,089. Tyler Grundy sat in the bike.
In the $10,722 Silk Lace Stake, Skys Little Spunk pushed from the pylon post to lead every step and win in 2:03.2. Driver Blake Piwniuk planted the Armbro Baylor filly on the lead through early splits of :30.3 and 1:02.4 before facing a first-over challenge by This Girl Rules to three-quarters in 1:32.3. She easily repelled that challenger and strode for home 1-1/2 lengths better than pocket-sitter Sassy Libby. This Girl Rules held third and AK Flippr Da Bird finished fourth.
Richard Rey owns and trains Skys Little Spunk, a filly he bred who won her first race from 13 starts and has now earned $9,340. 
Woodmere Alvin swooped from last late in the card to take the $4,200 Horses & Geldings Open Pace. With West Coast Beach laying the gauntlet while pressed by first-over Tagoras through fractions of :28.3, :58.3 and 1:28.1, driver Kirk Rogers sprung Woodmere Alvin into action around the final turn and darted by his tired competition to win by 1-3/4 lengths in 1:59.1. Helter Skelter, off a pocket trip, finished second over West Coast Beach. The four-year-old Rollwithitharry gelding races for owners Don Howlett and Blair Kidd while Mathew Howlett trains. The gelding won his 16th race from 55 starts and has now earned $89,946. 
Trainer Travis Ellis wrapped the meet with another multi-win day, taking four on the card. His trainees Cartiere (winning in 2:00.1), Leisure Suit Larry (1:58.3), Two To Ten (1:59.2) and Farasthe Eyecansee (2:00.2) all visited the winner's circle.
No betting was handled at the Miami Fair on Saturday due to the mutuals being down. 
To view Saturday's harness racing results, click the following link: Saturday Results - Miami Fair.