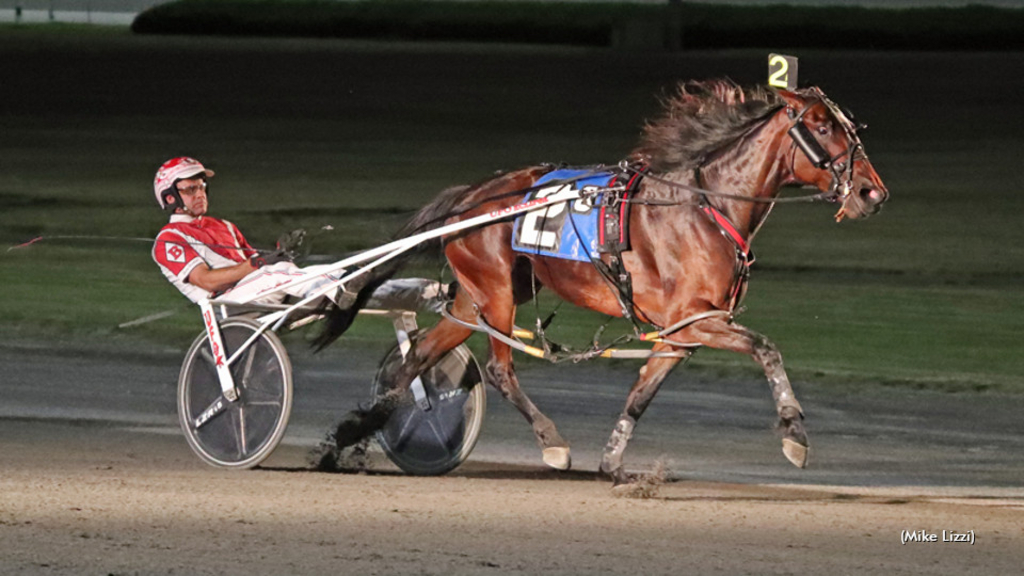 Gotthegreenlight is always ready to go.
"It doesn't matter where she's been, or how late you get home, or how hard she's raced, in the morning she's got her head out of her stall, her ears up, banging the gate looking for action," trainer Nifty Norman said about the three-year-old female pacer. "She's just a good all-around honest horse."
Gotthegreenlight has won 14 of 21 career races and earned $456,785. She was a New York Sire Stakes champion last year and this July was a dead-heat winner of the Park MGM Pace at Yonkers Raceway. Eleven days later at Yonkers, she won a division of the New York Sire Stakes in 1:51.3, setting the track record for three-year-old female pacers. The previous mark of 1:51.4 had been set in 2013 by Charisma Hanover.
On Sunday, Gotthegreenlight will go in the first of two $111,500 divisions of the Empire Breeders Classic for three-year-old female pacers at Tioga Downs. She will start from post six in the seven-horse field with Jason Bartlett in the sulky.
Gotthegreenlight has won five of her past six races this season, and six of nine overall.
"She's been good again this year and that doesn't happen all the time," said Norman. "Just like most of them, she's a little bigger and nicer looking [than last year]. She's a lot more settled. Last year, you had to be careful with her because she could get hot. This year, she's very relaxed and very professional, so she's pretty easy to train."
Gotthegreenlight, by American Ideal, was purchased for $40,000 at the 2020 Standardbred Horse Sale and is owned by Patricia Stable and Kovach Stables. Her full brother, Ideal Wheel, was a Grand Circuit winner and her mom, Bet On Luck, was a New York Sire Stakes champion. Bet On Luck's full sister, Bettor B Lucky, was a Grand Circuit winner and Empire Breeders Classic champ.
"I liked the look of her," Norman said about buying Gotthegreenlight as a yearling. "She had a great neck and shoulder on her, just a real athletic-looking filly."
When her career began, Norman was uncertain of Gotthegreenlight's talent level, but she won her first four races and eight of her first nine. In her second start, at The Meadowlands, she won in 1:51.2 with a :26 final quarter-mile. Later in the year, also at The Big M, she won in 1:51 with a :26.1 final panel. Her 1:51 mile tied for eighth fastest among two-year-old female pacers in 2021.
"She's got a big move," said Norman. "She can leave good if you want to, but that's not really her strong point. I think she's better off a helmet. She wants to hunt a horse down. She's just a competitor."
Gotthegreenlight is the 3-1 second choice in the first Empire Breeders Classic division. Julie Miller-trained Max Contract, who last weekend had a four-race win streak snapped by a third-place finish in the James M. Lynch Memorial, is the 2-1 favourite. She has won five of seven races this year, including three Grand Circuit stakes.
Norman also has a starter in the second Empire Breeders Classic filly division, Nadina Hanover, who is 8-1. She has won four of 11 races this year and is owned by Dune Road Stables. She will be heading to the New York Excelsior Series final in September.
"She's got good gate speed and she's very honest," said Norman. "She's no star but tries harder than most."
The 2-1 favourite in the second division for filly pacers is Ake Svanstedt-trained Valar Dohaeris. In her most recent five starts, all in the New York Sire Stakes, she has posted a win, two seconds and two thirds.
There also will be two Empire Breeders Classic divisions for three-year-old male pacers Sunday at Tioga Downs.
Shakertown, who has won back-to-back starts in the Excelsior Series for trainer Tony Alagna, is the 2-1 favourite in the $122,000 first division.
Early Action, a five-time winner on the Grand Circuit in 2021 including the Governor's Cup, is the 2-1 choice in the $120,700 second division. The Joe Holloway trainee is seeking his first victory this season and is coming off a second-place finish in the Max C. Hempt Consolation I last weekend.
Racing begins at 1 p.m. (EDT) Sunday at Tioga Downs. The EBC filly divisions are races nine and 11 on the 14-race card. The EBC colt and gelding divisions are races seven and 10. For complete entries, click here.
(USTA)