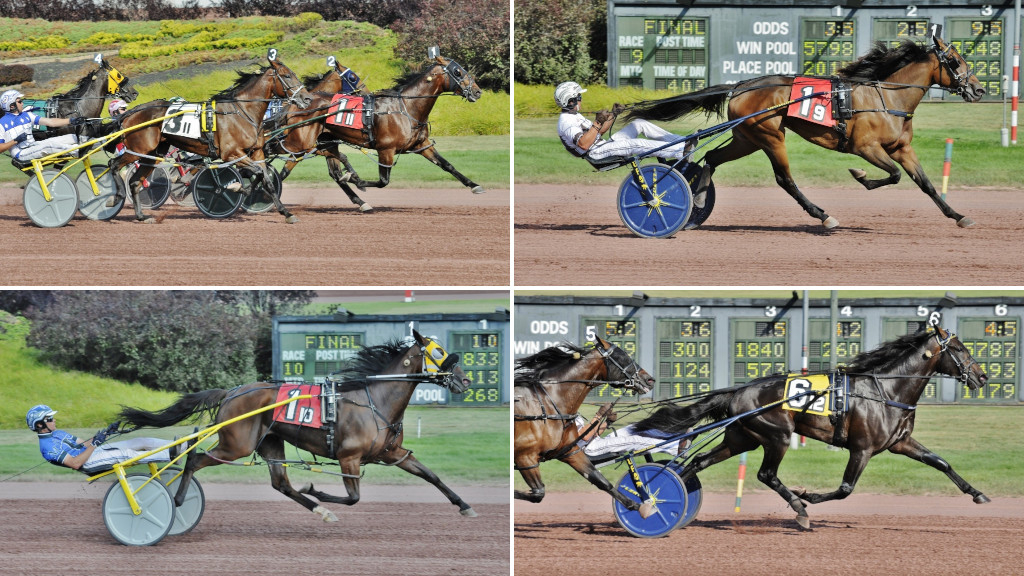 Bythemissal was able to get the best of Beach Glass in the 2022 Delvin Miller Adios three weeks back, but Beach Glass got his revenge in the 2022 Max C. Hempt Memorial Final on Saturday (Aug. 20) at The Downs at Mohegan Sun Pocono as part of the star-studded Sun Stakes Saturday card.
Recaps follow for the the main events on the card, including the $300,000 Max C. Hempt Memorial for three-year-old male pacers,$300,000 Earl Beal Jr. Memorial for three-year-old male trotters, $250,000 James M. Lynch Memorial for three-year-old female pacers, and the $250,000 Delmonica Hanover for three-year-old female trotters as well as the $100,000 Sebastian K Invitational for older trotters and the $100,000 Always B Miki Invitational for older pacers.
2022 MAX C. HEMPT MEMORIAL PACE
The importance of track geometry was never shown more clearly than in the $300,000 Max C. Hempt Memorial Pace for three-year-old males, as Beach Glass and driver Yannick Gingras took full advantage of the rail to defeat "hot horse" and favourite Bythemissal in 1:50.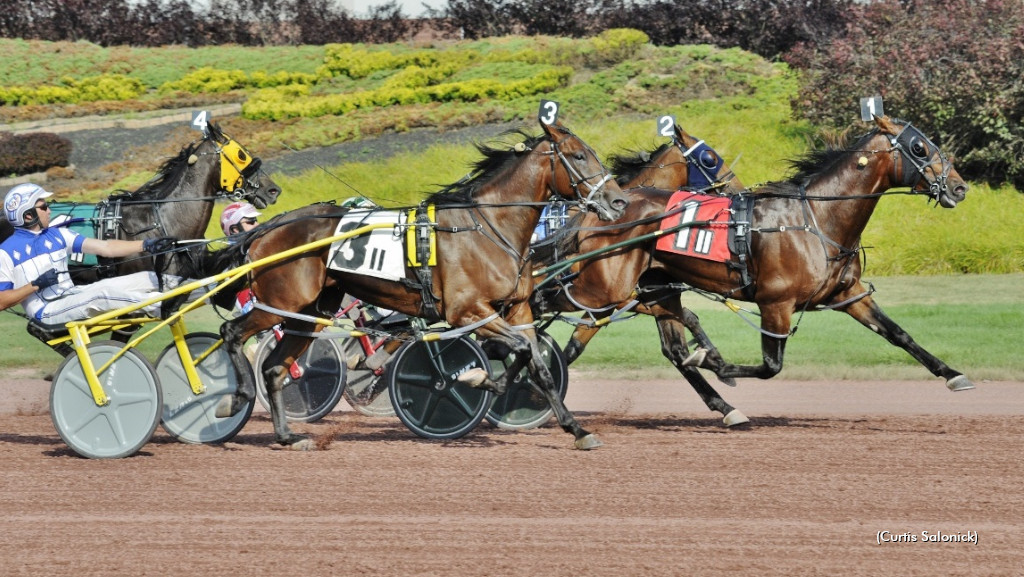 Beach Glass and Bythemissal, who started from post three, had their hooves all the way down on the accelerator early, with Beach Glass able to keep Bythemissal outside en route to a searing :25.2 quarter before the latter tucked second. The hoof shifted from gas to brake in the second quarter, with Beach Glass able to back the half off to :55.1. Bythemissal (Chris Page) came back for more first-over down the back, with the three-quarters reached in 1:22 (partially attributable to the backstretch tailwind / homestretch headwind).
It wasn't just these two colts slugging it out late: Layton Hanover, at 80-1, menaced in the Pocono Pike, and Fourever Boy was narrowing in quickly. But it was Beach Glass, a colt by trainer Brent MacGrath's beloved Somebeachsomewhere, who earned the half-length decision.
"He needed the week off," MacGrath noted after the race, "and he trained really well this week." He ended his interview with the understatement of the day: "Post position means a lot."
Beach Glass (Somebeachsomewhere - Im With Her) now sports a 6-3-0 record from nine seasonal starts, with a 9-4-0 summary lifetime. The winner's share of the purse lifts his career total to $991,025 for owner - breeder Schooner II Stable of Truro, N.S.
Max C. Hempt Consolations
The $200,000 Hempt Consolation II saw last year's late-season sensation Early Action streak out to a :25.4 opener and continue on the lead, with Greatest Ending sitting in the pocket and Nautical Hanover battling first-over. As they turned for home, driver Mark MacDonald took Greatest Ending to the inside, and the Somebeachsomewhere colt dug in and outfooted Early Action by a half-length while equaling his mark in 1:50.3.
Dr. Ian Moore conditions the winner, who more than doubled his lifetime bankroll to $190,389 for owner Reg Petitpas.
The $100,000 Hempt Consolation II saw the Burke Brigade finish 1-2 after being at opposite ends of the pack at headstretch: the Sweet Lou gelding JMs Finaltreasure took over the lead near the second turn, then hung on over a tightly-packed group in 1:52 for driver Yannick Gingras and the ownership of Burke Racing Stable LLC, Weaver Bruscemi LLC, J&T Silva- Purnel & Libby, and Phil Collura. Birthday, last as they turned for home, came flying home to finish only a head back.
2022 EARL BEAL JR. MEMORIAL
Temporal Hanover got the lead prior to the opening quarter and stayed on top from there, winning Saturday's $300,000 Earl Beal Jr. Memorial for three-year-old male trotters by one length over Pretender in 1:53. Pour Mea Double finished third and Hambletonian champ Cool Papa Bell was fourth despite making a break at the start.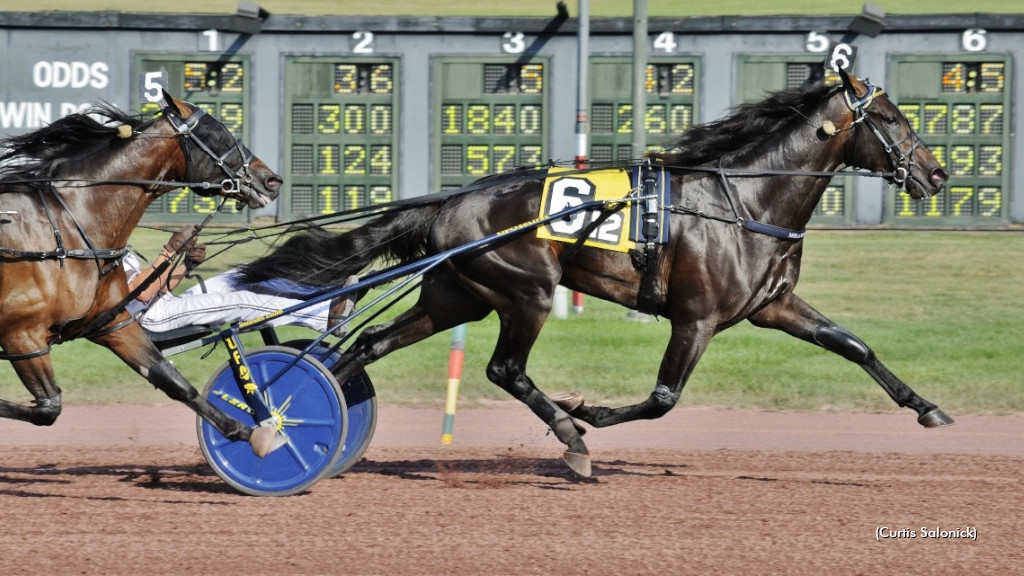 Temporal Hanover, who was beaten by three-quarters of a length in finishing third in the Hambletonian final on Aug. 6 and by a head in his Hambo elimination a week earlier, took the field through fractions of :26.4, :56.3, and 1:24.4 to capture the Beal as the 4-5 favourite.
"He was used a little hard, but I figured I was going to try to steal as much as I could going to the half," winning driver Brian Sears told Derick Giwner. "He kicked home.
"This horse really deserves it. He's been racing great all year. He's won a couple big ones, and he deserves another."
Temporal Hanover, trained by Marcus Melander, won the Dr. Harry M. Zweig Memorial Main Event on July 9 and has posted four wins, three seconds, and a third in eight starts this season. He was a multiple Grand Circuit winner last year.
"It worked out perfectly today," Melander said. "It's a little tough to go to the lead because there are some strong winds out there, so he did a good job.
"He's a good horse, he's an honest horse, and he's been racing good all year. He was first over both the eliminations and final of the Hambletonian, so I thought he was going to have a good shot today."
Temporal Hanover is owned by AMG Stable, Kenneth Kjellgren, Rick Wahlstedt, and Heights Stable. The colt, a son of Walner-Think Twice, was bred by Hanover Shoe Farms. For his career, he has won nine of 20 races and earned $766,291.
He paid $3.80 to win.
The Earl Beal Jr. Memorial honours the former president of the Pennsylvania Harness Horsemen's Association who helped bring casino gaming to the state's racetracks.
Beal Consolations
In the $200,000 Beal Consolation I, Molotov Cocktail settled in fourth as World At War Deo and King Of The North battled head-to-head to the half, circled three-wide on the backstretch, picked up cover from El Toro Loco on the final turn, and marched to victory by three-quarters of a length over B A Superhero in 1:52.4. El Toro Loco was third.
Molotov Cocktail, the 8-5 favourite, was driven by Brian Sears for trainer Linda Toscano. The colt is owned by Richard Gutnick, Tom Pontone, and Gary Cocco. The son of Chapter Seven-Moonlight Cocktail was bred by Gutnick and T L P Stable. He has won seven of 15 lifetime races and earned $348,952.
In the $100,000 Beal Consolation II, Stride The Hill left quickly from post six to get good early position, was on the pylons in third at three-quarters, and rallied inside through the lane following a misstep by favorite Robertsin to win by three-quarters of a length over Nice Guy Eddie in 1:53.3. Famous Father finished third.
Stride The Hill, sent off at 9-1, was driven by Tim Tetrick for trainer Jim Campbell. The gelding is owned by Fashion Farms. A son of Muscle Hill-Open Access, he was bred by Fair Winds Farm. For his career, Stride The Hill has won four of 20 races and earned $136,652.
2022 JAMES M. LYNCH MEMORIAL
Sweet Kisses continued her winning ways with a second consecutive Grand Circuit stakes upset, capturing Saturday's $250,000 James M. Lynch Memorial for three-year-old female pacers by 1-3/4 lengths over Sea Silk in 1:50 at The Downs at Mohegan Sun Pocono. Max Contract finished third.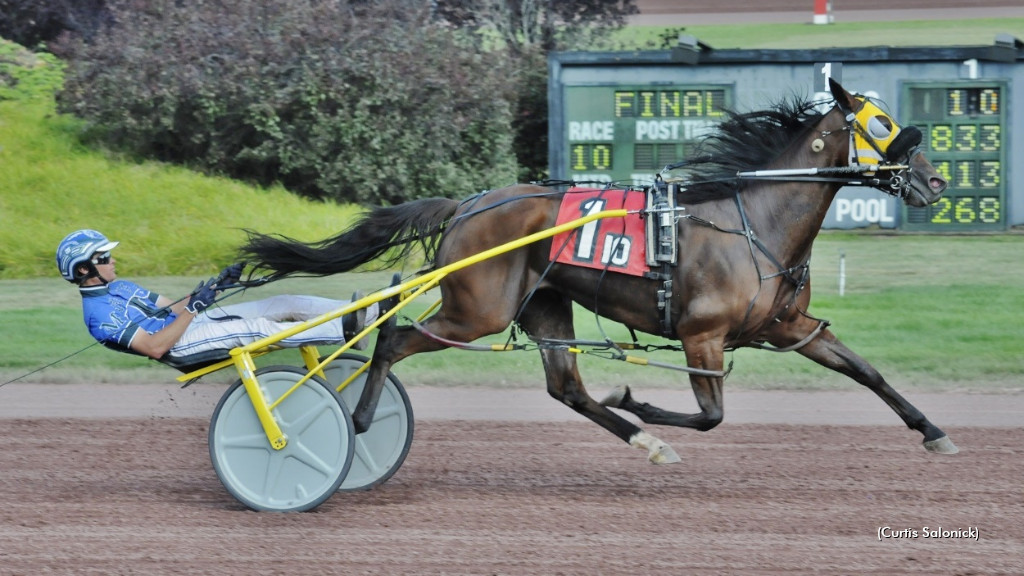 Sweet Kisses, who won the Adioo Volo on July 30 at odds of 34-1, scored in the Lynch at 10-1 for driver Todd McCarthy and trainer Ron Burke. It was the filly's fourth consecutive victory and fifth in her past six starts, with the setback coming by a head.
McCarthy and Sweet Kisses were fourth as 6-5 favourite Max Contract, who brought a four-race win streak to the Lynch, led the field to the opening quarter in :26.1 and half in :54.2. Sweet Kisses started to make a move on the backstretch and picked up cover from second-place Sea Silk, who came first over on Max Contract as they hit three-quarters in 1:21.4.
Coming off the final turn, Sweet Kisses moved to the centre of the track and stormed past her rivals in the stretch to get her sixth win in 11 starts this season.
"I knew that I was going to be following a good one from the half," McCarthy said. "When I turned her loose at the top of the stretch, she had a big heart about it and wanted to go forward. I was very pleased."
McCarthy, who won last year's Lynch with Grace Hill in a stakes-record 1:49, said the track conditions were favourable for horses to come from off the pace.
"If you use them a little bit too much early, they seem to struggle getting home a little bit, not to mention there is a little bit of a headwind in the stretch too," McCarthy said. "It's making for very fair racing."
Saturday marked the first time McCarthy drove Sweet Kisses.
"You're always grateful to pick up drives in these kinds of races, especially one of Ronnie's because you know he's going to have them spot-on," McCarthy said. "I'm super appreciative for that. He told me a little bit about her, and he couldn't have been more correct. She raced super. True to his word, she was terrific."
Sweet Kisses is owned by Burke Racing Stable, J&T Silva-Purnel & Libby, Knox Services, and Phil Collura. She is a daughter of Sweet Lou - Kiss Me and was bred by Concord Stud Farm. For her career, she has won eight of 14 races and earned $243,077.
She paid $22.40 to win.
Lynch Consolations
In the $125,000 Lynch Consolation I, Balance was fifth on the final turn before tipping off the pylons and rallying on the far outside of a five-horse battle to the wire to win by a neck over Just Divine in a lifetime-best 1:51.2. Galleria Hanover was fourth-placed-third, swapping places with Sweet Treasure who was dropped for a passing lane violation.
Balance, the 4-1 third choice, was driven by Dexter Dunn for trainer Nancy Takter. She is owned by Diamond Creek Racing and Crossover Racing. The filly, a daughter of Bettors Delight - West Of L A, was bred by Robert McIntosh Stables, C S X Stables, and Al McIntosh Holdings. Balance has won four of 16 career races and earned $292,847.
In the $75,000 Lynch Consolation II, Free To Be Me was fifth on the inside at three-quarters but angled wide coming off the final turn and sprinted to a career-best 1:51.4 win by a half-length over Miss Helen Hanover. Eager To Please finished third.
Free To Be Me, sent off as the 4-1 third choice, was driven by Matt Kakaley for trainer Jake Leamon. The filly is owned by Saulsbrook Stables, Michael McKenzie, and Edward Gorc. The daughter of Always B Miki - Indulge Me was bred by Stonegate Standardbred Farms. She has won six of 17 career races and earned $71,720.
2022 DELMONICA HANOVER TROT

Joviality S continued her lifelong devastating form in the $250,000 Delmonica Hanover Trot for sophomore fillies, going up uncovered on Jiggy Jog S then going past her approaching headstretch then drawing off to win by 4-1/2 lengths in 1:51.3, a stakes record and equaling the track record co-held by Check Me Out (2012) and Designed To Be (2014).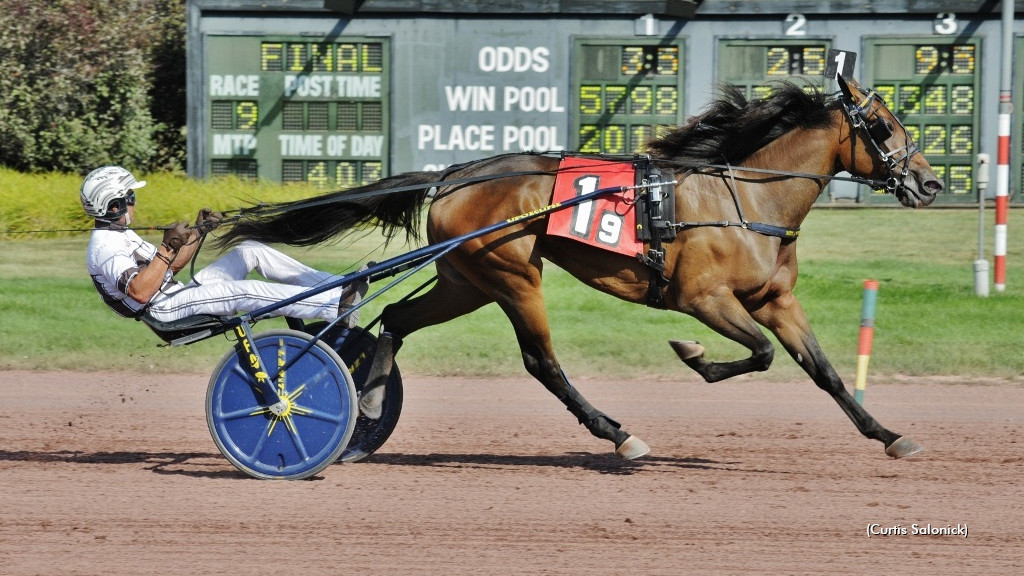 Brian Sears, who in post-race comments remarked how easy the Chapter Seven filly is to drive, sat third while Pink Coco Chanel left strongly to take over the racetrack before the :26.3 quarter and extended Jiggy Jog S before letting her go to the top at three-eighths, hitting the half in :55.1. Sears came uncovered with the winner of $1,616,818 down the backstretch, trotted up to the leader by the 1:23 three-quarters and powered right past her on the turn (coming out of which Jiggy Jog S broke), and finished out strongly on her own ability.
Owned by Courant Inc., Joviality S combined with Temporal Hanover to give trainer Marcus Melander a sweep of the day's top sophomore trots. She extended her extraordinary record to 9-7-1-1 and 21-16-3-1 lifetime, with many late seasoned rich races to come, and then a decision about her future.
Delmonica Hanover Consolation
Misswalner Fashion won the Continentalvictory in her last time after closing front last to first in the last stanza. In the $125,000 Delmonica Hanover Consolation, Tim Tetrick sent the Walner filly to the lead in front of the stands and kept her going to the wire for a 1:53.4 success by a length. Misswalner Fashion is trained by Jim Campbell, the star of Hambletonian Day two weeks ago, for owner Jules Siegel. Second after racing first-over was another Fashion Farms/Campbell product, Design Fashion.
SEBASTIAN K AND ALWAYS B MIKI INVITATIONALS
Allywag Hanover was a repeat winner in the $100,000 Always B Miki Pace for older stars during Sun Stakes Saturday at The Downs at Mohegan Sun Pocono, with Todd McCarthy in his usual perch behind last year's divisional champion – while Todd's brother Andrew accounted for the $100,000 Sebastian K S Trot, the companion event, in an impressive 1:51.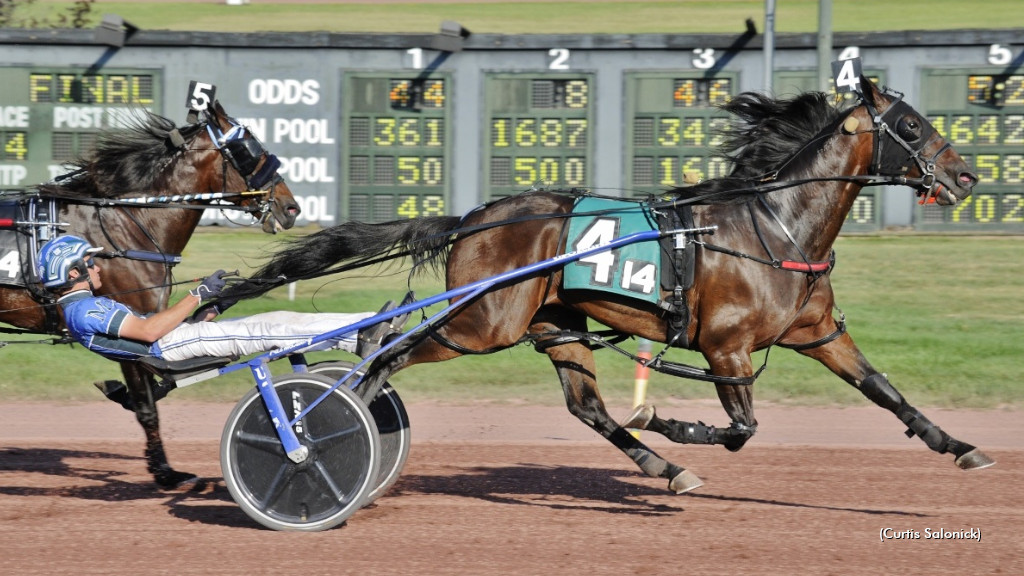 Allywag Hanover, a Captaintreacherous gelding owned by Allywag Stable, left from post four and turned loose American Courage, who left just outside him, not that long before a :25.2 opening stanza. The third fast early starter was Ruthless Hanover, from post eight, but after going three-wide the first three-sixteenths, he could not make the lead or the pocket, and was doomed to taking the air through fractions of :54.2 and 1:21.2. After those fractions anybody would melt off, and the last eighth became a stout battle between American Courage and Allywag Hanover, with "Allywag" finding the extra gear to gain into the :27 kicker and turn back his game foe by a length.
After the race trainer Brett Pelling noted that "this is really his ideal trip – second-in, third-in, chasing after someone. I'd rather have him with someone to pace to than be on the lead." Pelling indicated the horse's near-future itinerary included stops at Dayton, Hoosier, and The Red Mile.
The Trixton four-year-old stallion Cuatro De Julio was just about as impressive a winner as anybody in the Sebastian K, leaving behind two millionaire mares, Bella Bellini (third) and When Dovescry (break), and other tough opponents by moving at the :27 quarter and getting the lead, posting midsplits of :55.3 and 1:23.2 before finishing the mile two lengths ahead of two-holer Hillexotic. (Note: If you think you've detected a speed/inside bias on the day, you're correct; only three winners were successful using an overland route for most of the last half.)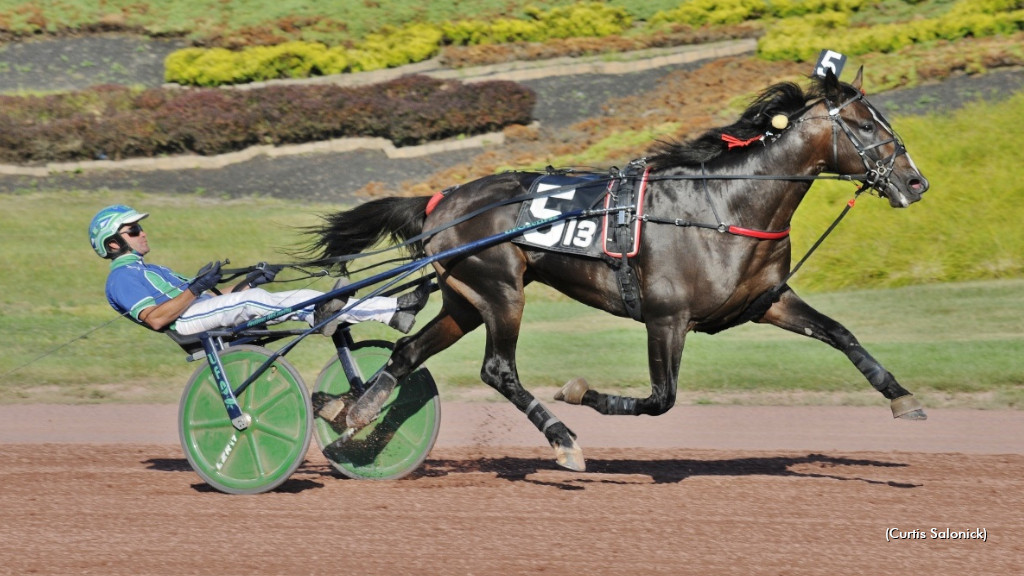 Cuatro De Julio's effort gained further status when it is noted that his time was only two-fifths of a second off the divisional world record set here by Uncle Peter in 2013, and a stake mark. Trainer Marie Ortolan Bar, co-owner with D Farm LLC, kept up her streak of being the happiest person in the winner's circle after her prized trotter won.
(PHHA / Pocono)