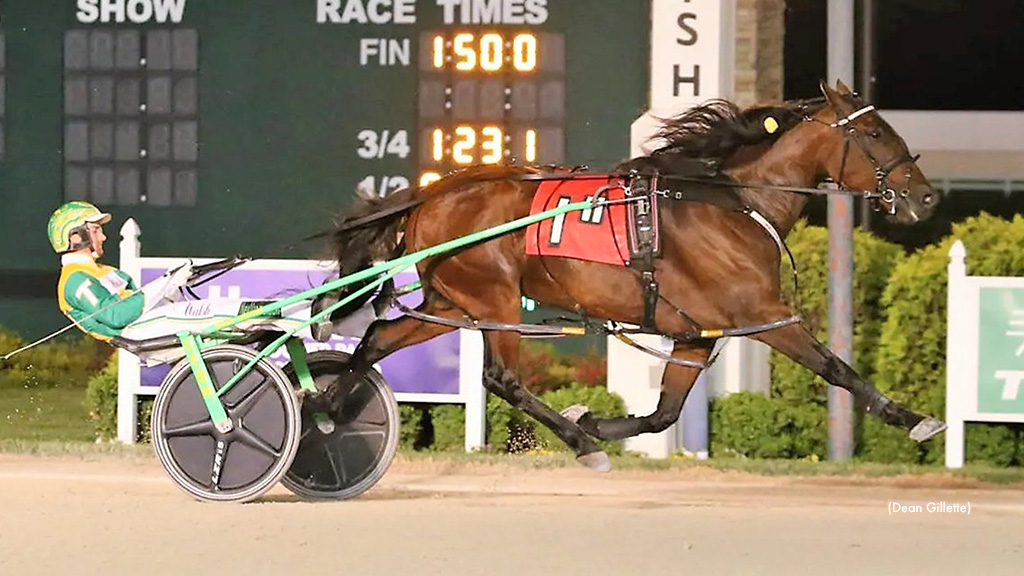 When it comes to providing full effort, trainer Brian Brown sees nothing deceptive about Trick Of The Light. She gives her best time after time.
Trick Of The Light was an Indiana Sire Stakes champion last year and heads to Saturday's $250,000 James M. Lynch Memorial for three-year-old female pacers at The Downs at Mohegan Sun Pocono with 13 finishes no worse than second in 18 lifetime starts, winning eight.
The daughter of Odds On Equuleus-Gordjus enters the Lynch off back-to-back victories, most recently on August 13 as the only filly taking on mares in the Fillies & Mares Open 2/Open 3 at Harrah's Hoosier Park. The race's second place finisher, Mystical Carrie, won twice in the preliminary rounds of the Blue Chip Matchmaker Series earlier this season.
"She's not really gone a bad race," Brown said about Trick Of The Light. "She's always trying her heart out. Even when she's tied up a hair once in a while, never usually bad but maybe enough that she doesn't get all the way to the wire, she is still trying all the way. She's just a good horse. These are the ones you can count on every week."
Trick Of The Light will begin the Lynch from post two in a field of eight with Dexter Dunn in the sulky. She is 4-1 on the morning line.
Max Contract, the winner of four in a row including the Mistletoe Shalee, Tompkins-Geers, and Shady Daisy, is the 5-2 favourite. Captain Cowgirl, a three-time winner this season in the Pennsylvania Sire Stakes, is the 3-1 second choice. The field also includes Adioo Volo winner Sweet Kisses (9-2) and Fan Hanover Stakes champ Treacherous Dragon (6-1).
"There are good fillies in there, so (Trick Of The Light) will have to be at the top of her game," Brown said. "I think she will hold her own, that's for sure. We got a good post, so we should be OK."
This will be Trick Of The Light's third appearance in a Grand Circuit event. She was second in the Nadia Lobell Stakes, beaten a neck by Boudoir Hanover, and fourth in the Mistletoe Shalee, beaten by one-and-three-quarter lengths after a first-over move around the final turn. Post-race testing revealed she had slight muscle cramping.
"That was a really good race," Brown said about the Mistletoe Shalee. "She's got the desire to be a good horse. I think she pretty much has it all. She's a great-looking filly — not real tall but strong, long barreled, and great gaited. She has ability, she's got guts. She has everything you could want in a horse."
Trick Of The Light was a $50,000 purchase under the name Lady Bellatrix at the 2020 Hoosier Classic Yearling Sale. She has earned $362,150 lifetime for owners Country Club Acres, Joe Sbrocco, and Kirk Nichols.
She is well staked the remainder of the season, including the Jugette at Brown's home track at the Delaware County Fairgrounds in Ohio.
"I'm looking forward to racing her in the Jugette because she does get around Delaware," said Brown, who is based at the fairgrounds. "She's got gate speed; I think she will be really good."
The James M. Lynch Memorial, named after the Hall of Fame track executive who passed away in 2000, is part of a Sun Stakes Saturday card at Pocono that includes the $300,000 Earl Beal Jr. Memorial for three-year-old male trotters, $300,000 Max C. Hempt Memorial for three-year-old male pacers, and the $250,000 Delmonica Hanover for three-year-old female trotters.
In the Beal, Hambletonian winner Cool Papa Bell is the 5-2 morning-line favourite over Hambletonian third-place finisher Temporal Hanover at 3-1. In the Hempt, Adios and Carl Milstein Memorial winner Bythemissal is the 5-2 choice over Meadowlands Pace and Cane Pace winner Beach Glass at 3-1.
Hambletonian runner-up Joviality S is the 5-2 favourite in the Delmonica Hanover, with Hambletonian fourth-place finisher Jiggy Jog S next at 3-1.
For free programs for The Downs at Mohegan Sun Pocono, visit the Pennsylvania Harness Horsemen's Association website.
(USTA)