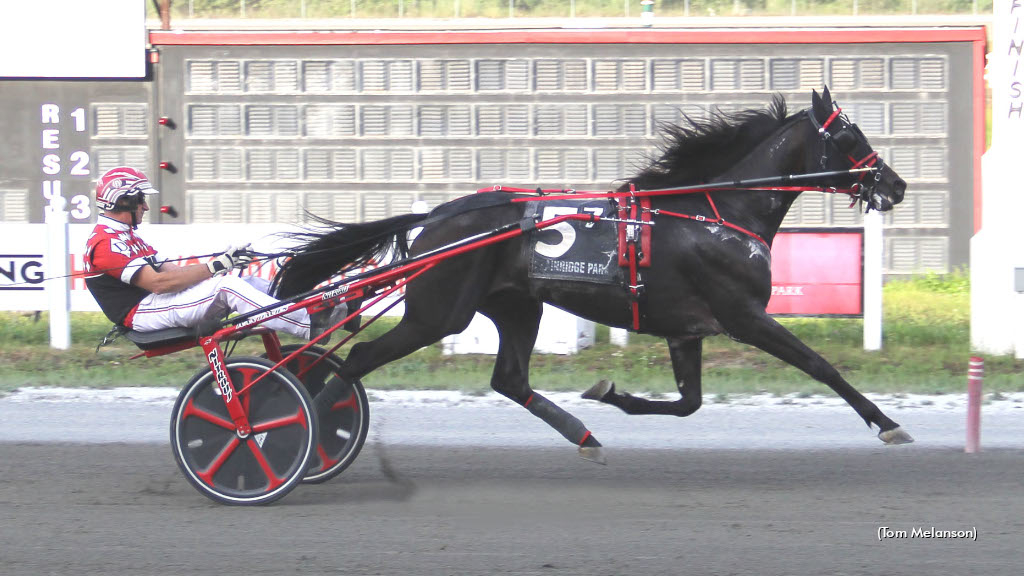 Raybarnz has not won an Open trot at Plainridge Park all year but that certainly changed on Thursday (Aug. 11) after he got parked out for three quarters of the mile yet still drew away to win handily the $20,000 Open Handicap trot.
Raybarnz (Ivan Davies) floated off the gate from post four and hung in the breeze while Angel Nation (Brett Beckwith) and Nows The Moment (Kevin Switzer Jr.) argued for the lead. Angel Nation won that battle but the war was still to come as Raybarnz soon found himself right next to the leader passing the three-eighths pole. The two trotters matched strides to the half in :56.2 and then up the backside to the five-eighths where Raybarnz went ahead, crossed over at three-quarters in a :27.4 panel and eventually pulled away by two lengths. With his competition now behind him, Raybarnz rounded the last turn with determination before swelling up in the lane and pulling away to a 5-1/2 length victory at the line in 1:53.3 which was a new lifetime mark.
It was the second win of the year in only 10 starts for Raybarnz ($11.80) who is owned by Earl Beaman, Kathy Beaman and Shirley Michaud. Ivan Davies also trains the winner.
Kevin Switzer Jr. scored a driving double on Thursday.
The Wicked Hi-5 pentafecta was hit on Thursday and with the large carryover, paid out handsomely. The lone single winning 20-cent ticket on the combination of 1-3-6-4-9 returned $29,830.38 to one lucky bettor.
Live harness racing resumes at Plainridge Park on Friday (Aug. 12) at 4 p.m.
(Standardbred Owners of Massachusetts)