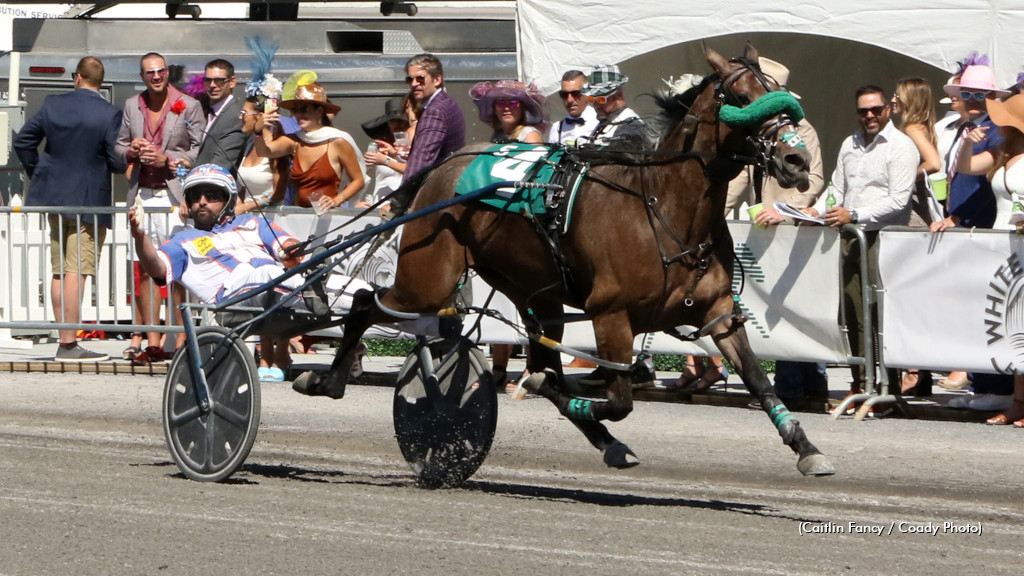 Century Downs played host to the popular Packwood Grand infield social event on Saturday (Aug. 6) with stakes action on the menu for the horsepeople and the horseplayers.
The 11-race card on Saturday handled $256,727 in wagers, higher than the $239,418 pushed through the windows on the Packwood Grand card one year ago and a total that's the highest for a card ever at the Calgary-area oval.
Sophomores were in action in eliminations for the Gord & Illa Rumpel Memorial for pacing fillies and the Ralph Klein Memorial for the pacing colts. There were two $13,500 eliminations for each with the top four finishers from each advancing to next week's finals.
As expected, Divine Art ($2.50) was victorious in the first Rumpel elim for trainer-driver Nathan Sobey. After clearing to the top before the :56.3 half, Divine Art paced a back half in :56.4 to comfortably hold off Jamaica Move (Kelly Hoerdt) by two lengths in 1:53.4 — just a tick off her lifetime mark. Saphire Blue (Mike Hennessy) and Wrangler Jewel (J.F. Gagne) completed the top four to clinch spots in next week's final.
Now a five-time winner from eight starts this season, Divine Art (Outrageous Art - Keystone Divine) sports a 8-2-2 summary from 14 lifetime appearances with $121,667 in earnings for Robert Jones of Stony Plain, Diane Bertrand of Edmonton and John Hind of Calgary, Alta.
The second division went to Chaste Forever ($6.70; pictured above), who had her pedal to the metal down the backside for driver Mike Hennessy after sitting in third through after a soft opening half in :59.2. Asked to challenge through the third panel, Chaste Forever was up by three at the 1:26.3 third station and that's as close as her rivals could get as the margin at the wire was 3-1/2 lengths over favoured Shoot The Whiskey (Brandon Campbell). Two Fingers Gold (Jamie Gray) and The Ideal Huntress (Sobey) also advance to the Rumpel Final.
Kelly Hoerdt trains and co-owns Chaste Forever (Mystery Chase - Panagler) along with Carole Dunbar of Richardson, Sask. Now a nine-time winner in 13 starts, the roan filly sports a $61,525 bankroll with just one finish out of the top three this year.
The fastest of the Klein elims was captured by an appropriately named horse given the circumstances, Lets Tie One On ($3.90), again for Hennessy and Hoerdt. The son of Vertical Horizon - Just One More was never better, winning wire-to-wire in a life's best time of 1:54.4 and winning by 2-1/2 lengths over Kill A Dragon (Campbell), Angelo (David Kelly) and Knockin Boots (Tyler Redwood).
Now a three-time winner in eight starts this year — and notably, a three-time winner in his last four starts — Lets Tie One On is owned by his trainer along with Derek Gilbert of Brandon, Man. His win edged him over the six-figure mark in earnings, now standing at $106,520 lifetime.
The beneficiary of a front-end tussle in the second Klein between Ernesto Delacruz (Gagne) and Redstone Arsenal (Hennessy) was pocket-sitting Vegas Gambler ($6.30) and Nathan Sobey, who found a seam in the stretch drive and shot through to win in 1:55 by three-parts of a length. Ernesto Delacruz and Redstone Arsenal completed the triactor with So Strange (Gray) in fourth.
Trainer Rod Starkewski co-owns Vegas Gambler (Mystery Chase - Nevada) along with Clauzette Byckal of Onoway, Alta. The colt took a new lifetime mark with the Klein win, his third victory of the season in 11 starts with his bankroll boosted to $108,406 with the lion's share of the purse.
The Rumpel and the Klein Finals will share the spotlight with the ASHA Filly Pace and the Century Casinos Pace on the card of harness racing slated for Saturday, August 13.
Older pacers didn't let the sophomores get all of the attention on Saturday, with two Preferred Paces also on the agenda. Icy Blue Scooter ($5.80) prevailed in the $13,500 Preferred Pace, giving the nine-year-old gelding his first win of the year in nine tries for trainer/driver Nathan Sobey and co-owners Diane Bertrand & Robert Gilhespy of Edmonton, Alta. Icy Blue Scooter (Blue Burner - Jills Sooner) stopped the clock in 1:52.2 for his 38th career win photo.
Derek Gilbert's pacing mare Stash The Cookies ($4.20) rebounded from a narrow loss in last week's Preferred Handicap with 1:54.2 win for trainer / driver Logan Gillis to continue her career best form at the age of six. The daughter of Sunfire Blue Chip - Saucy B sports a summary of 8-7-3 in 20 seasonal starts with $71,700 in earnings, which compares rather favourably to the 3-4-2 summary she compiled in 2021 in that same amount of appearances.
Another competitor showing career-best form is four-year-old pacing gelding Bonus Round ($4.60), who picked up his fifth consecutive victory on Saturday for trainer / driver David Kelly and the Pick 6 Stable of Strathmore, Alta. His mile was timed in 1:52.1, the fastest on the Saturday card.
To view the results from Saturday's card of harness racing at Century Downs, click the following link: Saturday Results - Century Downs.