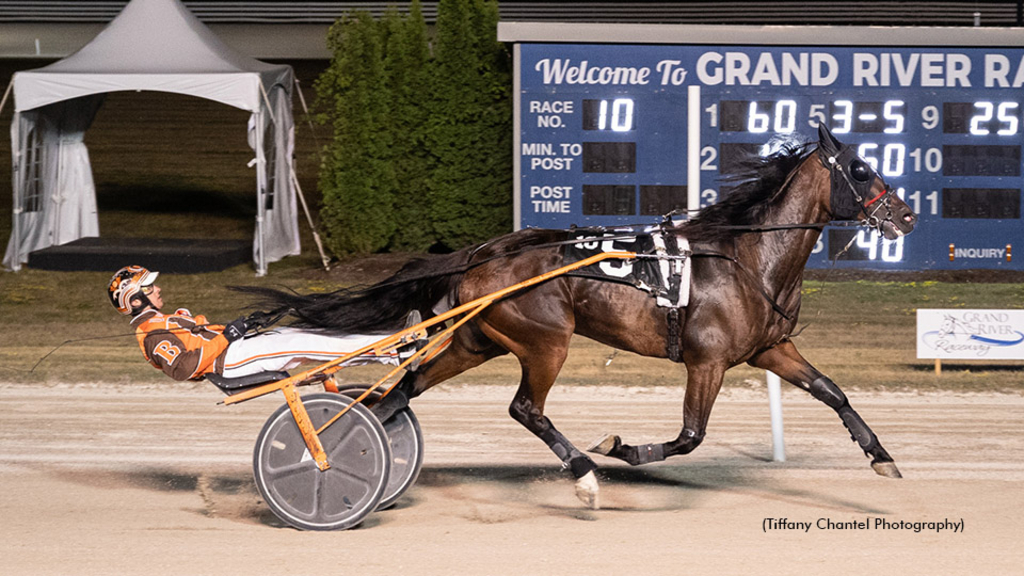 Driver Tyler Borth was a force to be reckoned with on Friday night (July 29) at Grand River Raceway, winning half of the evening's 10 races.
Borth kicked off the night in the winner's circle with Paul Chapman's homebred pacer Chappiesboy ($5.60) and then won back-to-back races mid-card for trainer Shayne Barrington with the maiden-breaking three-year-old filly trotter Lady Guinevere ($7.10) and the popular sophomore pacing gelding Shadowmoon Rising ($4.20) from the trailing tier.
The Blair Burgess sophomore student Docs Papparazzi ($29.20) landed Borth right back in the winner's circle when he collared the pacesetter at the wire for a 13-1 upset in the seventh race.
Borth later closed out the night in rein to the Kristina Anderson-trained trotter Arcanum ($3.20), delivering as the favourite with a 5-1/4-length victory.
Currently amid a career-best year, Borth's five Friday wins boosted his seasonal total to 179, which ranks him among the top four drivers in Canada. The Ingersoll, Ont. reinsman, who won Canada's Future Star Award in 2014, is enjoying his first million-dollar season with more than $1.18 million banked already in 2022.
To view Friday's harness racing results, click on the following link: Friday Results - Grand River Raceway.