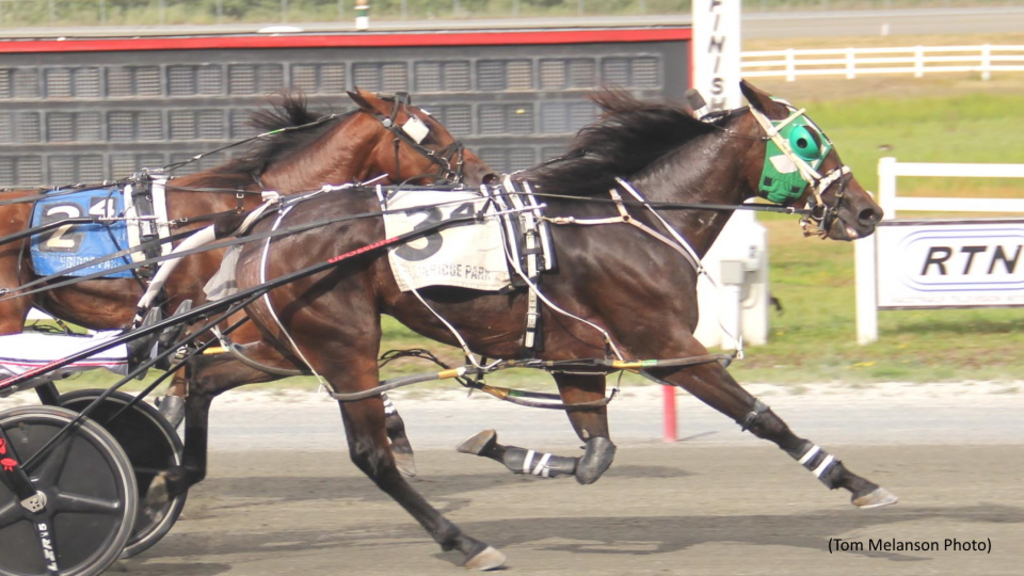 A pair of $15,000 condition races for six-year-old and under pacers topped the card at Plainridge Park on Tuesday afternoon and both winners came from off the pace.
In the first, Bruce Ranger sent Siri Blue Chip to the lead and rolled uneventfully to the half in :56.3. As they passed that station Bottomoftheninth (Brett Beckwith) pulled first-over from fourth and pushed the leader to three-quarters in 1:24.4. Still not clear by the third turn, Bottomoftheninth continued to dig on the outside as Siri Blue Chip fought hard to close the deal. But Bottomoftheninth eventually put that one away and held off her late closing stablemate Quarrel (Kevin Switzer Jr.) to win by a half-length margin in 1:53.3.
It was the third win of the year for Bottomoftheninth ($8) and owner Martin Valentic. Elisha Lafreniere was the winning trainer.
When the second group lined up, Hollywood Skeeter (Nick Graffam) left and took the field to the quarter in :27.2. At that same time Momentsthatmatter (Shawn Gray) tipped from fourth and took the lead before the group hit the half. Approaching three-quarters the field began to bunch but the real threat came from behind that jam. Tim Mcmiki (Matty Athearn) swung three-deep from sixth around the far turn and angled to the center of the lane. Momentsthatmatter was still in command and despite a valiant stretch rally by Tim Mcmiki, hung on by a mere nose to win in 1:54.3.
Momentsthatmatter ($8.20) scored his fourth win of the year for owners Lester Gelardi and Anthony Passafaro. Matty Medeiros trains the winner.
In the day's 10th race, 23-year-old Domenic Longobardi scored his first lifetime training win with Miki U So Fine, who closed late for driver Bruce Ranger to win by a length in a personal season's best of 1:54.2.
Ranger, Matty Athearn, Nick Graffam and Shawn Gray were the top drivers of the day winning two races apiece. Trainer Matty Medeiros also won two races on Tuesday.
Live racing resumes at Plainridge Park on Thursday afternoon (July 28) with post time at 4 p.m.
(Standardbred Owners of Massachusetts)