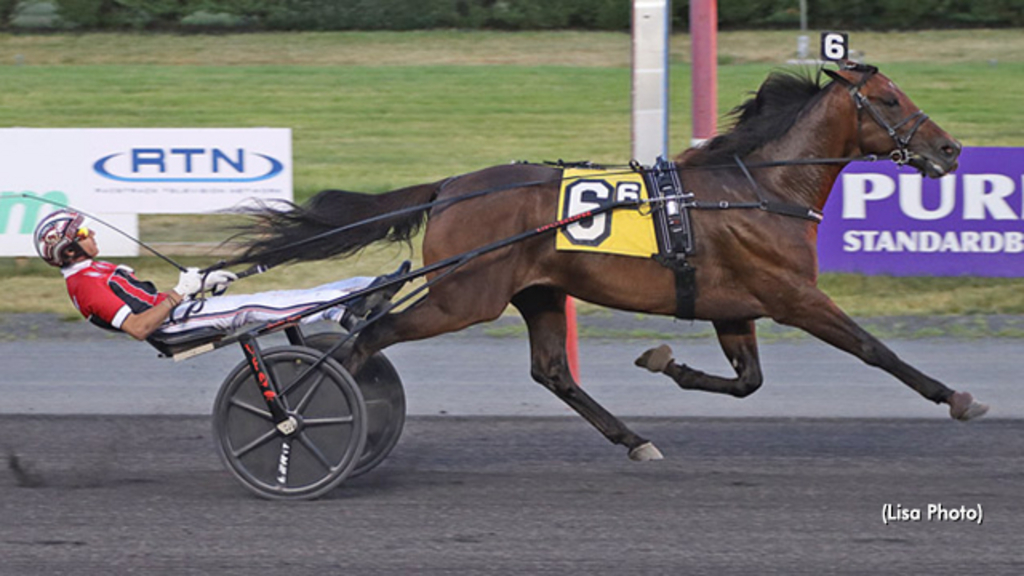 One is a $1 million earning international star and the other is very much a home-grown champion. But both Ake Svanstedt-trained Alrajah One IT and Incommunicado will be starting in the $250,000 Spirit of Massachusetts Trot at Plainridge Park on Sunday afternoon (July 24).
The Italian-bred Alrajah One IT earned $1.17 million as a 13-time winner in Europe with four Group I victories that include the Italian Derby and the Gran Premio d'Europa. He has also raced in Sweden twice in the Hugo Åbergs Memorial at Jägersro and the Jubilee Cup at Solvalla, where he finished fourth. Other top three stakes finishes came in the Gran Premio Duomo and the Lotteria, where he finished second to Face Time Bourbon last October.
Owner Scuderia My Horse Inc. shipped him to the United States in December 2021 and he has been with the Svanstedt stable ever since. After not racing in the six months since landing in the U.S., Alrajah One IT made two qualifying starts at The Meadowlands that sort of flew under the radar. But it was his first race a week later that turned a lot of heads.
Alrajah One IT won the $147,000 Crawford Farms Open for older male trotters by 2-1/2 lengths over Lovedbythemasses, equalling the stakes record of 1:50.4 at The Meadowlands.
In that start, Alrajah One IT sat sixth to the half before following cover as his stablemate Ecurie D DK set tough fractions of :26.4, :55.2 and 1:24.4. Then coming down the lane, Alrajah One IT swelled up and trotted home in :25.3 to win in 1:50.4 by 2-1/2 lengths for Dexter Dunn.
"In the Crawford, he was better than I expected, he came home so fast," said Svanstedt. "Over the last three weeks, he's been really good and on his schedule getting ready. I hope he has a chance to win this race because he's a horse that's going to race off a helmet. He's trained really well coming into this race,"
Unlike his stablemate Alrajah One IT, Incommunicado does not hold international intrigue, but what he does have is home field advantage. Incommunicado is a Massachusetts-bred star that was the two- and three-year-old male trotting champion in the Massachusetts Sire Stakes, going a perfect seven-for-seven in that series.
Having dual eligibility in New York, at two he finished third in the New York Sire Stakes final at Yonkers. Shortly after, he went on to the Massachusetts Sire Stakes and won two eliminations and the final by 17-1/4 lengths at Plainridge Park.
Then at three, Incommunicado won the Dexter Cup at Freehold and finished third in the Empire Breeders Classic at Vernon Downs. He returned to Massachusetts in September for the Sire Stakes and ran the table again at Plainridge, winning three eliminations and the final by 11-1/2 lengths.
This year, he has reset his lifetime mark twice, the latest a 1:51.1, four-length romp at The Meadowlands. The following week, he drew the rail in the $432,000 Hambletonian Maturity but was interfered with by the starting gate and never got the chance to compete as a result.
Incommunicado comes into the Spirit of Massachusetts most likely in the best form of his life and knowing this surface so well should give him a definite edge as he vies for the prize.
"Incommunicado has won a lot at Plainridge because he likes tracks shorter than a mile," said Svanstedt. "He has come on as an older horse but he will need a good trip here and if we get a cheque, I'll be happy. There are some real good horses in this race. Lovedbythemasses is a very good horse so it won't be easy to beat him. It's a very good race."
The post time for Sunday has been moved to 4 p.m.
The field for the Spirit of Massachusetts is listed below.
$250,000 Spirit of Massachusetts Trot
Post - Horse - Driver - Trainer
1. Eurobond - Bruce Ranger - Travis Alexander
2. Its Academic - Yannick Gingras - Ron Burke
3. Remember Titans - Jay Randall - Jackie Greene
4. P L Notsonice - Andrew McCarthy - Steven Brabrook
5. Incommunicado - Ake Svanstedt - Ake Svanstedt
6. Forbidden Trade - Bob McClure - Luc Blais
7. Inaminute Hanover - Daniel Dube - Luc Blais
8. Lovedbythemasses - Tim Tetrick - Jeff Cullipher
9. Alrajah One IT - Dexter Dunn - Ake Svanstedt
(With files from Plainridge Park)