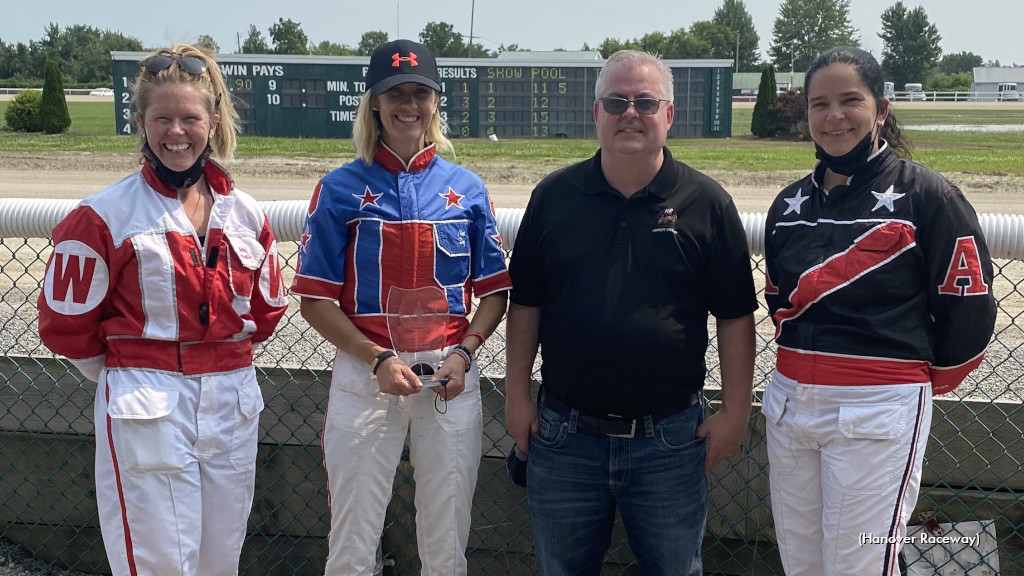 Growing up in Australia with a dad who trained and raced harness horses, Natasha Day had plenty of role models. Not just her dad, but a number of women drivers in a country that had plenty of them.
"It's a little different in Australia and Europe than here," said Day. "In Australia, women drivers are no big deal. There's lots of them. Not so much here."
It's one of the reasons Day is thrilled for the second year of the OLG Ontario Women's Driving Championship, which kicks off at Hanover Raceway on Saturday, July 16.
"Coming over here it was amazing how many women don't drive, that can drive, but don't drive. It's just the way that the industry perceives it….It's time to put it to the forefront. There's heaps of women out there who are fantastic role models and we need to be showing it."
The event, which features five races at each stop and is also a fundraiser for Harness the Hope, has grown from two tracks to five this season. Joining Hanover and Dresden Raceway (Sunday, July 17) are Grand River Raceway (Friday, Aug. 12), Leamington Raceway (Sunday, Sept. 25) and the final at The Raceway at Western Fair District (Friday, Oct. 14).
Day is the defending champion of the event. She is also the first female driver to ever win a driving title at any Ontario track, taking the crown at Clinton Raceway last year.
Lifetime she's had more than 3,000 starts, winning 267 races for almost $2 million in purses.
"It's good to see that women are starting to have something specifically done to promote them. That's the whole idea of it: we want to promote the women in harness racing that can get out there and drive. The times are changing. It's time to stand up and accept that the women can do it as good as the boys. Compared to other countries, we're still trying to advance women being out on the racetrack and driving," said Day.
"We know women can do it, it's really just a matter of showcasing it now."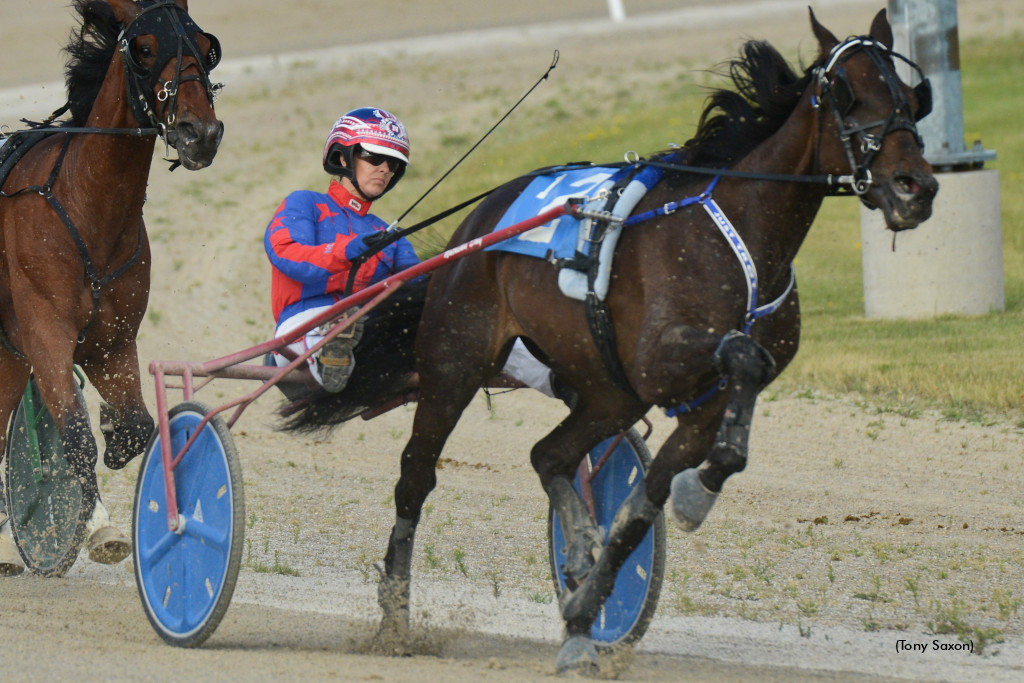 ​
Day would like to see the day with more tracks involved and eventually have a national and even international level.
"It's amazing that it's growing and other tracks have come on board. If we can keep going in this direction it's going to get bigger and better and get more support as we go. It would be awesome if we could eventually get it to an international level."
Growing and sustaining the sport can only benefit from having more women involved in all aspects, including driving, Day said.
"You don't just have to be a trainer, groom or owner. There's a whole other level there that you can look at as a career."
Not only is the OWDC a way to showcase and recognize the talented women drivers in Ontario harness racing, it's also a great fundraiser for Harness the Hope, a breast cancer charity founded by the Dustin family 17 years ago, that has deep roots within the harness racing community. Each driver will donate their driving earnings for the series to the cause and each racetrack will have fundraising initiatives on-site to contribute to the cause.
It's a charity near and dear to the heart of Maggie Jones, a breast cancer survivor who actually delayed treatment to be able to take part in the event last year.
"I delayed surgery by a week," said Jones. "I had been hoping to have it after the series, but as we were discussing dates it became apparent that it would be the week before. My surgeon asked if I had any vacation plans as the dates had some flexibility and when I shook my head no, my husband piped up about this event as he knew how excited I had been to participate. As it wasn't a huge delay and all the critical timelines would still be met, my surgeon was fully supportive of me participating. At that point, I was unsure what the future would look like so it was a very emotional weekend, especially the races at Dresden where we supported Harness the Hope."

She calls Harness the Hope a great opportunity to perhaps give a "ray of hope" to someone watching who may be going through something similar.
Jones joined Day in talking about how important the WDC is as a way of showing how talented and competitive Ontario's female drivers are.
"A lot of us didn't have very many women drivers to look up to as we were growing up as it's such a male dominated sport. I think it is a huge honour and responsibility to be part of this group that will hopefully encourage more women and girls to get involved or step out on the track," said Jones. "I think the biggest message is that girls can race too! We are fierce, competitive and strong."

Participating drivers in 2022 are: Marie Claude Auger, Natasha Day, Marielle Enberg, Pam Forgie, Samara Johnson, Maggie Jones, Brittany Kennedy, Debi O'Brien-Moran and Julie Walker.
Day was quick to give credit to Hanover Raceway general manager Steve Fitzsimmons for being the driving force in establishing the event.
"The opportunity to put more spotlight on and showcase many of the best female drivers in the province and to encourage more equality and inclusion in our sport is very important to us and we're proud to be playing a role in doing so," said Fitzsimmons. "Last year's event was very successful, and we look to follow it up with another great driving championship this season."
OLG returns as the title sponsor, with Ontario Racing back as a significant sponsor. Grahams Racing Silks has also come aboard, offering up a set of driving colors to the winner of the Championship.
"Supporting the OLG Ontario Women's Driving Championship for a second straight year is an important part of OLG's ongoing commitment to the horse racing sector in Ontario," said Tina MacMillan, OLG's vice-president of horse racing and casino operations, in a statement. "We're proud to help showcase some of Ontario's amazing female drivers as an example of the growing diversity of talent we are seeing enter the sport. Promoting greater inclusivity within the industry builds on our efforts to create a sustainable future for horse racing across the province."
To view the entries for Saturday, click the following link: Saturday Entries - Hanover Raceway.
(Tony Saxon / Hanover; headline photo, from left: Julie Walker, Natasha Day, Steve Fitzsimmons and Marie-Claude Auger)