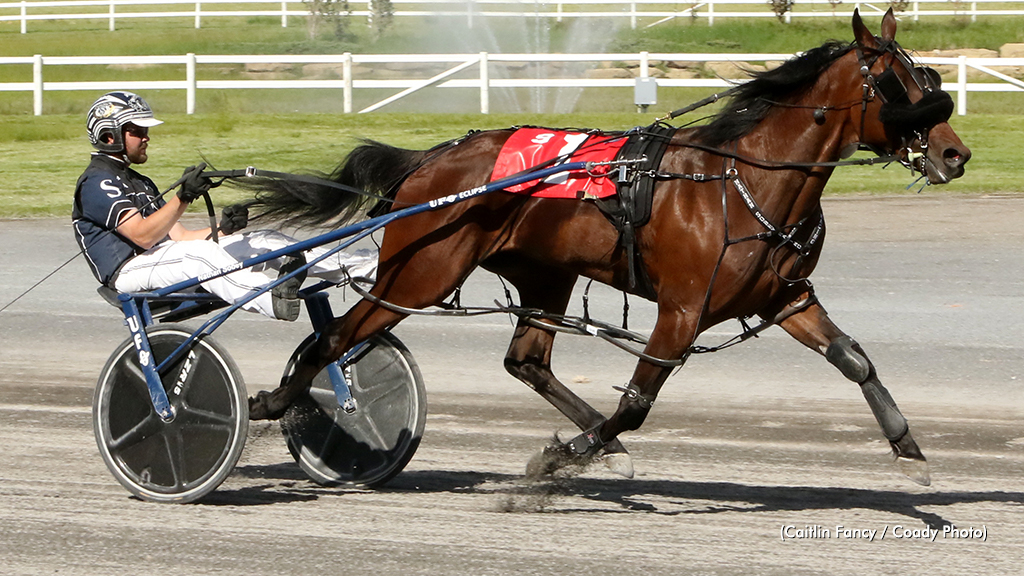 Once Divine Art swept to the lead past the half, the remaining competition could just chase in her wake as the Nate Sobey-trained favourite romped to a 1:53.3 win in the $56,600 Alberta Diamond Final on Saturday (July 9) at Century Downs.
Sent to post as the 2-5 choice, Divine Art raced unhurried from the pylon post to sit third to a :26.3 first quarter contested by Chaste Forever and Proud Of My Roots, with the latter yielding to the former by the stands. Divine Art then vacated her position at the cones and attacked the pacesetter into a :55.4 half and kicked clear in the backside.
Chaste Forever faltered in the sprint to three-quarters, to which Divine Art opened seven lengths on her competition while tripping the mark in 1:23.4. She coasted from there to home to win by 6-1/4 lengths over Jamaica Move, who rallied from second-over to take second. Wrangler Jewel made first-over gains but settled for third and Saphire Blue took fourth.
A daughter of Outrageous Art, Divine Art won her third race from six starts this season and her sixth from 12 overall. She has banked $110,617 for owners Robert T. Jones, Diane Bertrand and John Hind. Divine Art returned $2.30 to win.
Lets Tie One On lunged from off cover rounding the final turn to land the winning blow in the $56,600 Alberta Marksman Final, clocking the mile in 1:55.
Joe Rich ripped to the lead with Vegas Gambler obliging for the pocket to a :27.2 first quarter. Favourite Ernesto Delacruz marched uncovered out of third to challenge for the lead but broke stride passing a :56.4 half. That left Joe Dimagio braving the wind for the outer tier up the backside, and driver Phil Giesbrecht swiftly hurried Lets Tie One On from seventh to catch that cover to three-quarters in 1:24.4.
Joe Dimagio forged to the lead off the bend but could not hold off the final charge from Lets Tie One On as he slid a half-length in front to the line to snag the prize. Vegas Gambler pulled pocket to take third from Joe Rich, who faded to fourth.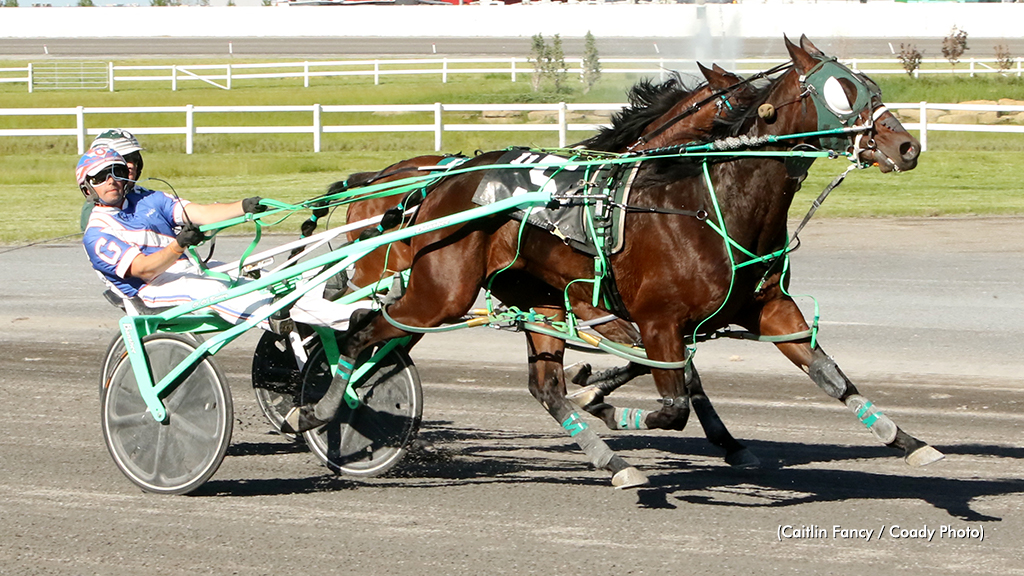 ​
Conditioner Chris Lancaster co-owns Lets Tie One On with Kelly Hoerdt and Derek Gilbert. The Vertical Horizon colt collected his second win from six starts this season and his sixth from 15 overall and has now earned $97,145. He paid $9.30 to win.
Earlier in the card, Stash The Cookies pushed first-over for the lead around the final turn and sustained her bid to score a 1:52.4 win in the $13,500 Fillies and Mares Preferred Pace.
The six-year-old Sunfire Blue Chip mare sat the pocket to pacesetter If Only Id Known through a :27 first quarter and :56 half before trainer/driver Logan Gillis made his move for the lead. She marched to take a narrow lead from If Only Id Known by three-quarters in 1:24 and held firm on the point coming for home to keep three-quarter lengths in front of Past Affair closing for second. Mrs Suhwiggins took third and Betcha Baby rallied for fourth.
Stash The Cookies races for owner Derek Gilbert. She won her fifth race from 16 starts this season and her 15th from 59 overall and has now earned $173,229. She paid $12.80 to win.
Trainer Dave Kelly won three races on the 12-race card. His victories came with Sunset Rider ($5.60), HF Thegreatpumpkin ($3.30) and Bonus Round ($12.70).
To view Saturday's harness racing results, click the following link: Saturday Results – Century Downs.