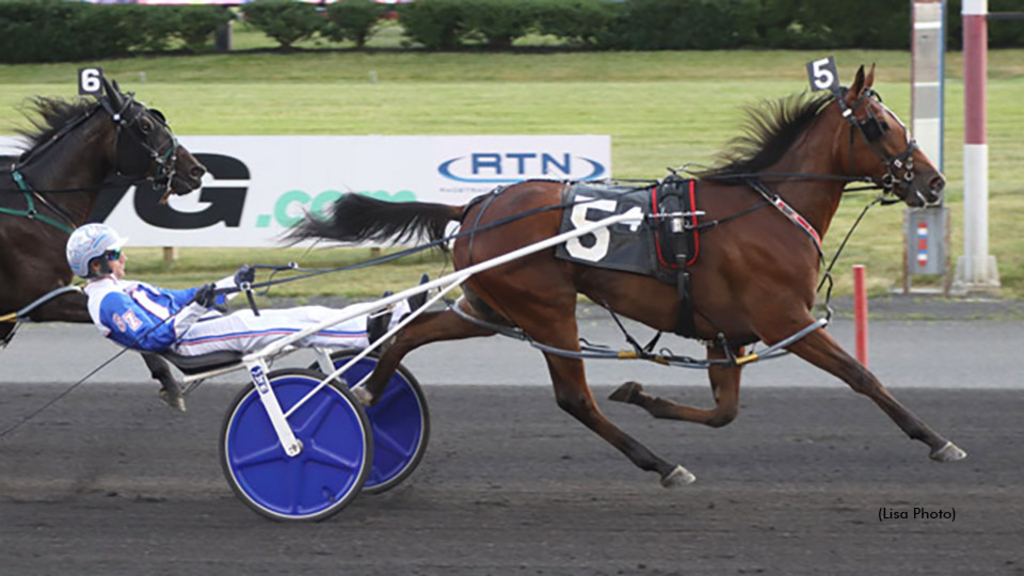 The New Jersey Sire Stakes season for two-year-olds got underway on Friday night (June 24) at The Meadowlands and it looks like trainer Linda Toscano has a good filly on her hands as her Ucandoit Blue Chip scored from just off the pace in 1:51.4 in one of three $30,000 divisions for pacers.
"I don't know how [winning driver] Scott [Zeron] worked out the perfect trip," said Toscano. "He left enough with her to put her in play and then she managed to get cover -- just an incredible drive."
The only horse in the field of 10 with a pari-mutuel start under her belt (a strong second, missing a neck in a 1:52.2 mile), Ucandoit Blue Chip was sent to the gate as the 1-9 favourite. Risky stuff for an inexperienced two-year-old, but 'Ucandoit' proved up to the task.
"The way people look at it is, they knew she could go in [1]:52," said Toscano. "But I didn't think she'd be that short on the toteboard. I don't like to over race my two-year-olds. I like them to finish, but I did tell Scott, 'You drive her how you want, just keep in mind she's a two-year-old.'"
Ucandoit Blue Chip worked out a three-hole trip to the top of the stretch, followed a live tow from the pocket-sitting Devilish Dreams when that one swung to the outside for the drive then tipped off cover before going on to 1-1/4-length score. Lisa Lane, who led from the half to the top of the stretch, settled for third.
Toscano is upbeat about what lies ahead for the NJSS program on the pace.
"It's awesome," said the Hall of Fame trainer. "That's where the money that we got from the state appropriation is really doing its job. Lazarus right now is the hot sire and Perfect Sting is the next big step."
A daughter of Keystone Velocity-Molly Can Do It, Ucandoit Blue Chip, who is owned by Bill Elliot, returned $2.20 to win.
In the other division for fillies, Fox Valley Adele (Lazarus N-Put On A Display) scored in 1:53.1 for driver Marcus Miller and his dad, trainer Erv, as the 8-5 public choice, while in the lone dash for colts and geldings, Lifes A Puzzle (Lazarus N-L Dees Lioness) won in 1:50.4 as the 3-5 favourite for Tim Tetrick and Jim King Jr.
Ken Warkentin registered his second consecutive victory on night seven of the Meadowlands Battle of the Masterminds handicapping contest, finishing with a mythical bankroll of $368.
On-track patrons who select the winning handicapper on a given night are eligible for a nightly prize of a $200 betting voucher and a $50 gas card. The winner of that drawing is then eligible for a grand prize of $10,000.
Warkentin, Dave Brower, Dave Little, Jessica Otten and Edison Hatter will go at it every night through August 5. The grand prize winner will be chosen on Hambletonian Day, August 6.
There were no winning tickets sold in the 20-cent Pick-6, meaning there will be a carryover of $4,971 heading into the second Pick-6 offered on the Saturday program (it begins in race nine). Those with five correct Friday collected $414.30.
In the 11th race, GSY driving club drivers took on the pros, and Johnathan Ahle scored for the club pilots, guiding Midnight Lightning to victory as the 2-1 second choice.
All-source handle totalled $2,765,654.
Racing resumes Saturday at 6:20 p.m.
(Meadowlands)