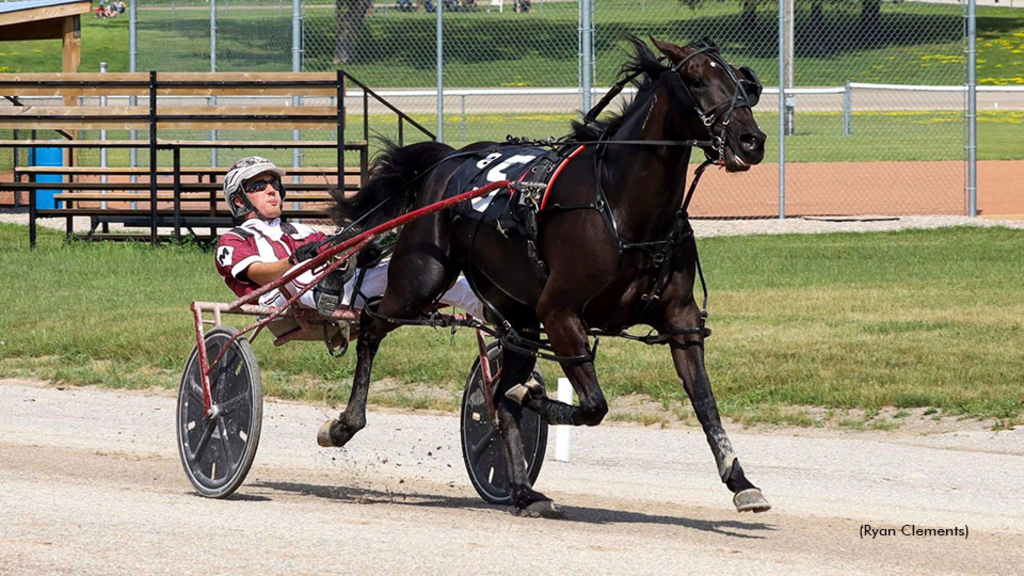 The 14th edition of Clinton Raceway's major stakes, the Kin Pace, gets underway this Sunday, June 26 with two eliminations for the $50,000 final.
The Kin Pace pays homage to the early days of Clinton Raceway when the Kinsmen and Kinette Club introduced pari-mutuel wagering to the grassroots track in 1970. The Kin Pace plays host to Ontario Sired three-year-old pacing fillies and has proved to be a key stepping stone for many top mares in the sport.
Two talented groups of three-year-old filly pacers will line up behind the gate in a pair of $7,500 eliminations with the hope of securing a spot in the final.
Nick Gallucci, 2021 O'Brien Award finalist for Trainer of the Year, sends out a powerful one-two punch in the form of Raptors Won and Velvet Stinger. Raptors Won will look to continue her winning ways in stakes action after winning an Ontario Sires Stakes Grassroots division at The Raceway at Western Fair District on May 27 in a time of 1:54.4. Her stablemate, Velvet Stinger, also displayed stellar half-mile track ability by capturing an Ontario Sires Stakes Grassroots division in 1:55.3. Raptors Won and Velvet Stinger will line up from post positions one and three in their respective eliminations with James MacDonald doing the driving.
Driver Brett MacDonald is looking for back-to-back winners in the prestigious Kin Pace after capturing the previous edition with Saulsbrook Olympia for trainer Brian Lee. MacDonald will pilot Warrawee Xpat, who sports more than $63,000 in career earnings, in this year's event. Warrawee Xpat competed in the one of the top two-year-old events for Ontario-sired filly pacers last year, the $145,060 Battle of the Belles, and finished third. The Gabriella Sasso trainee will need to show her top speed against a challenging group in the first elimination.
Trevor Henry hopes to be the first driver in the history of the event to capture four Kin Pace titles. Henry will team up with fellow Arthur, Ont. native, trainer Kyle Bossence, in the second elimination on Shadow Play filly Sexy Playmate.
Kin Pace day on July 3 will be a fantastic day for all ages. Younger fans can enjoy a great Kid's Day line-up including bouncy castles, cotton candy, popcorn, face painting and balloon animals. In addition to the Kin Pace final, the Huron County oval will host Ontario Sires Stakes Grassroots divisions two-year-old colt and gelding trotters on July 3.
Post time for this Sunday's elimination race card is 1:30 p.m.
To view Sunday's harness racing entries, click on the following link: Sunday Entries - Clinton Raceway.
(With files from Clinton Raceway)