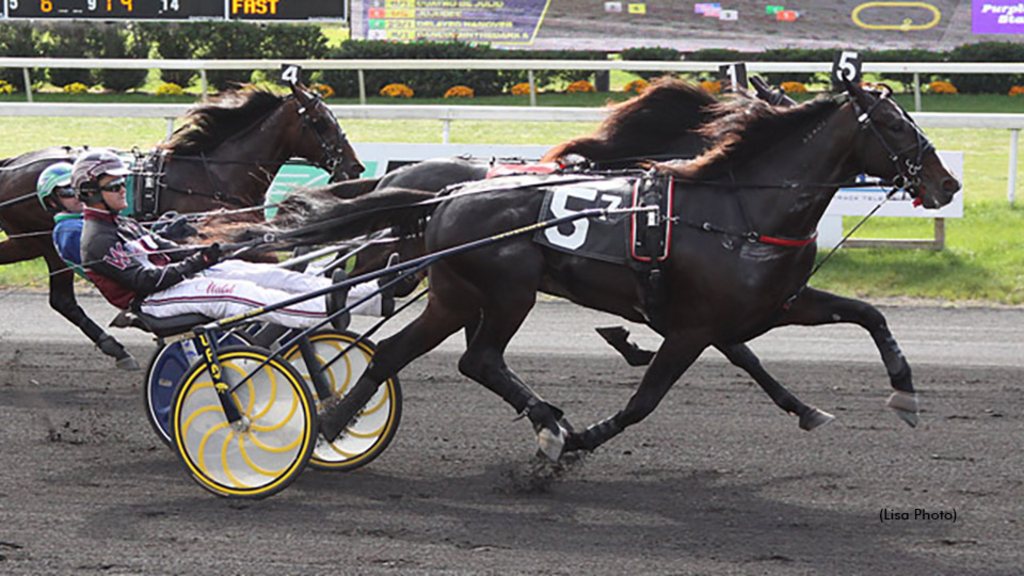 Andy McCarthy is still getting to know Cuatro De Julio, but after two starts behind the four-year-old trotting stallion, he knows he likes him.
"I really like him," said McCarthy. "He can go fast; he's got a really big set of lungs. He's a big, strong, good-looking horse. He's definitely a top horse, for sure."
So far, McCarthy has driven Cuatro De Julio to a second-place finish behind Ecurie D DK in the Arthur J. Cutler Memorial at The Meadowlands, which went in a world record 1:49.1, and to a win in the first round of the inaugural four-year-old Kentucky-bred Series at Oak Grove in 1:51.1, a track record.
Cuatro De Julio and McCarthy make start No. 3 together in Saturday's first of two $50,000 Graduate Series divisions for four-year-old trotters at The Meadowlands.
"I thought his performance the first time I raced him at The Meadowlands was incredible," said McCarthy. "He raced down at Oak Grove and went around there in [1]:51 pretty easy. He got a little fired up at The Meadowlands, but at Oak Grove, he was much more relaxed for me. I'm kind of learning as we go, as well.
"I think I can kind of do whatever I want with him now, hopefully. It's just a matter of figuring out where you need to be and your timing with him."
Trained by Marie Ortolan Bar and owned by Bar and D Farm, the homebred son of Trixton-Clarabelle has won 13 of 29 career races and earned $586,711. Last year, Cuatro De Julio hit the board in nine of 12 starts, winning three — a division of the New Jersey Sire Stakes, a division of the Kentucky Championship Series and a Breeders Crown elimination.
His five second-place finishes in 2021 included the Kentucky Futurity, New Jersey Sire Stakes final and Kentucky Championship Series final.
In his career, Cuatro De Julio has finished second in three races that were won with times of 1:49.3 or faster, with the Futurity and Kentucky Championship final, which he lost by a nose, joining the Cutler Memorial in that category.
"He's very talented," said McCarthy. "[I've] still kind of yet to drive him out of a hole, but I raced against him in the past and he's raced out of a hole really well, so I know he can do it both ways."
Cuatro De Julio's division of the Graduate also includes Rattle My Cage, fresh off a 1:50.2 victory at The Big M on June 11; Storm Is Raging, who has won four consecutive races since joining trainer Ron Burke; and Venerate, a Dan Patch Award winner in 2020 at age two.
"It's going to be an interesting race, that's for sure," said McCarthy.
The second Graduate division includes Logan Park and Sonofamistery, who have each won a previous leg of the series.
Saturday's card also has one $40,000 Graduate division for four-year-old female trotters, which includes Dan Patch Award winner Bella Bellini, as well as one $40,000 division for four-year-old female pacers and two $50,000 splits for four-year-old male pacers.
Test Of Faith, the 2021 Horse of the Year in the U.S. who won a Graduate division in the opening round of the series and captured the Roses Are Red Stakes this past weekend, faces six mares Saturday including previous Graduate leg winners Mikala and Oakwoodanabella IR.
Carbine, a two-time Graduate division winner, is in the first group for the male pacers along with millionaire Charlie May. The second includes Graduate division winners Abuckabett Hanover and Bulldog Hanover as well as Charles Juravinski Memorial Cup champion Linedrive Hanover.
Racing begins at 6:20 p.m. (EDT) at The Meadowlands. TrackMaster past performances for all Meadowlands cards can be found at the track's website.
(USTA)