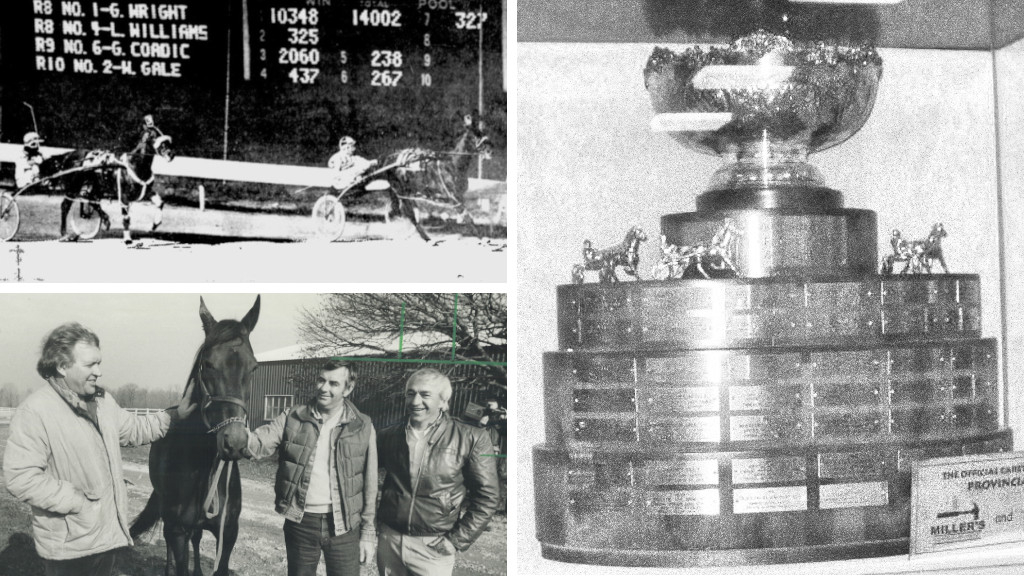 This week's Rewind takes readers back an even 40 years to 1982. Robert Smith's story tells of one of the many victories that year by the incredible Cam Fella, lovingly known as "The Pacing Machine". This piece is centered on a late season victory in that year's Provincial Cup at Windsor Raceway.
Forty years ago the calendar read 1982 and most accounts of anything to do with harness racing included something related to Cam Fella. This horse was the newsmaker of this era and was having a season to end them all. He made a number of appearances in Canada that year as a three-year-old and today's story covers the final start of his 1982 campaign in early November.
On the evening of Sunday, November 7 a "lucky" crowd of 7,777 people attended the evening's festivities which highlighted the 17th renewal of Windsor's signature race — The Provincial Cup. A field of seven would face what would surely be an almost insurmountable task and that was to try to topple the eighth entrant, the overwhelming favourite Cam Fella. Entering the race this "super hero" had raced a total of 32 times that season and on 27 occasions returned to the winner's circle with a huge throng of supporters. He also finished second twice. The horse's owners, Norm Clements and Norm Faulkner, and trainer-driver Pat Crowe had experienced quite a ride. In the process the horse had earned an incredible $829,715 for his efforts.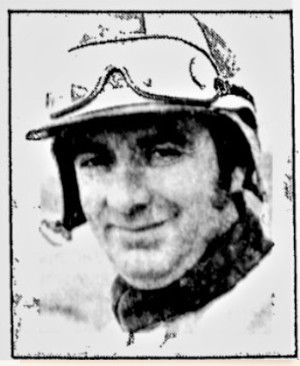 Pat Crowe, trainer and driver of Cam Fella
Driver Pat Crowe was no stranger to Windsor fans or the Raceway. Back in 1965 when the new all-weather track was built for winter racing a then 28-year-old Crowe was on the backstretch with his public stable. Despite his successes and availability as a catch-driver in the years following, he had never been an entrant in the Cup. He obviously relished this opportunity.
The 1982 Cup took on a new format and with it a huge increase in the size of the purse. In the 16 previous races it was an open event but this year for the first time it was for three-year-olds only. The purse, which had gradually crept up over the years, had been stuck at $50,000 for 10 consecutive years dating back to 1972. This year it took a giant step as it doubled to $100,000.
THE RACE
Coming into the night's action Cam Fella was certainly expected to win but he had a couple of very credible foes in the field. Expected to be in the thick of things was another Toronto-owned horse — Sokys Atom driven by Doug Brown, winner of the previous year's big race behind Lime Time. Also a serious contender was Sparkling High for driver Jim Hysell and Florida owners Everglade Acres. A couple weeks previous they had finished 2-3 behind Cam. Excluding Cam Fella the other seven entrants in the race had collectively won a total of 42 races this season so there was some quality in the field.
As the race started Brown shot to the front and then Denis Desjardins with Sans Limite took the field to an opening quarter of 28 seconds. Crowe sat quietly in third but not for long. On the backstretch he took Cam out and led the field at the half in :58.1. Next to try for the lead was Norm Dauplaise with Watering Hole but Crowe just stepped up the pace a bit with a :28.3 third quarter. By the head of the lane Brown and Sokys Atom sat in the "Golden Chair" and appeared to have the last hope of overcoming the leader. Out he came and advanced a brief half length but that was all. Crowe never took the whip out from under his arm and with a final panel in 29 seconds was home in front. In second spot was Sokys Atom while Dr. John Hayes driving Striking Sun closed for third spot.
The winning time of 1:55.4 equalled the Cup record set by Try Scotch and Shelly Goudreau in 1979. It also broke the existing track record for three-year-old colts jointly shared by Brigadier General and Armbro Acton. If fans had anything further to see it may have been a new overall track record but that remained unchanged at 1:54.2 and still belonged to Direct Scooter.
To the surprise of no one Cam Fella was sent off at odds of 1-9 resulting in the lowest win price in Cup history; $2.20. A minus pool of $524 was created when the show pool was within $4 of the win. The handle for the Cup program was $835,331. The Windsor crowd of 7,777 was far from the largest in Cup history which was 12,057 in 1972 but was the biggest since the visit of Niatross two years before this when over 10,000 attended.
Following the race Windsor Star sport's columnist, who covered the Windsor track scene for many years, caught up with a few of the drivers for their comments. Driver Pat Crowe said "Winning is the main thing. When I was racing here the Cup was the big race and everybody wanted to be in it. So to win it and tie the record in my first drive in the Cup, that's pretty nice." Co-owner Norm Clements added "He's never had a world record but he beats all the world record holders." Doug Brown, who seemed to be pleased at being second, said "Sure I had a shot at him at the head of the stretch but it was a little shot. Being second to that horse isn't all that bad I guess." John Hayes, who finished third a little over five lengths behind Sokys Atom, said much the same thing; "We got what we came here for, third place."
Following the third place horse was Sparkling High, Watering Hole, Sans Limite, Armbro Andy (Cam Fella's stablemate), and the only filly Gypsy Black in last place.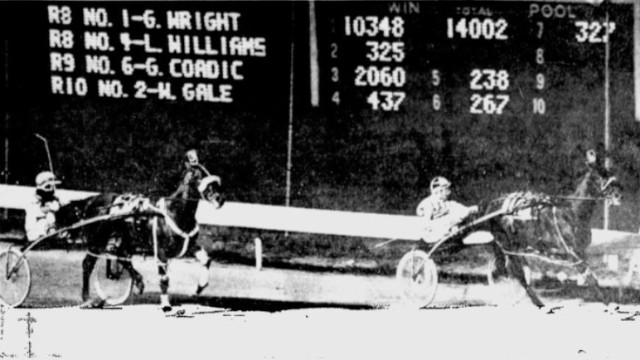 Cam Fella on the right closes out his winning mile at Windsor to capture the top prize in the Provincial Cup. Sokys Atom and Doug Brown managed to get a good look at the winner as they finished second. (Windsor Star photo)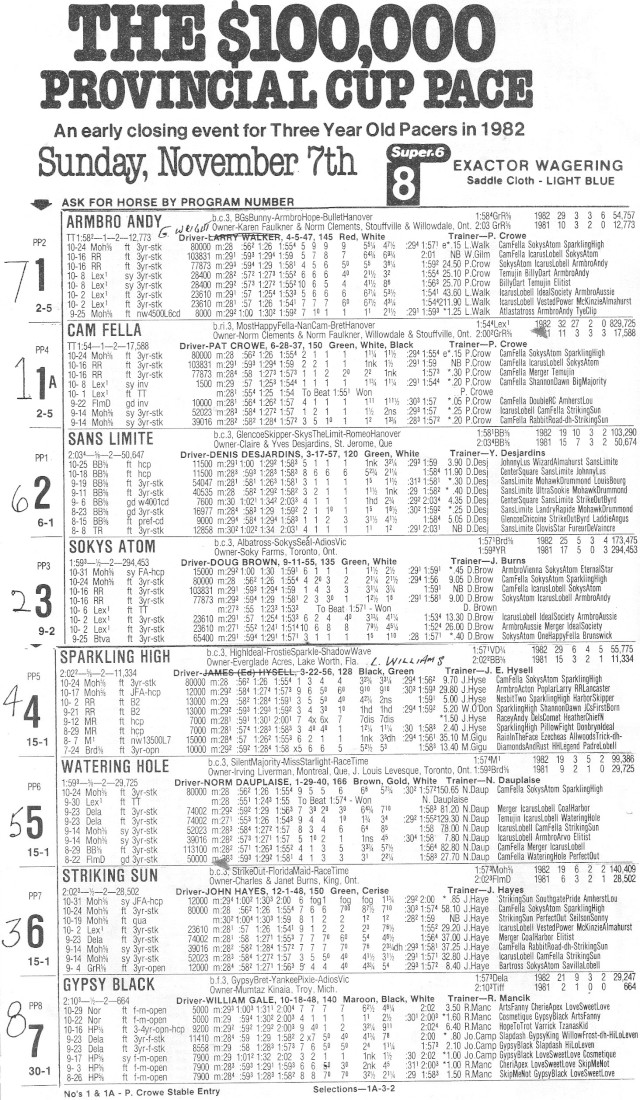 ​
Program From 1982 Provincial Cup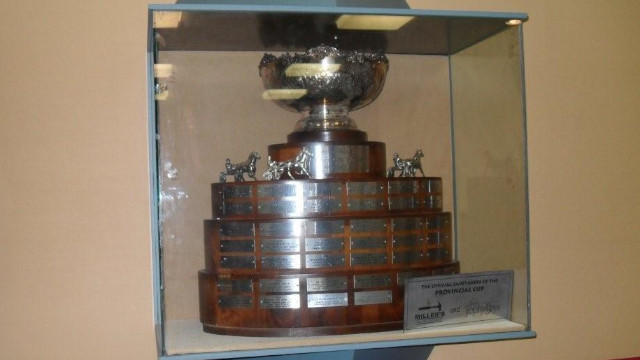 A view of the Provincial Cup as it was displayed for many years near the Windsor Raceway clubhouse entrance (Photo from authors collection)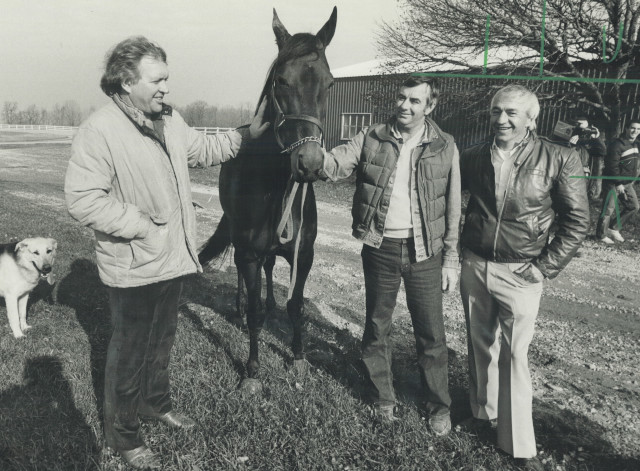 Cam Fella poses with Norm Clements (left), co-owner; Pat Crowe, trainer-driver; and Norm Faulkner (right), co-owner. This 1982 photo followed the announcement that he had just been named U.S. Horse Of The Year.
Quote For The Week: "Sometimes our body works in different ways. Our feet smell and our nose runs." Go figure.
Who Is It?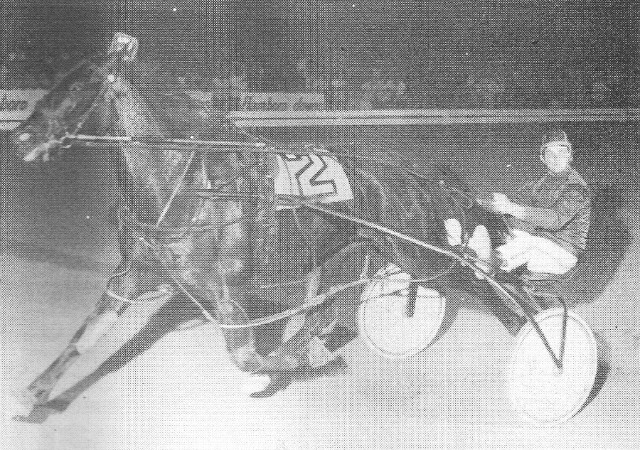 Can you identify this young driver at Flamboro?
What Is It?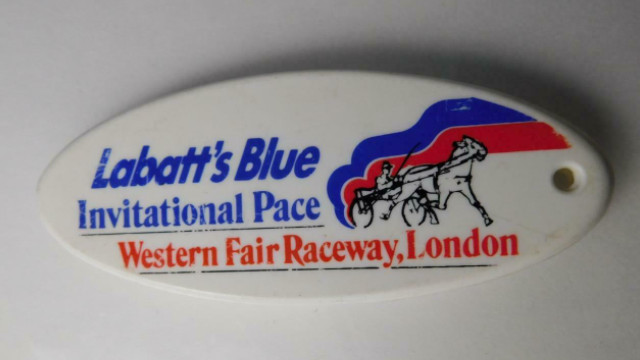 Can you identify the above pictured item which was given out as a Canadian harness racing promotional item.