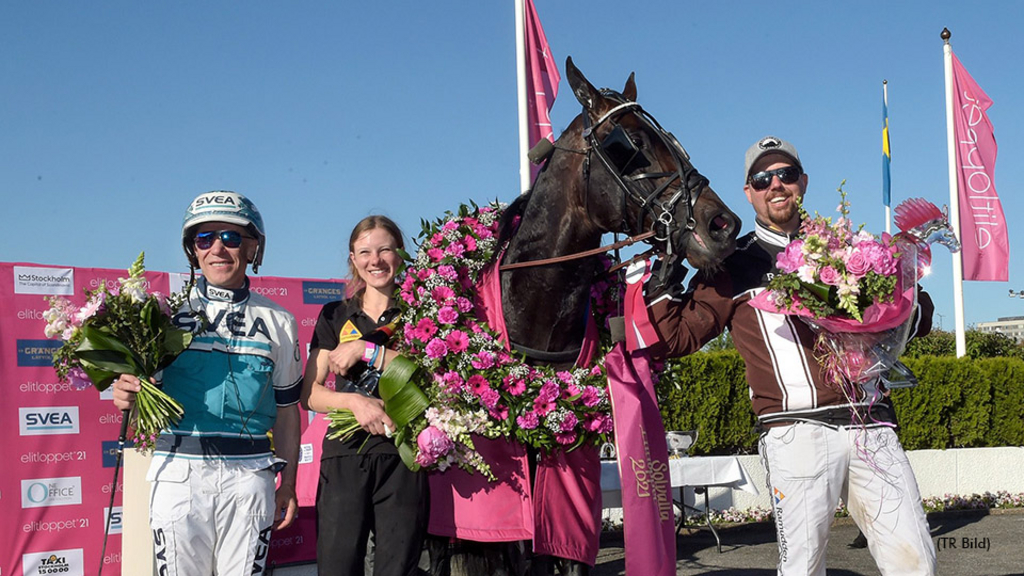 Two trial heats have been drawn for the 2022 Elitloppet, to be held on Sunday, May 29 at Solvalla Race Course in Stockholm, Sweden.
The only representative from North America, Canada's Perfetto, O'Brien Award winner as Older Trotting Horse of the Year in 2020 and 2021, has drawn post four in the first trial heat for trainer/driver Dagfin Henriksen and owner Gerald Haggerty of Camden East, Ont. His elimination includes last year's winner Don Fanucci Zet, who will start from the outside post eight with Örjan Kihlström in the sulky and is one of three trotters trained by Daniel Redén in the trials.
Redén's other contenders will compete in the second trial heat, with Snowstorm Hanover starting from the inside post and Hail Mary from post four. The field includes last year's runner-up Vivid Wise As seeking revenge for trainer Alessandro Gocciadoro. Two-time Elitloppet winner Åke Svanstedt, who manages a stable now based in the U.S., has picked up the mount on the Pasi Aikio-trained post three starter Whos Who.
Solvalla will welcome fans to the track for the prestigious Elitloppet weekend of harness racing on May 27-29. The weekend had been run without spectators for the past two years due to the COVID-19 pandemic. 
The complete fields for the trials are listed below. The top four finishers from each heat will advance to the final later in the day.
Elitloppet - Trial 1
Post - Horse (Country) - Trainer - Driver
1. Önas Prince (Sweden) - Per Nordström - Per Nordström
2. Brother Bill (Sweden) - Timo Nurmos - Jorma Kontio
3. Cokstile (Italy) - Erik Bondo - Christoffer Eriksson
4. Perfetto (Canada) - Dagfin Henriksen - Dagfin Henriksen
5. Click Bait (Sweden) - Stefan Melander - Ulf Ohlsson
6. Vernissage Grif (Italy) - Alessandro Gocciadoro - Alessandro Gocciadoro
7. Etonnant (France) - Richard Westerink - Anthony Barrier
8. Don Fanucci Zet (Sweden) - Daniel Redén - Örjan Kihlström
Elitloppet - Trial 2
Post - Horse (Country) - Trainer - Driver
1. Snowstorm Hanover (Sweden) - Daniel Redén - Magnus A Djuse
2. Admiral As (Sweden) - Reijo Liljendahl - Per Lennartsson
3. Whos Who (Sweden) - Pasi Aikio - Åke Svanstedt
4. Hail Mary (Sweden) - Daniel Redén - Erik Adielsson
5. Night Brodde (Sweden) - Conrad Lugauer - Conrad Lugauer
6. Mister F Daag (Belgium) - Paul Hagoort - Robin Bakker
7. Vivid Wise As (Italy) - Alessandro Gocciadoro - Matthieu Abrivard
8. Extreme (Denmark) - Steen Juul - Björn Goop