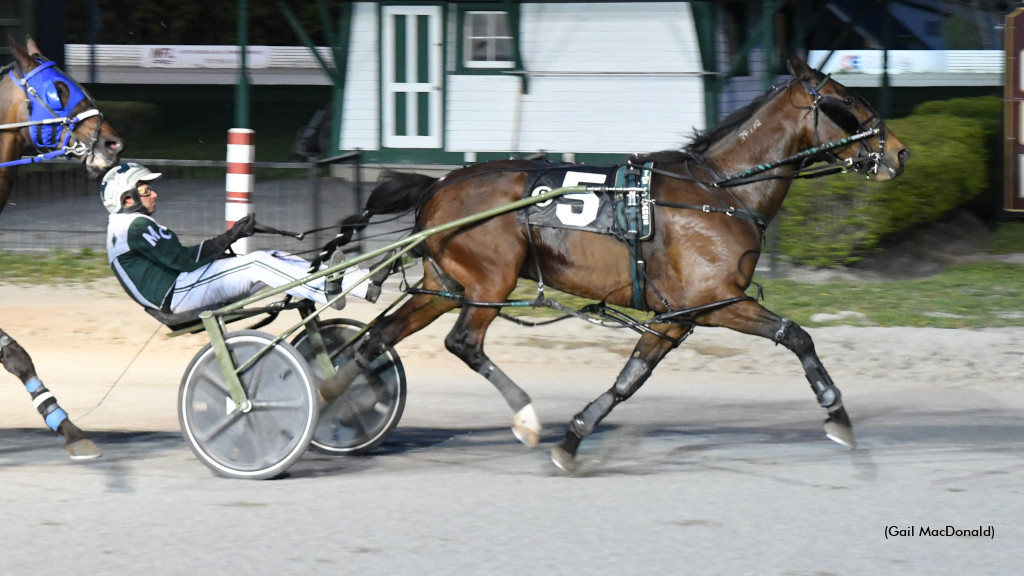 With open road ahead of him and challengers at both ends of the mile, Time To Dance waltzed his way to the historic winner's circle in his first start of the season on Saturday (May 21) at Red Shores Racetrack and Casino at the Charlottetown Driving Park.
Marc Campbell pointed his trainee to the lead from Post 5 in the $3,300 preferred pace and had to work his way around rail starter Burn Out Hanover (Brady Sweet) heading to the opening quarter of :27.4. The Gold Cup and Saucer winning pacer found a second quarter breather of :58.4 then felt pressure heading to the three-quarters of 1:27.3 as Rose Run Quest (Adam Merner) came rushing hard first-over.
The pair of past Governor's Plate champions sprinted the final panel as Time To Dance continued to guard his lead while Rose Run Quest stuck a head in front entering into the final turn but Campbell surged forward with his charge in the stretch drive to win in 1:55.1 by over a length. Rose Run Quest was second with Burn Out Hanover third. Campbell trains Time To Dance for owners Brent Campbell and Matt McDonald.
Campbell had a trio of wins on the night including a 1:56.2 win with St Charlesfireball from his own barn and a night cap victory with Three Truths (1:56.4) from the Kyle Wilkie outfit.
Screen Test was the best in the $2,800 back-up class leading at every station in 1:56.3 for driver Corey MacPherson, trainer Ron Gass and owners Kickin Horse Stable and William Andrew.
MacPherson and Gilles Barrieau recorded driving doubles on the program.
Live harness racing continues Monday afternoon for the season opener at Red Shores at the Summerside Raceway with a 1:00 p.m. opening post time. For live video and much more check out Redshores.ca.
To view results from Saturday's card, click the following link: Saturday Results - Charlottetown Driving Park.
(Red Shores)