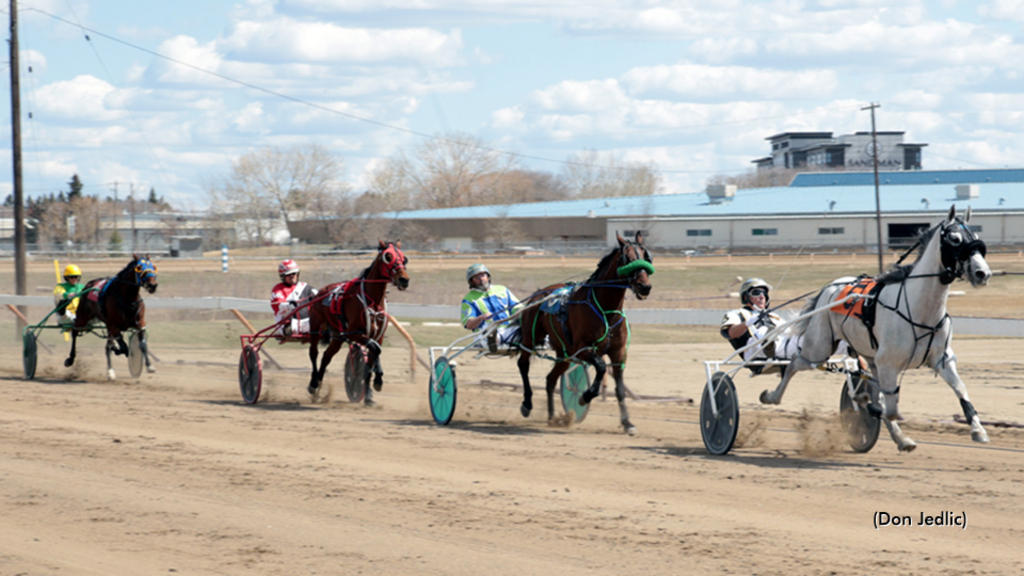 If there's a horse that one could say will be sad to see the doors close next week at Saskatchewan's Marquis Downs, that horse would likely be Gray Zee.
The striking nine-year-old has made two starts at Marquis Downs in 2022, and won both of them. This form comes off of a winless 15-race season in 2021.
Now under the tutelage of Gilles Bouvier, Gray Zee has reeled off back-to-back wins and on Saturday (May 21) he established a new overall track record. With Bouvier at the controls in the $3,800 event, Gray Zee carved out fractions of :28.3, :58.1 and 1:28.4 before opening up on his rivals with a :27 final panel to win by double digits in a time of 1:55.4.
The mile time shaved two-fifths of a second off the former track standard of 1:56.1 co-held by Shadow Promises, Diggin A Trench (twice) and Dragon Time.
Gray Zee (I Zee - Gray Lady Gray) is co-owned by Annabelle Pirie of Strathclair and Aurel Vodon of Virden, Man. In his 180th career start, Gray Zee picked up his 37th lifetime victory and lifted his bankroll just shy of $190,000 lifetime.
Marquis Downs has three cards of live harness racing remaining in its 2022 meet. The final card is set for Sunday, May 29.
To view the results from Saturday's card, click the following link: Saturday Results - Marquis Downs.