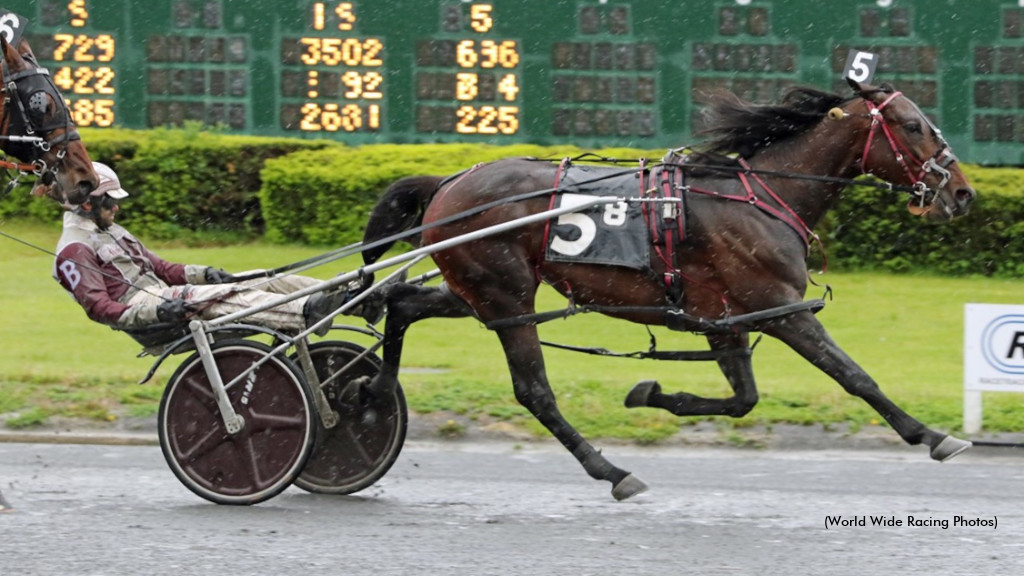 Last week, Bank Sea defeated Major Betts by a head to win the Preferred Handicap pace at Freehold Raceway. This week (May 14), Major Betts got his revenge, taking the weekly feature at the central Jersey oval by a length.
Major Betts drew post position five in a six-horse field on paper, and a scratch enabled him to move one spot over to post position four. He left well from that spot and took the lead in the first eighth of a mile. However, Bank Sea rushed up to the front from post position five and tried to clear to the top. Joe Bongiorno decided to let him go, and Bank Sea cleared to the early lead through an opening quarter in sloppy conditions in :26.4.
As they moved up the backstretch the final time, Bank Sea continued to lead, and Major Betts remained right in behind in the pocket. Turning for home, Bank Sea didn't have much left in the tank, and Major Betts easily scooted up the inside for the victory. Despite the wet weather, Major Betts paced to victory in a sharp 1:53.3. He paid $2.40 to win.
Major Betts is a five-year-old gelding owned by JB Racing, Stephen Klunowski, and Evan Katz, and trained by Jenn Bongiorno. He's won twice from ten starts this year, and has finished in the exacta six times. Both of his wins this year have come at Freehold.
Bank Sea held on for second. Warrawee Total, Albert A Scootin, and Bobcat Bay completed the order of finish.
OFFENBERG, AHLE AHDC WINNERS
Dave Offenberg and Johnathan Ahle each reined a winner in their American Harness Drivers Club trots at Freehold; Offenberg scored with Fiji in 2:00 in his split, while Ahle was triumphant in 1:58 with Arabellas Cadet in their division.
In his event, Offenberg sent Fiji for the lead from post four and they took command after the quarter was trotted in :29. Once on top Offenberg played catch me if you can, and nobody could as Fiji led his competition by the half in :58.4 and they were still strong when they zipped by the three-quarters in 1:29.2. But when they headed into the final turn Tony Verruso had Masster Blue in high gear and they trotted by Mosconi Hanover (Dante Scattolini), who was second at the time and took aim at the leader. Fiji was strong and rebuffed all challenges and went on to a 2:00 victory. Masster Blue finished second and Mosconi Hanover garnered the show dough.
Fiji is owned by Offenberg's Allister Stables and trained by Noel Daley. He paid $7.80 for the win, which was Offenberg's 63rd career driving victory.
In his division, Ahle left softly with Arabellas Cadet and was fourth at the quarter in :28.1, six lengths off the lead. When the field headed to the half Ahle closed the gap, three lengths behind Real McCoy (Dante Scattolini) who were cutting the fractions. Up the backside Ahle hustled Arabellas Cadet to the lead and they began to trot away from their company, and they began to open daylight on the field to coast home an easy 8-1/4 length winner. Drazzmatazz came from far back to finish second for Jake Stillwell and Shoemaker Hanover garnered the show dough for John Calabrese.
The $3.20 winner is owned by Joshua Graber and trained by Michael Posner.
Live harness racing resumes at Freehold Raceway on Friday (May 20), starting at about 12:30 p.m.
(Freehold / AHDC)