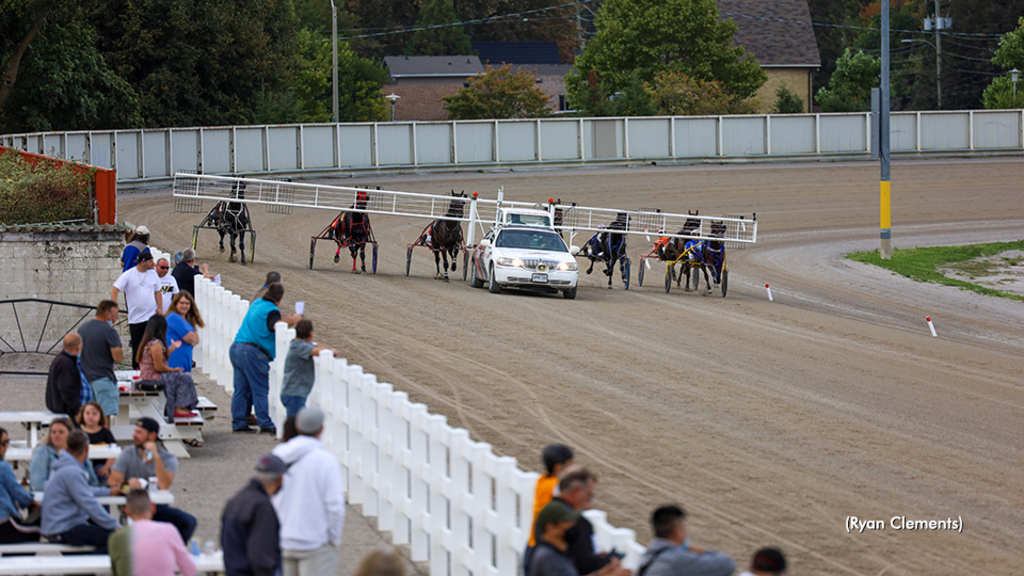 The opening leg of the City Of London Series filled Friday evening's (May 13) card at The Raceway at Western Fair District.
The series is for Ontario-sired pacers and trotters four years old and younger that were non-winners of $10,000 lifetime, as of February 28.
The first leg was comprised of 10 divisions, worth $8,000 each, split by gait and sex.
Trotting Colts/Horses & Geldings
Mass Attack ($11.40) and driver Scott Young held off favourite Maple Leaf Bound in a two-horse breakaway for his first career win in 1:59.4 to open the series. The homebred three-year-old son of Muscle Mass is owned by trainer Peter Clements and Barry Klages.
Next up favourite Come Home For Life ($3.70) cruised to a 2-1/4-length, maiden-breaking victory in 2:01.3 with David Boughton aboard. Energizer De Vie edged by pocket-sitter Guinness in the race for place. The sophomore Royalty For Life gelding is trained by Don Lindsey and owned by Paul Lindsey.
In the final division for male trotters, Caroline Holliday's homebred sophomore colt The Champ Champ ($27.90) pulled off a 12-1 upset as the son of Archangel went wire-to-wire in 1:59 flat, finishing 1-3/4 lengths in front of favourite Livingontherail, with Crooked Dealer snagging third at the pylons over Johnny Buckshot. Anthony Haughan was in the bike as the David Holliday trainee made it three wins in a row.
Trotting Fillies & Mares
The lone trotting division for fillies and mares went to the front-striding Larrys Girl ($5.90), who just held off the wide-drifting favourite Kickin Your Mass and pocket-pursuer Calm Cool Collectd at the wire in 2:00.2. Jason Ryan drove the four-year-old daughter of Il Sogno Dream to her fifth victory of the year after a winless debut season in 2021. Francis Guillemette handles the training duties for owners 2729346 Ontario and Jody McClure.
Pacing Colts/Horses & Geldings
With Scott Coulter picking up the catch-drive for trainer Gregg McNair, the Shadow Play gelding Airy Shadow ($5.30) led all the way to a 1:56.1 maiden-breaking victory in the first division for male pacers, with slight favourite Docsphillycheese going first-up to finish 2-1/4 lengths behind in second and Night Out grabbing third. McNair co-owns the season-debuting sophomore with the Ilderton Boys Stable.
Trainer/driver Lorne House put Greystone Ian O ($2.10) on the point during the first lap and fought off eventual third-place finisher Almost There Boss en route to a 4-3/4-length triumph in a career-best clocking of 1:54.2 -- the fastest mile of the night. Super FM caught Almost There Boss at the wire to steal the runner-up honours. Unraced at two, the Sportswriter gelding now boasts four wins -- all at the London, Ont. half-mile oval -- after picking up cheques through the Ontario Sired Spring Series at Woodbine Mohawk Park for House and partners Ryan Clements and Ryan Willis.
In the final split, the Courtney Bishop homebred Leavin Bruises ($5.80) prevailed off a pocket trip, downing the popular pacesetter Yarm by a half-length for his third straight win in a life's best 1:56.2 clocking with Scott Coulter in the bike. Delightful Wine finished two lengths back in third. Bishop trains and co-owns the Believeinbruiser ridgling with Leo Fleming.
Pacing Fillies & Mares
The popular Tony Beaton trainee Lyons Princess ($2.90) sprinted out to the lead off the gate and held on to win her division in 1:56.3 by a neck over Rockabillycockshut in a two-horse breakaway. The Threelyonsracing homebred three-year-old filly by Lyonssomewhere picked up the third win of her debut season and took a new lifetime mark in the process.
Sexy Playmate ($2.50) delivered on her pari-mutuel promise, leading wire-to-wire in 1:59.4 with Colin Kelly between the wheels for the Kyle Bossence stable. The three-year-old Shadow Play miss now boasts back-to-back wins after holding off Ezbriestbeautiful and Barstow Belle in a three-across finish. (Replay not available.)
Trained and reined by Lorne House, bettors' choice P L Portia ($2.20) worked her way to the lead through a :27.3 bullet and fended off first-over challenger Lyons Believer to win in a career-best 1:56.3 mile by 3-1/4 lengths. Third prize went to Dustins Girl. Now a four-time winner, the three-year-old Sunshine Beach filly is owned by Ryan Clements and breeder Prince Lee Acres.
The City Of London Series continues with round two on Friday, May 20 and the finals on Friday, May 27.
To view Friday's harness racing results, click on the following link: Friday Results - Western Fair Raceway