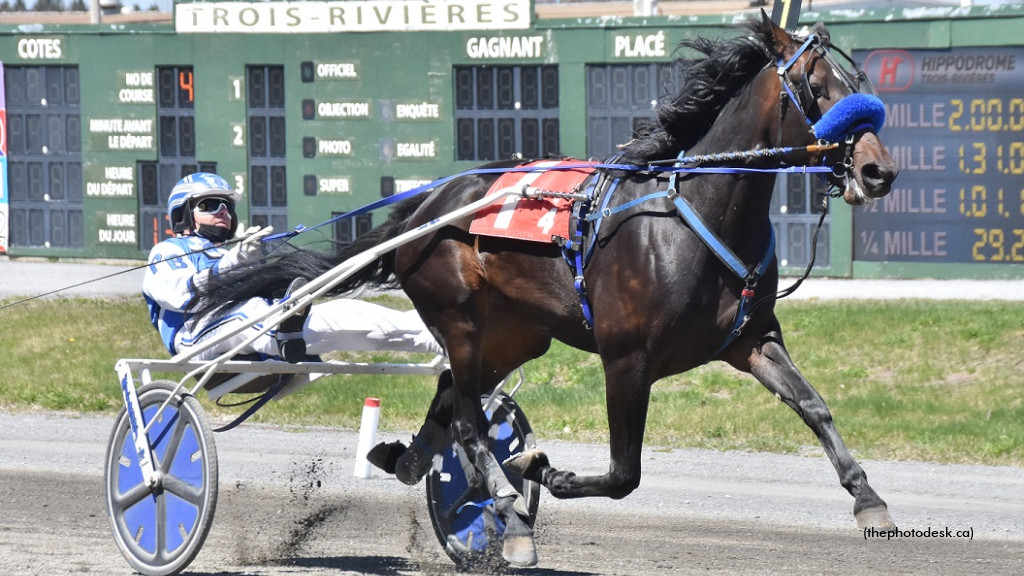 Three Quebec-Bred champion trotters from the 2021 harness racing season will battle it out Sunday (May 15) at Hippodrome 3R in the Preferred Trot co-feature.
The entry of Hall Win (Post 5) and Royalty Beer (Post 9) from the stable of Jean-Francois Maguire is the 5/2 morning line favourite in the third race and rightly so, as both horses were divisional champions last year.
Hall Win, a four-year-old gelding by Angus Hall, won six times last year, including the $60,000 Breeders Trophy Final for driver Kevin Maguire. Hall Win has not fared well so far in just two starts and will have Kevin Maguire in the bike.
Royalty Beer made just five starts in 2021, but he won four of them including his $50,000 Future Stars Final. He was a decent second-place finisher last week and has Samuel Fillion in the sulky.
Stella Alpha (Post 1) is one of three ladies in the field of nine and raced as an entry from the Sylvain Tremblay Stable along with Archimed Alpha (Post 8).
Last year at age two, Stella Alpha was sensational for the combo of Tremblay and driver Pascal Berube. The daughter of Royalty For Life set a track record, won her $50,000 championship final and has two wins this year, one a lifetime mark of 1:58.1.
In her last start she won in a romp at 3R by three and three-quarter lengths in 2:00.
Archimed Alpha was second in the Preferred Trot last week and will be driven by Jimmy Gagnon.
Another lady in the field is XOXO from post four for owner-driver Jerome Lombart. She won seven times in 2021 at age three and so far in 2022 won just last week in this class with a 2:01 triumph.
The eighth race Preferred-Handicapped Pace features a newcomer to Quebec, Menlo Park (Post 5), coming north after recently competing at Miami Valley Raceway..
He was recently purchased by trainer Jean-Francois Reid and will be driven by Stephane Brosseau. He recently took his lifetime mark at Miami Valley with a 1:52.4 triumph.
Looking to notch his first triumph of the season will be Mickeymaksomespeed (Post 6) for driver Kiwon Waldron. In his 2022 debut last week, Mickeymaksomespeed was a game second to National Debt in a 1:55.4 mile.
Other contenders include Siddhartha (Post 7), D Gs De Vito (Post 8) and Goldinthebadlands (Post 1).
First race post time Sunday is 12:00 noon. For a free race program, visit hippodrome3r.ca. To view the entries, click the following link: Sunday Entries - Hippodrome 3R.
(Quebec Jockey Club)