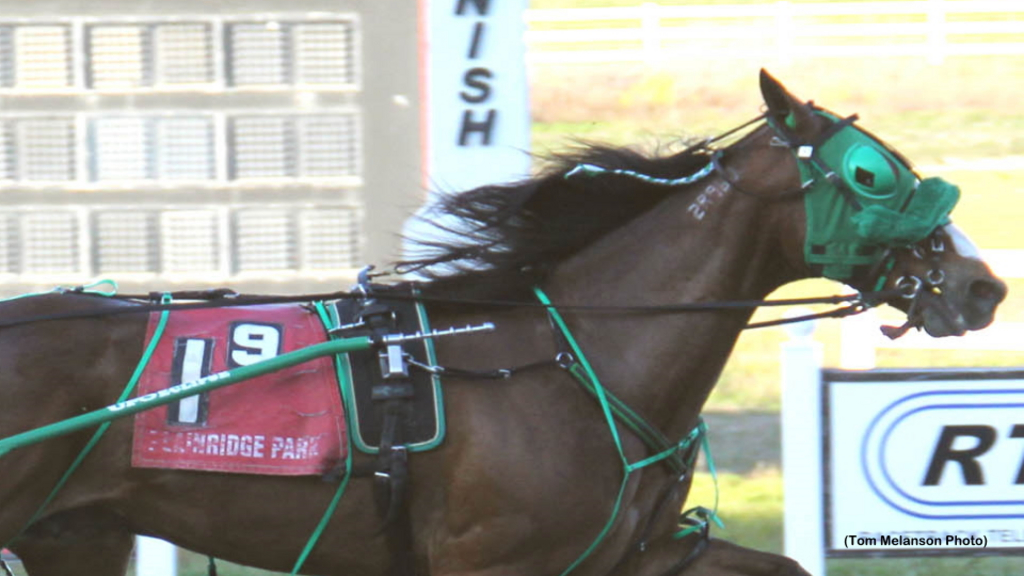 Overlooked at 11-1 despite drawing post one in a class he's been competitive in, Boogy Woogy J laughed at the doubters as he cruised to victory in the $17,500 feature pace at Plainridge Park on Thursday afternoon.
Driver Jim Hardy left hard with Boogy Woogy J and seated Stop Staring (Shawn Gray) after a :26.4 first quarter battle. The leader the backed down the half to :56 before Miki U So Fine (Nick Graffam) came first up to apply the pressure.
Boogy Woogy J picked up the pace and maintained his lead to three-quarters, around the last turn and into the stretch. Hardy kept after Boogy Woogy J down the lane and turned back the late closing Kick The Dirt Up (Matty Athearn) and pocket-sitting Stop Staring to win by 1-3/4 lengths in 1:53.3.
It was a seasonal mark for Boogy Woogy J ($24.20) because it was his first win of the year for owners David Thibault, Christine Thibault, Jim Hardy and Jolene Andrews. Andrews trains Boogy Woogy J.
There were also three $15,000 condition races held during the afternoon – two on the trot and one on the pace – and all three winners went in lifetime best times.
On the trot, Lindy On Stage (Wally Watson) pulled from third and brushed late down the stretch to catch Pembroke Regal (Heath Campbell) and claim a ½ length win in a career best time of 1:54.4. It was the second straight win for Lindy On Stage ($26.80) who is owned by John and Susan Muldoon and trained by Lisa Watson.
Later Nicola Hanover (Heath Campbell) led at every station before turning back a challenge from Marquis Lafayette (Bruce Ranger) at the top of the stretch where he cruised home to a 1-1/2 length victory in another lifetime best of 1:55.3. It was also the second win in a row for Nicola Hanover ($10.80) and owner William Varney. Valerie Grondin trains the winner.
On the pace, Datguyna Greensuit (Matty Athearn) scored his third consecutive win after going gate to wire and holding off Momentsthatmatter (Shawn Gray) to win by two lengths and equal his best career time of 1:52.4. Datguyna Greensuit ($7.40) is owned by Katie Flaherty and trained by Gretchen Athearn.
Veteran trotter Tag Up And Go (Shawn Gray) hit a career milestone on Thursday after he won the eighth race. It was the 50th lifetime victory for the 12-year-old son of Angus Hall-Tagapine who now has earned $633,356 during his career for his efforts and has finished in the money more than half of his 208 starts.
Tag Up And Go ($15.60) is owned by Lester Geraldi, Jr. and Anthony Passafaro and is trained by Matty Medeiros.
Jay Randall and Jim Hardy both finished the day with two wins apiece.
When live racing resumes at Plainridge Park on Monday (May 16) the Grand Circuit will be in town and feature the inaugural edition of the $100,000 Battle of Bunker Hill trot for three-year-olds. Besides that featured race, the entire card will be made up of high-end pacers and trotters and promises to be the best afternoon of racing offered at The Ridge during this early part of the meet. Post time for the first race is at 4 p.m.
(Standardbred Owners of Massachusetts)