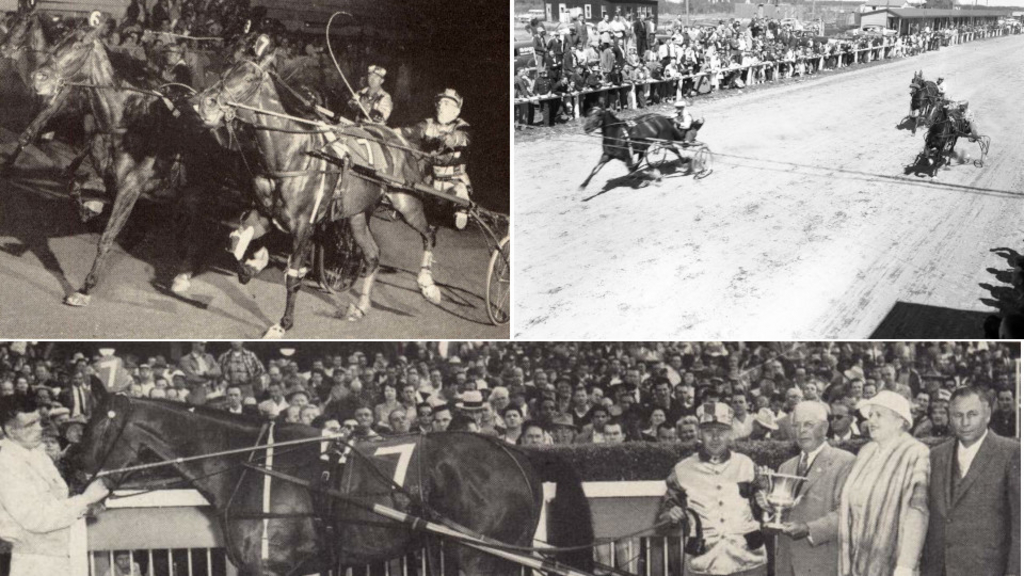 The latest edition of Rewind is this month's version of 'Years Ago'. This time around it's all about people, places and events that were current during the decade of the 1950's. Robert Smith offers a wide range of subjects from various areas of harness racing's past and a few pictures as usual. Also a special Mother's Day greeting is part of today's Rewind.
1953 - Futurities Held At London
As the 1953 racing season drew to a close the London track hosted the annual Canadian Standardbred Horse Society's Futurity races. This series of races held each year since 1929 at various locations showcased the best young talent from both gaits. The Futurities this year were spread over a four-day period Sept. 16 - 19th as the featured events of each afternoon's card. Purses totalling just over $10,000 were split for the four events with the two-year-olds going for $1,600 and $3,500 for the three-year-olds.
The following horses were the winners in their respective divisions that year:
Two-Year-Old Trotters:
Winner - Dorothy Riddell; Owned and driven by W.E. Rowe, Newton Robinson, Ont. Winner of both heats.
Three-Year-Old Trotters:
Winner - Ben Boy; owned by Mrs. Ruth Wray, Schomberg, Ont. Driver Keith Waples. Winner of all three heats.
Two-Year-Old Pacers:
Winner - Mr. Galvin; owned by Russell Miller, Dutton, Ont. Winner of both heats. I am not sure of who drove this great colt.
Three-Year-Old Pacers:
Winner - Barney Diplomat; owned by McWilliams Bros., Dutton, Ont. Driver Don McWilliams. Two heat winner with Sonny G. Herbert (Wm. Herbert) winning the first heat.
Note - Many colt performers who won Futurity races went on to further their careers for current owners while others were sold and moved to new ownership usually based on their early performances.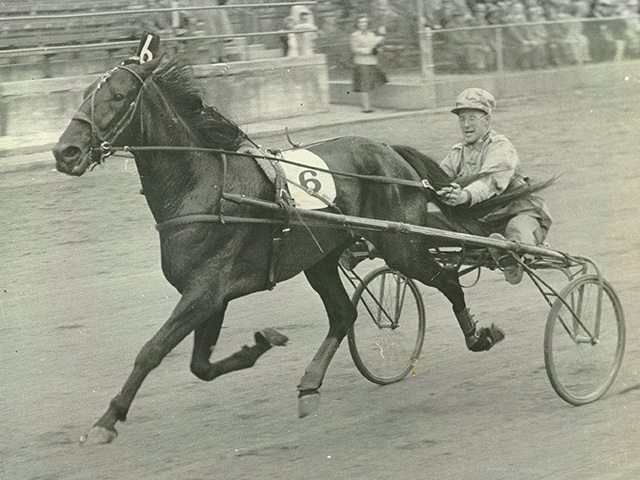 Driver Keith Waples, 29, checks his watch as he urges the three-year-old trotting sensation Ben Boy to victory in the 1953 C.S.H.S. Three-Year-Old Futurity. The mile time of 2:08.2 was a new Stakes record and the fastest in the race's 25-year history to that point. It also established a new record for Canadian three-year-old trotters and a track record for the London half-miler. (Photo courtesy of Wray Family)
1954 - World Record Set In Governor's Cup Trot at Northville Downs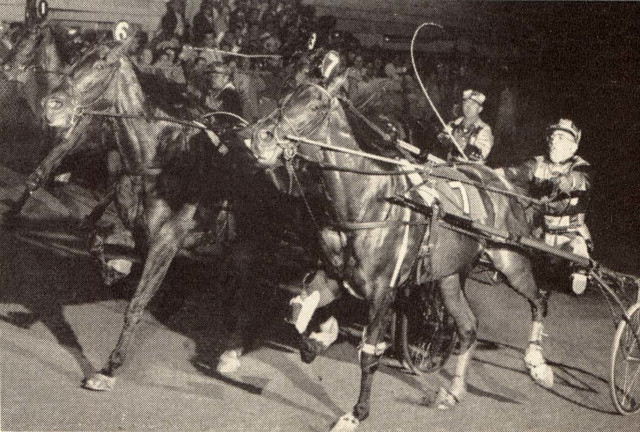 Scotch Valley (7) and driver Jack Ackerman and Lord Steward (6) with Dick Williams up reach the wire in a dead heat. The time of 2:03 1/5 established a new world record for a dead heat for aged trotters on a half-mile track (Harness Horse photo)
For many years one of the highlights of the Michigan racing season was the annual Governor's Cup race for Free-For-All trotters. In past years the race had attracted the sport's top performers including the great mare Proximity. Each year the current Michigan governor was on hand to present the trophy to the winning connections.
In this year's edition the competition in the $10,000 event was so evenly matched that the winner was decided in a dead heat photo. Lord Steward, with Dick Williams up, and the five-year-old Scotch Valley, with Jack Ackerman driving, fought it out to the wire in a world record time for a dead heat of 2:03 1/5. Owned by Detroiter Bill Brown of Royal Blackstone fame, Scotch Valley came back to take the second heat all by himself in a slower 2:04 1/5 and thus the best standing and the winner's trophy. Jamie, a son of Darnley, took second spot just ahead of Lord Steward. This was Scotch Valley's seventh win of the campaign in 14 tries and gave the Scotland sired horse a new lifetime mark.
An account of the race contained the following: "The $10,000 Governor's Cup Free-For-All Trot will go down as one of the most exciting ever raced here."
Winning driver Jack Ackerman and his brother Doug two years his junior, were prominent figures in Michigan harness racing at this time. They were born into a horse loving family. Jack was named the nation's leading harness driver in 1957 and Doug eventually became a member of the Hall Of Fame at Goshen.
1956 - Racing Returns To Sturgeon Falls
After a several year absence harness racing made a return to this northern Ontario town in 1956. Several race days were held beginning in late July and continuing through to Labour Day weekend. I am pleased to have a few old pictures taken at that track.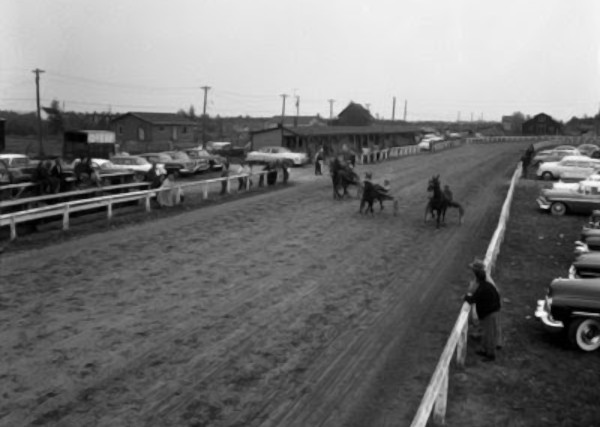 A nice view of the stretch and infield parking at the Sturgeon Falls track (West Nipissing Public Library Collection)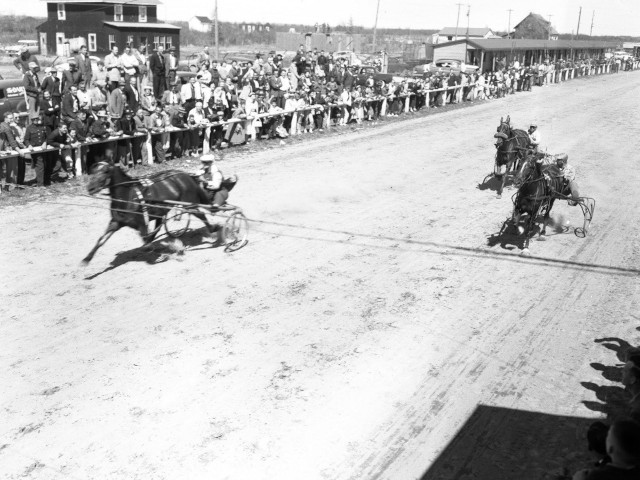 A good sized crowd views the racing action at the Sturgeon Falls track as the horses head down the stretch (West Nipissing Public Library Collection)
Race days usually featured four races per afternoon, each consisting of two heats. Purses regardless of class were set at $200. The unofficial "hero" of the summer racing schedule was Claude Hanover, the seven-year-old son of Nibble Hanover owned by W.J. Burrows of North Bay. This classy fellow had a lifetime mark of 2:03 2/5 taken on a mile track at age three. His lifetime bankroll was over $28,000 although his nine-win season this year netted a slim $529.00 racing for the low purses offered for racing on the Northern Ontario circuit. He was driven to most of his victories by Pat Sherman (brother of Ernie Sherman, who is remembered by a number of people who follow Rewind). Mr. Burrows also owned another top class horse named Diamond Meter who appeared in a number of races that summer and was often a winner.
Some familiar names such as Laurent and Wilfred Paiement of Earlton, George Best from Gore Bay, Hector Clouthier Sr. of Pembroke, Ed Brown of Powassan were regulars. A horse with the catchy name of Small Fry Castle was a consistent winner for owner Bernard Spry of Mindemoya, Ont. With racing taking place mainly in August, there were no reported race cancellations due to snow.
I can't help but wonder how many people have attended a day of racing in Sturgeon Falls.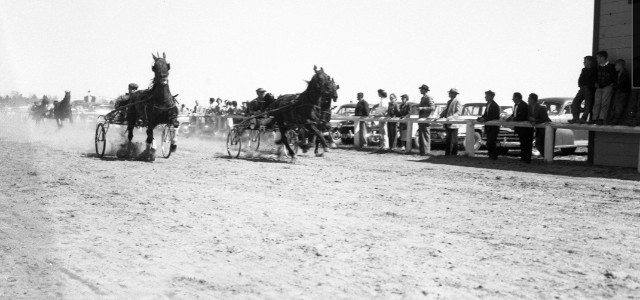 Track action on race day at Sturgeon Falls with lots of fans in the infield (West Nipissing Public Library Collection)
1956 - Match Race Goes To Dotties Pick
Racing scribes have often used the term "a two-horse race" to describe the closeness of two competitors who stood out above the rest of a field. When racing fans gathered on the evening of November 27, 1956 at Yonkers to watch a much heralded race, there were only two horses in the race. In what was billed as "East vs. West", two of the most outstanding horses of this era were entered in an old fashioned match race.
The two contestants — both sired by Adios the most outstanding sire of the times — were pitted against each other in a winner-take-all matchup for a purse of $25,000. To add further interest, one was a stallion named Adios Harry, the other a mare named Dotties Pick. Advantage to the male of course as Adios Harry was made the prohibitive favourite at odds of 1 to 2. This shows that even in a race with only two horses it's not easy to pick the winner. Adios Harry was owned by J. Howard Lyons of Wilmington, Delaware and driven by the owner's son Luther.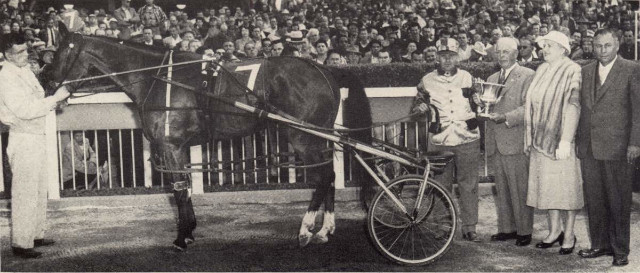 Dotties Pick shown after winning at Santa Anita Park in California. Mel Eaton of Vernon Downs was on hand to present a trophy to driver Delvin Miller and owners Victoria and Elgin Armstrong on the right. (Harness Horse photo)
Dotties Pick, owned by the Armstrong Bros. of Brampton and handled by Delvin Miller, was sent to the front immediately and was never headed after that. A mild challenge was mounted by Adios Harry and driver Luther Lyons at the quarter pole but the outcome of the race was never really in question. The five-year-old mare coasted to an 11-length victory in 2:06. She paid $3.80 to her faithful backers.
1959 - Fire At Leamington Claims 20 Horses
Apr. 18, 1959 - A devastating overnight fire claimed the lives of at least 20 racehorses at the Leamington fairgrounds on this date. A very old wooden L-shaped building was completely destroyed but several other stables were untouched. One of the top performers from the 1958 season, a horse named Champ Volo owned by Maplewood Stables of Montreal and being trained by Jim Wiener, was among those that were saved. This horse was valued at around $50,000. A complete list of the casualties could not be made until fire officials made further searches. A number of grooms living in the stable area escaped with only the clothes they were wearing.
Fred List of Chatham, a resident handler, attempted to turn in an alarm using the stable phone but was unsuccessful. He then ran to a nearby home and called the local fire brigade who quickly responded but they were unable to save either the horses or the structure. Local horseman George Sherman witnessed the fire first hand and described it as "the worst I have ever seen." Harvey Hyatt, a local auto dealer, lost one of his horses, Blenheim Boy, a pacer he was training for the upcoming racing season.
Quote For The Week: "I'm glad I didn't fall too far from the tree." A quote associated with Mother's Day.
Who Is It?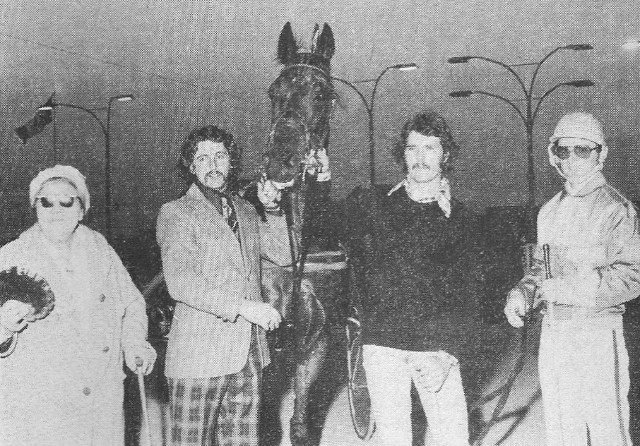 ​
On May 10, 1976 which was Mother's Day that year a trackside presentation was held to mark the special day at Mohawk Raceway. Mrs. Rose Mike on the far left made a trophy presentation to the winning connections. An avid harness fan who was 84 at the time, Rose was a mother, grandmother and great grandmother. Can you name anyone else in this old photo? (Photo courtesy of the Standardbred Record)
Who Else Is It?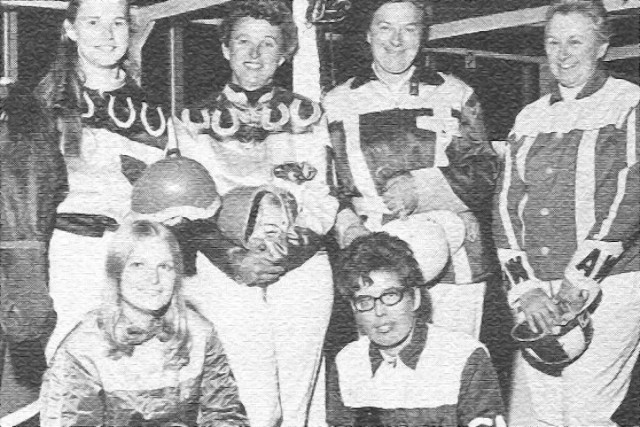 ​
This group picture was taken back in 1970 when a "Powder Puff Derby" was held at Mohawk Raceway. Can you name them? (Photo from Harness Horse Happenings)
Be sure to stay tuned during this week to find out the correct answers to today's pictures.
HAPPY MOTHERS DAY
I would like to pass along a Happy Mother's Day wish to everyone in the reading audience as we celebrate this very special day on Sunday. We all owe a lot to our mothers for the sacrifices they are accustomed to making. We can never repay them but we can thank them and for those who have passed, treasure their memory.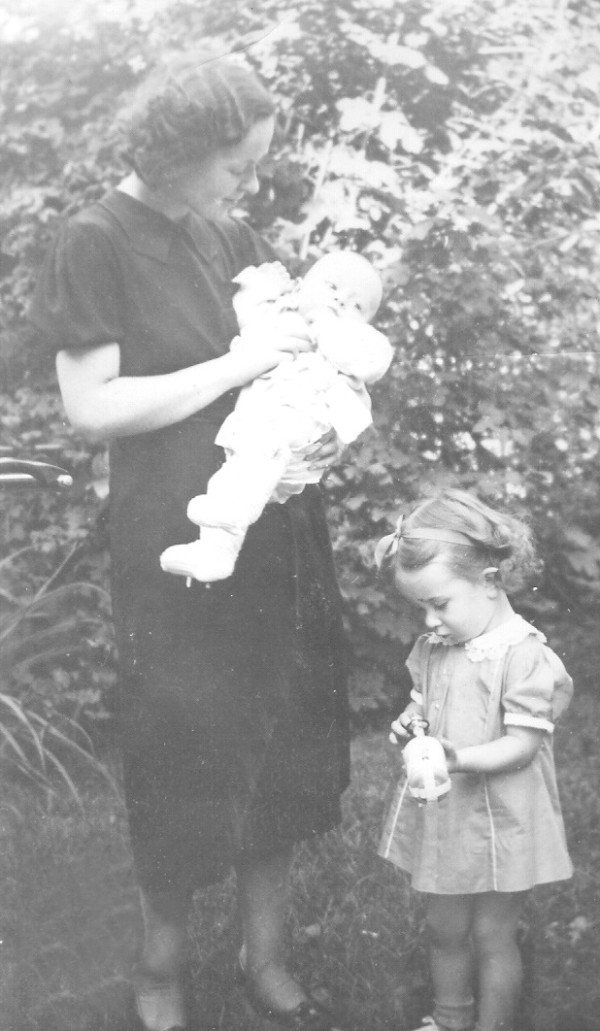 ​
Gentle woman, quiet light,
morning star, so strong and bright,
gentle mother, peaceful dove,
teach us wisdom ; teach us love.
-- An excerpt from a favourite hymn