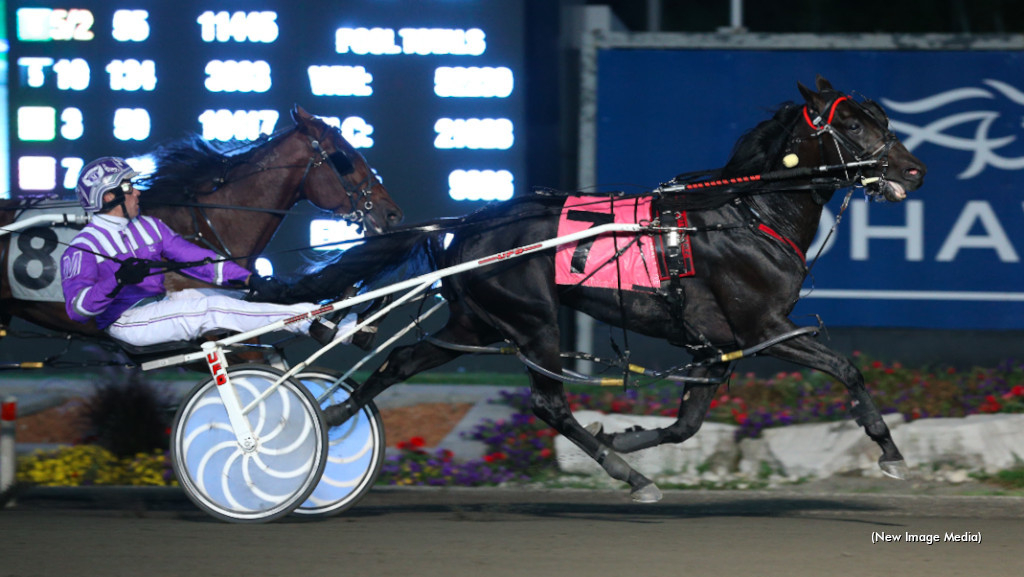 Part of a Ron Burke Stable seven-horse consignment, veteran pacer Twin B Tuffenuff topped all auctions this week at onGait.com.
A stakes winner and sub-1:50 pacer, seven-year-old Twin B Tuffenuff brought a winning bid of $91,000 from Patrick Morris of Prince Edward Island on Wednesday afternoon. Others from the Burke offering included Perlucky 5,1:52.4f, a top level trotter which sold for $75,000 to Anthony MacDonald's The Stable; JM Betonsix p,4,1:52.2, a Betting Line four-year-old mare that went to Marshall Klein of Michigan for $56,500; Collusion Illusion, p,2,Q1:55.3, a Sweet Lou three-year-old old filly for $27,000 to Carlin Savage of Maryland; Hoosier Shark, p,3,1:52f for $26,600 with Jose Godinez of New York buying the Tellitlikeitis four-year-old; Rose Run Galaxy, p,2,1:55.2f, an Ohio bred Racing Hill filly for $20,400 to James Hardy of Massachusetts; and Three Dragons, p,5,1:54.2h to Jason Shaw of Pennsylvania for $15,400.
Jen Bongiorno's Stable three-horse consignment was highlighted by the Tuesday sale of Springsteen p,5,1:48.1 for $59,000 to Shane Tritton of New York. On Thursday, Brad Grant and Steve Heimbecker's Easyrunner Hanover p,3,1:52f, a Captaintreacherous four-year-old old mare, sold for $50,500 to Jenna McNiven of Twinbrook Farm in Ontario.
(with files from OnGait)