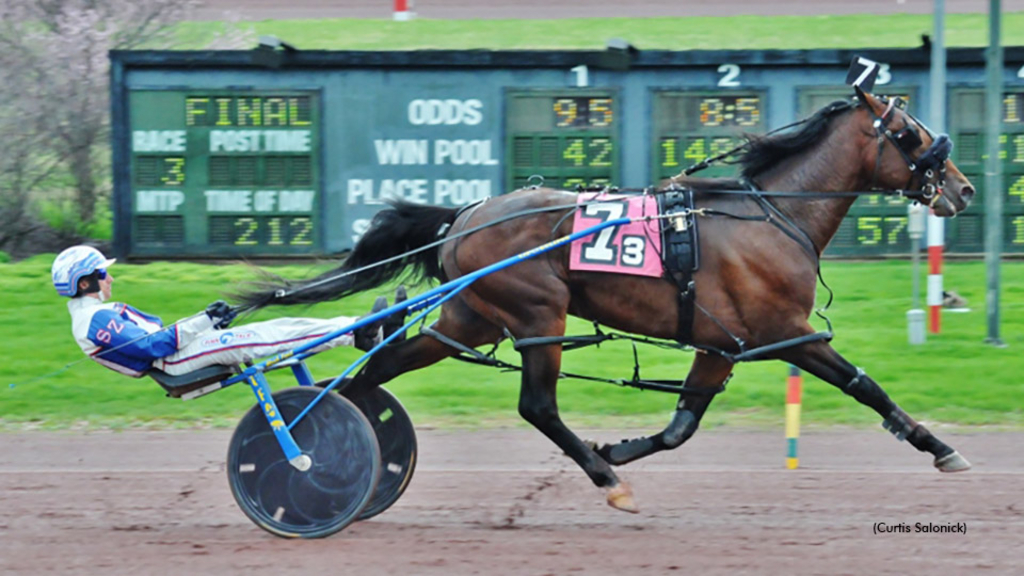 In his brief career, All Or Nothing has lived both sides of his name.
Last season resulted in "nothing" as the Grand Circuit hopeful was shut down after suffering an injury in his only qualifier, a June win at The Downs at Mohegan Sun Pocono. This season, conversely, has resulted in "all," as in all victories, as he heads to Saturday's $50,000 Bobby Weiss Series final for three-year-old male pacers at Pocono.
All Or Nothing is three-for-three for owner John Cummins, a Kentucky-based veterinarian who also bred the colt, and trainer Nicholas DeVita. He will start the eight-horse Weiss final from post seven with driver Scott Zeron and is the 3-1 morning-line second choice.
Lanjo Lee, who is unbeaten in five starts this year, is the 5-2 favourite from post two with Tyler Buter driving for trainer Jeff Sorenson.
All Or Nothing enters the race off a 1:51 triumph in a Weiss division April 16. He won in 1:52.3 the previous week, the first of the three preliminary rounds of the series, over a sloppy surface.
"He's been very impressive," said Cummins. "He's still a little green, but it's amazing to see how he's changed in just a couple qualifiers and a couple races. That last start, it was like, 'OK, I'm ready; let's go.' He seems to be learning very quickly."
All Or Nothing is a son of Always B Miki out of Booya Beach. He is a half-brother to Heavens Gait, who won the 2017 Empire Breeders Classic for three-year-old male pacers.
"He's totally different from Heaven's Gait," said Cummins, who bred and still owns Heaven' Gait, the winner of 20 of 82 races and $407,410 lifetime. "He's a big horse, but he's not heavy, he's racy. I've got a couple other 'Miki's' out of that mare, and they're all similar in that they're big, rangy, horses.
"It seems with that mare every foal looks typical of the sire. One thing all of them share [regardless of the sire] is that they're good gaited. But it seems like all horses are good gaited now. If they're competitive, they are."
There were high hopes for All Or Nothing heading into last season, but a pastern fracture put them on hold. After being given several months to recuperate, his connections hope the colt can fulfill those hopes this year and have All Or Nothing staked to a number of Grand Circuit events including the Meadowlands Pace, Adios and Cane Pace.
"We're just hoping he stays healthy," said Cummins. "We had high hopes for him last year, but anymore they all seem to train pretty well. It's when you get down ready to race that they seem to separate a little bit. But he was always super fast and did everything very easily. He will make you get your hopes up, that's for sure.
"He's got pretty much everything [stakes-wise]. I didn't stake him to any half-mile tracks, just because of his size, and didn't stake him in Canada, just because we didn't want to ship up there. There are so many races, there's no way to make them all. We tried to create a schedule where he wouldn't have to ship a lot and could stay on tracks that are good for him, the bigger tracks. We'll just see what happens."
So far, so good.
"With his size, I questioned whether he would have quick speed or whether he would have tactical speed, but it seems that he does," said Cummins. "He seems super smart. I think those are things that will help him when he gets in with the better colts so he will be able to compete a little better. I know it's difficult to get one to show that kind of talent that quickly. You just have to hope they stay healthy and then have a little luck after that."
Racing begins at 1:30 p.m. EDT Saturday at The Downs at Mohegan Sun Pocono. The Weiss final is race 10 on the 14-race card. For full-card TrackMaster past performances, visit the Pennsylvania Harness Horsemen's Association website.
(USTA)