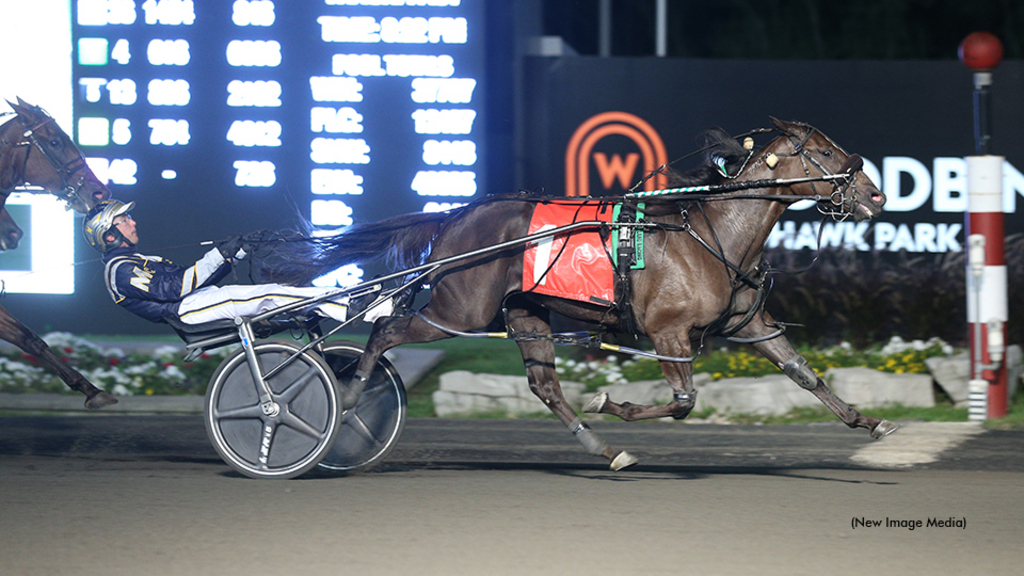 The connections of O'Brien Award winner Lauras Love have announced the five-year-old pacing mare has been retired from racing.
"Laura's racing career has unfortunately come to an end," said co-owner Gracie Mae Barr. "Earlier than we wanted but we will definitely remember all of the memories and experiences she gave us."
The decision to retire Lauras Love was made in the best interest of the beloved mare after she sustained a fluke injury while training over the weekend. Barr indicated Lauras Love will be bred to Captaintreacherous. 
Owned by trainer John Pentland and Barr, Lauras Love was named Canada's top three-year-old pacing filly in her debut campaign in 2020 when she earned the bulk of her $486,863 bankroll. A nine-time winner that year, the daughter of Betterthancheddar out of Fit N Bad won a division of the Simcoe Stakes in a career-best 1:50.3 and was placed first in the Ontario Sires Stakes Super Final at Woodbine Mohawk Park.
"She was maybe the fastest horse I've ever trained for a piece," Pentland told Trot Insider. "She paced a :25.1 quarter one night in the elims for the Fan Hanover. She was just fast. And she raced her whole life with sort of nagging ankles. She was just always a real gutsy horse."
Pentland's favourite racing highlight is proof of the speedy and determined mare's top qualities.  
"My favourite race ever with her was when she won Gold in Grand River as a three-year-old," recalled Pentland. "The Simcoe was awesome but that one Gold race… she was a favourite but she had to come first-up early and it was that day at Grand River there a couple of years ago when they had a horrible storm.  She had every reason to lose that horse race, and she would not lose."
Barr recalls the excitement in the barn around her first win and an early streak in the non-winners of two class at Mohawk, but notes it was a race that Lauras Love did not win that tops her list of memorable moments.
"My favourite race is definitely the Fan Hanover because there is a chance that was the biggest race I'll ever have a horse in and she was my first horse, so to have her in there was really special," said the Thamesford, Ont. teen. "She didn't win it but to race against that calibre of horses was really big for me." 
In addition to her gutsy performances, Lauras Love was a special mare for reasons beyond the racetrack. 
"She was a really good horse," noted Pentland, who is no stranger to training top talent, "but to have the Barrs involved, it made it a lot more special.
"I'm so close with Gracie's dad Scott Barr, who is a such a good horseman – we've been best friends for 30 years – and it brought them back into the racing game. Their whole family was right into it and now Scott and Gracie both work for me part time and are a huge help to my stable. It really meant a lot to have them in it, and you know, they'll stay in it."
Barr is quick to credit her grandfather for her unforgettable endeavour into horse ownership with Lauras Love.
"My grandfather, Russell Baker, bought a percentage of her for me because he knew how much I loved her and so that I could learn more about the business side of the industry," said Barr. "She gave my whole family something to look forward to, especially during the pandemic.
"She is the first horse I ever harnessed. I don't know if I will ever have another horse that loved to race more than she did.  It was a lot of fun to have a horse that no one ever counted out of the race right up to the wire. We both learned a lot from each other."
Barr also acknowledged the horsepeople who contributed to Lauras Love's successful racing career.
"Bob McClure always made sure to take care of her on the track. More recently, Paul MacDonell also did amazing with her while Bob was sidelined. Many people have shipped, driven, warmed up and we have an amazing team that always looked out for her.  It was lot of fun meeting the people I did because of her. 
"John [Pentland] has done a terrific job managing her and I've learned so much from him.  It has been the greatest privilege of my life to care for this sweet girl who always gave 100 per cent for our team."
Lauras Love hit the board in three recent Mares Preferred starts at Mohawk including her last race on March 18. She added one final victory to her resume a week prior on March 11, scoring in 1:53.4 in a high-end conditioned pace, and retires with a career record reading 13-12-4 from 49 starts.