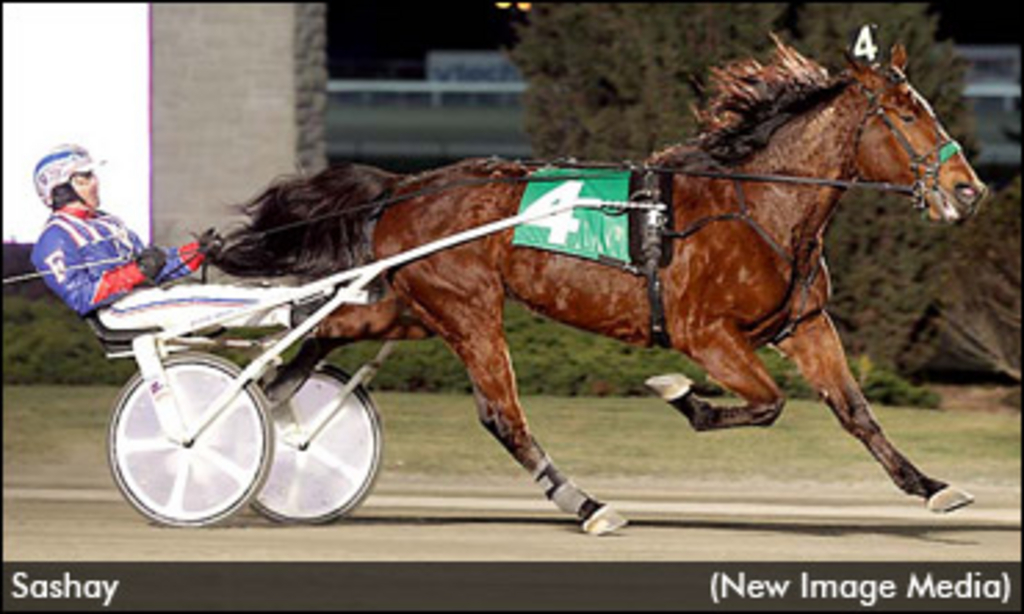 Trotting mares were out in full force at Woodbine Racetrack on Thursday evening, as the Rexdale oval hosted three divisions in the opening leg of the Lifetime Dream Trotting Series
.
A new lifetime mark was earned by Maple Leaf Spirit, who front-stepped to a 1:56.2 tally in her $25,000 assignment. Chris Christoforou rolled the Steve Charlton trainee to immediate command from post seven and after slicing out splits of :27.2, :58.1 and 1:27.2 the four-year-old daughter of Meadowagogo-Maple Leaf Legacy used a :29-second final frame to fend off race favourite Miss Dangles by a head. Longshot Amoreena finished third.
"Zeron's mare (Miss Dangles) looks better on paper," he said. "She was getting to me pretty good in the stretch. I was lucky, my mare gave me a little more than what I thought she had.
"I think if she races like she did, she should be fine in the second leg," he added.
Sent off at odds of 7-1, Maple Leaf Spirit notched her first victory since being purchased privately by Larocque Racing Stb Inc of Thornhill and Tatum MacNeil of Orangeville, ON. The 20-time winner, who went 11-for-18 last season, pushed her lifetime earnings to $98,576.
Maplegrove Shaelyn turned a two-hole trip into a 1:55.4 victory for the tandem of driver Mike Saftic and trainer Frank O'Reilly in the second division. The four-year-old daughter of American Native-Maple Grove Glide was parked by Terrific Dream to the quarter pole in :28.1 before being released to the lead. She came under attack from race favourite Unefoisdansmavie in the backstretch, and quickly released that foe to the top. The new leader parked by the half in :58.1 before clearing to the engine and then scooting by the three-quarter pole in 1:27.1. Maplegrove Shaelyn popped off the pylons in the lane and used a :28.1 closing kick to haul down Unefoisdansmavie. Third prize went to Terrific Dream.
"I was thrilled by the way she raced," said trainer Frank O'Reilly following the victory. "That was a big mile. Looking at her form when she came here, I didn't know if she was good enough for these horses, but she has jumped up and trotted tremendously since she got here."
The conditioner feels her performance in the first leg will make a big difference when she goes to post for the second leg.
"She is confident now," he said. "That will help her and she will command some respect."
Owned and bred by Joseph Mullins of Pleasant Plains, IL, Maplegrove Shaelyn notched the eighth win of her career and celebrated her first win on Canadian soil. The six-time winner from 18 starts last season has stashed away more than $106,000 in career earnings.
The winning streak is now three-in-a-row and counting for Sashay, who cruised to a career-best clocking of 1:54.3 in the third division. Sylvain Filion mapped out a covered-up trip for the four-year-old mare, and she drew away from foes on the end of the mile in an impressive time of 1:54.3.
Firstclassprincess and race favourite Cleopatre Duharas battled to the quarter pole in :26.4 before the latter cleared to the lead. Cleopatre Duharas hit the half in :56.3 before getting pressed by Firstclassprincess, who pulled the pocket, around the final turn. Those two were together at the three-quarter pole in 1:26.1 with Sashay and driver Sylvain Filion position perfectly from second over. A :28-second closing quarter was more than enough for Sashay to win by three lengths over Lively, with Firstclassprincess holding on for third prize.
It was the second divisional winner from the stable of trainer Frank O'Reilly, who conditions the homebred daughter of Yankee Glide-Invincible Dream for Steve Stewart of Paris, KY and Randall Day of Waterloo, IN. The 10-time winner bumped her overall bankroll to $105,120 with the win.
"She surprised me," said the conditioner. "She had a couple weeks that really weren't good when I first got her. That's why she didn't race in between. I don't think we were sending her out at her best and I still don't think she was at her best, but I would really like to have her come Breeders Crown time. She is a terrific mare."
With two impressive miles on the night O'Reilly says he'd "rather be lucky than good," and feels fortunate to have the two mares enter his barn.
"They were good horses when they arrived," he said. "We didn't have to do much with them. It was being at the right place at the right time."
The $35,000 second leg, for four and five-year-old trotting mares in 2012, who are non-winners of $200,000 lifetime as of midnight, October 31, 2011, is scheduled for Saturday, January 14 with the $75,000 Lifetime Dream Series final slated for Monday, January 23.
(With quotes from WEG)
To view results for Thursday's card of harness racing, click the following link: Thursday Results – Woodbine Racetrack.