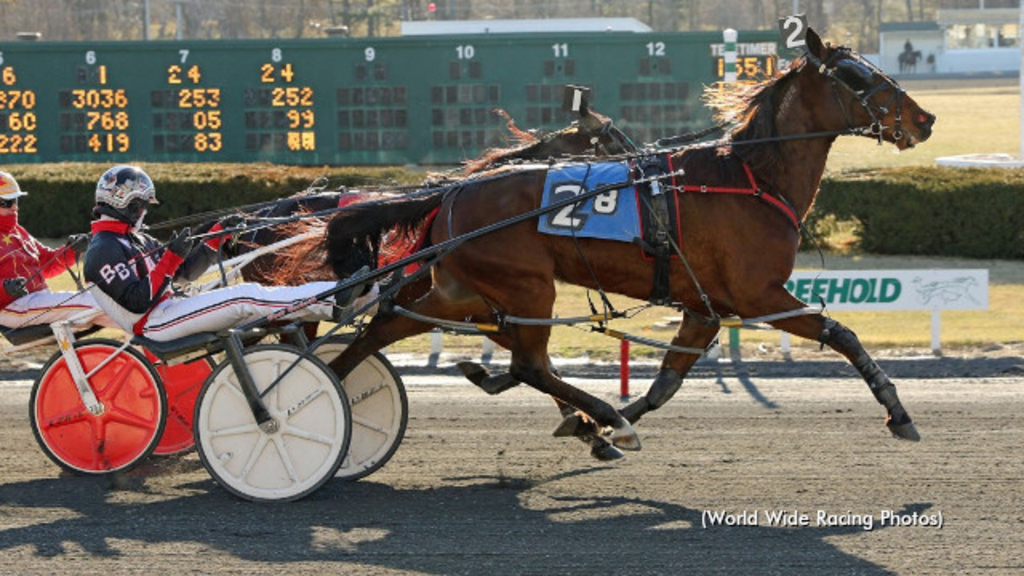 Trainer Travis Kolaczynski and driver Brett Beckwith both had days to remember at Freehold Raceway on Saturday (January 22).
Kolaczynski won three races on the card, winning with all three horses he sent out. Two of his winners were driven by Jeff Dauplaise, who won Race 4 with Perfect Bet, then took Race 5 with Kerrin Joseph A. In both races, Dauplaise put his drive on the lead and fended off all challenges to win in a close finish.
Later in the day, Kolaczynski completed the hat trick in Race 9, sending out Soho Chelsea A to victory with driver Pat Lachance. Aimee Scheid owns all three winners.
Beckwith, who celebrated his 19th birthday on Saturday, pulled off upsets in two races. He won Race 6 in exciting fashion, as 51/1 Rockin Indy came rolling from the back of the pack to get up and win by a head for the biggest upset at Freehold so far in 2022. Izzy Estrada is the winning owner and trainer.
A few races later, Beckwith guided Time Watch to victory in the Preferred Handicap pace in an 11/1 upset. He rated his drive in the pocket off a speed duel, then rolled off the rail in the stretch and got up to win in 1:55.1. Ken Tisa is the winning owner and trainer.
JAKE STILLWELL WINS $9,000 AHDC TROT WITH DARK POOL AT FREEHOLD
On the clear crisp sunny afternoon of January 22 Jake Stillwell bided his time with Dark Pool and then rallied the veteran trotter to a length victory in the $9,000 American Harness Drivers Club trot at Freehold Raceway.
In the race where the early leaders were not challenged, Joe Faraldo showed the way with Gemini Eddie as they led he field by the first stanza in a soft :30. Bob Hechkoff was the first to move when he angled Southwind Frost to the outside when the field headed to the half as the timer flashed 1:00.2. They rallied alongside Gemini Eddie and the two raced as a team by the three quarters in 1:30.4 but Faraldo's charge got first call as they rounded the final turn and headed for paydirt.
Meanwhile Stillwell and Dark Pool were sitting in sixth position until the three quarters but when they rounded the final turn. Dark Pool was the strong horse and he zipped by the leaders for a late game of catch me if you can. No one could, as the veteran nine-year-old Cantab Hall gelding chugged home a length winner.
It took a photo to determine that Southwind Frost was a nose better than Gemini Eddie and he garnered the place money while Gemini Eddie had to settle for the show dough.
The winner, Dark Pool, is owned by Barry Franklin and trained by Paul Fusco. Sent off as second choice in the eight-horse field he paid $7.00 to win.
Live harness racing resumes at Freehold on Thursday (January 27), starting at 12:30 p.m. There will be a pick 5 carryover, starting in Race 4, worth $998.49, and a carryover in the early pick 4, starting in Race 2, worth $2,643.47.
(Freehold / AHDC)