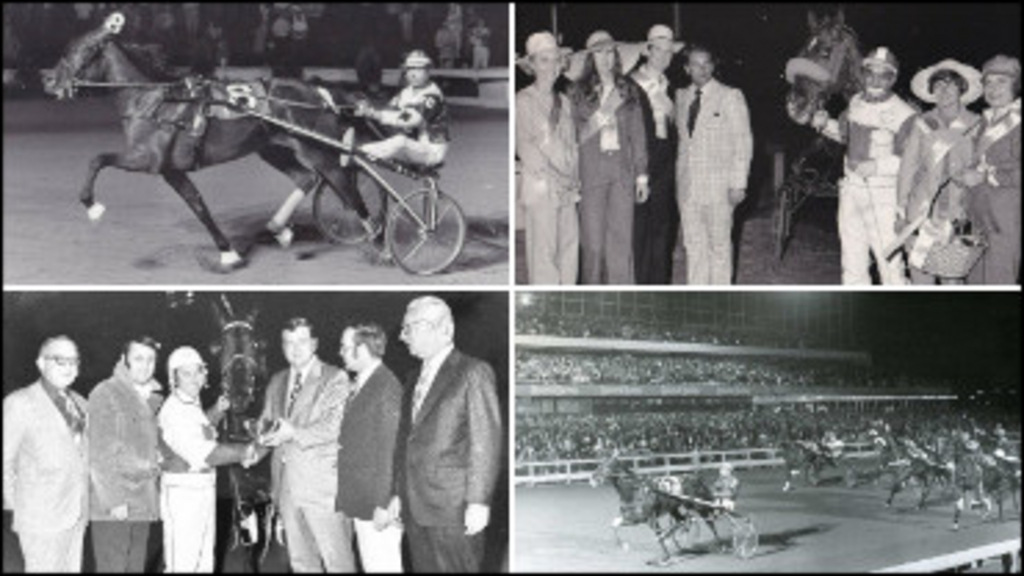 It's Picture Parade time again, and this time, Robert Smith has assembled quite a collection of old photographs for your viewing and guessing pleasure.
By now, most people have to be tuned in to the rules, so if you're so inclined, let's see your best guesses on as many or as few as you choose. Good luck.
As with a number of past Picture Parade columns this one has a central theme. All of today's vintage photos were taken at the famous and now defunct Roosevelt Raceway located at Westbury, N.Y. on Long Island. This iconic old track was originally built as an automobile racing facility but was later converted to harness racing. It opened in September 1940 as the original night time and operated until 1986 when its doors closed forever.
Throughout much of its existence Roosevelt was the showplace of harness racing and played host to huge crowds and presented the sport's headline events. Many Canadian drivers raced there and were usually among the leaders in all categories. Today's pictures all feature Canadian born drivers as the winning driver in each photo. Have fun!
---
#1 - Representatives from a New York City department store were on hand to make a presentation to the winning driver. The store had just introduced a new line of cosmetics and presented a basket full of the new products to the driver. Can you identify this lucky fellow?
---
#2 - This picture is by far the oldest of the group and was taken in 1948. Can you name the winning driver who was among the earliest drivers to compete there? You might as well take a stab at identifying the horse while you're at it. (Harness Horse photo)
---
#3 - In this photo we have two Canadian born drivers competing for the top spot. It looks like the pilot of No. 7 is the winner but the second place horse's driver is quite visible so let's include him too. A word of caution; take a real good look at the winning driver before making your final decision.
---
#4 - This Canadian born lad was no stranger to winning races wherever he appeared. Can you put a name on him?
---
#5 - A lot of people in this one and I can only assume they were all involved somehow in the presentation and cause. The task at hand is to name the driver if you can.
---
#6 - This fellow was a consistent winner in the later years at Roosevelt. Can you name him?
---
#7 - This driver was a big hit wherever he raced and from the looks of the crowd in the background the place was pretty full on this occasion. Who is he?
---
#8 - Just a great winning picture. On this one you have to not only name the driver but also the horse. No clues given on this one.
---
#9 - Looks like another packed house. Can you identify the man in the sulky in this old photo; he was a regular there for a lot of years?
---
#10 - How could you have a collection of pictures from Roosevelt and not include this fellow driving no. 7? A good way to close out the group of 10. If you happen to recognize this homme, let us know.
Closing Note - The huge crowds shown in the background of a number of today's pictures show the tremendous popularity that harness racing enjoyed for many years.
Quote For The Week: The three musketeers had a solidarity statement: "All for one and one for all." This means every member acts for the good of the group and the group acts for the good of its members.
Can you correctly identify?
Trivia Question & Picture - In 1958 a then popular T.V. show filmed an episode at the Roosevelt track. The above photo was taken during that filming. Can you name the show that was featured?
Who Else Is It?
Can you put a correct name on this very accomplished fellow?
GREENWOOD TRIVIA
A note was recently received from Dan Donohue, a reader of the Standardbred Canada website and is shown below:
"My father Frank raced at Greenwood for years, driving such horses as Johnny Forbes C, The McNab, Miss Vera Gratton, and Gratton Hal G; I always went to the cafeteria on the backstretch, and it was run by Tom and Nancy, but I can't think of their last name; any help would be appreciated."