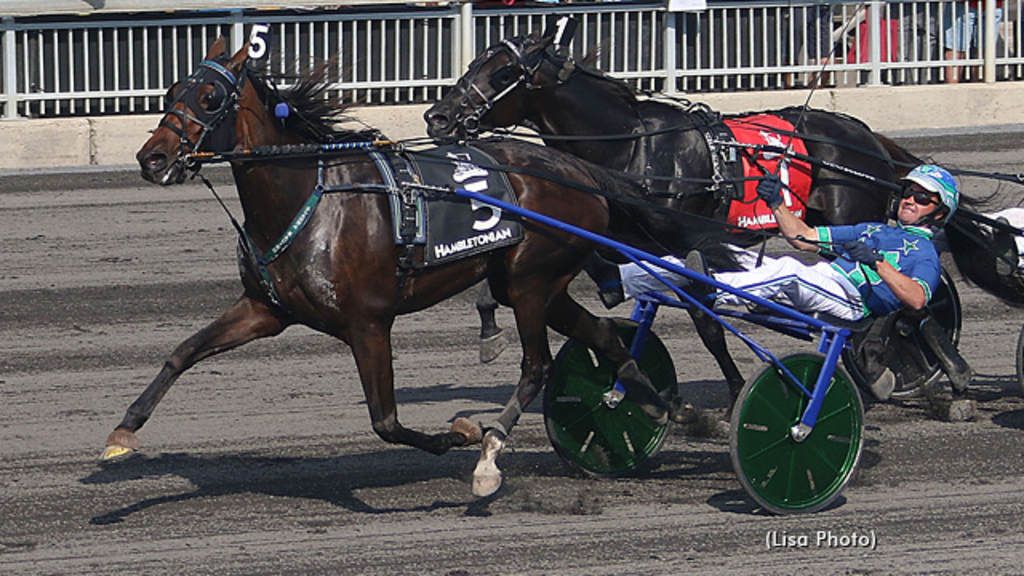 Ramona Hill, 2020 Hambletonian winner, has been retired and will be bred in 2022.
Hanover Shoe Farms announced on Thursday (Jan. 20) that Ramona Hill will be joining its broodmare band.
Ramona Hill will be owned in partnership for her breeding career by Hanover Shoe Farms and Crawford Farms. Crawford Farms bred Ramona Hill and owned her for the duration of her racing career in partnership with Bradley Grant, Robert LeBlanc and In The Gym Partners. She was trained by Tony Alagna and driven by Andy McCarthy.
A daughter of leading trotting stallion Muscle Hill and out of the extremely fast Lock Down Lindy 3, 1:51.4, Ramona Hill trotted to her record of 1:50.1 in the final of the Hambletonian one week after winning her elimination in 1:51.2 with a sizzling last quarter of :25.4. In addition to defeating the colts on the greatest stage in the Hambletonian, Ramona Hill also won the Del Miller Memorial, the Zweig, the Simcoe and the Elegantimage at three. A precocious two-year-old, Ramona Hill won six of seven starts as a freshman including the Bluegrass, International Stallion Stakes and Breeders Crown final, taking a two-year-old record of 1:52.2 and amassing over $501,084 in seasonal earnings. Ramona Hill was retired with $1,511,401 in career earnings.
"Russell [Williams] and I are extremely excited to add a Hambletonian winner to the broodmare ranks," said Hanover's Dr. Bridgette Jablonsky. "It's an opportunity that doesn't arise very often. Although that victory may define her to a certain extent, she really is the complete package. She is extremely well-bred, is a beautiful, leggy mare and was a sensational two-year-old as well as three-year-old."
"I could not be happier than to see 'Ramona' going to world class Hanover Shoe Farm," said previous owner Brad Grant. "I'm also really happy to see that Crawford Farms will continue to be part of Ramona's future, she is their baby."
The Crawfords are also delighted to retain part ownership of their star filly.
"Crawford Farms could not be more excited with the joint venture ownership of Ramona Hill and her newest adventure in the breeding shed at Hanover Shoe Farms," said Michelle Crawford. "One of the highlights of our farm has been watching the careers of our homebreds like Ramona Hill, first foal out of one of our premiere mares, Lock Down Lindy, develop a grand circuit stakes-winning resume including the 2019 Breeders Crown and 2020 Hambletonian. We are looking forward to 'Ramona' sharing time between Hanover Shoe Farms and our Kentucky farm in anticipation of stellar dually eligible offspring!"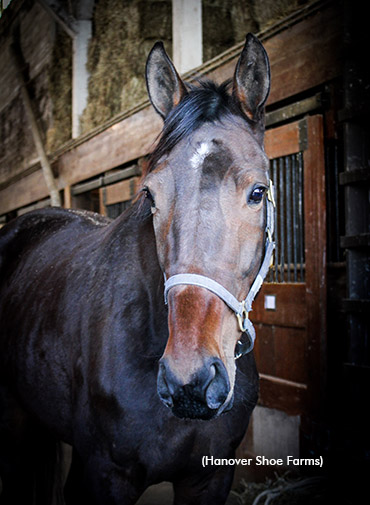 ​
Tony Alagna misses having one of his favourites in the barn but is looking very forward to her foals.
"I will forever be grateful for 'Ramona' and the grit and the determination she displayed throughout her career," he said. "I can't wait to see what she produces as a broodmare."
Driver McCarthy added, "Ramona Hill is the most gifted and strong spirited horse I have ever driven. Her speed was absolutely thrilling! She was truly life-changing for me. I will forever be grateful for the opportunity to drive her and am looking forward to what is certain to be a prolific career in the breeding shed."
Ramona Hill will be bred to Walner in 2022.
(With files from Hanover Shoe Farms)