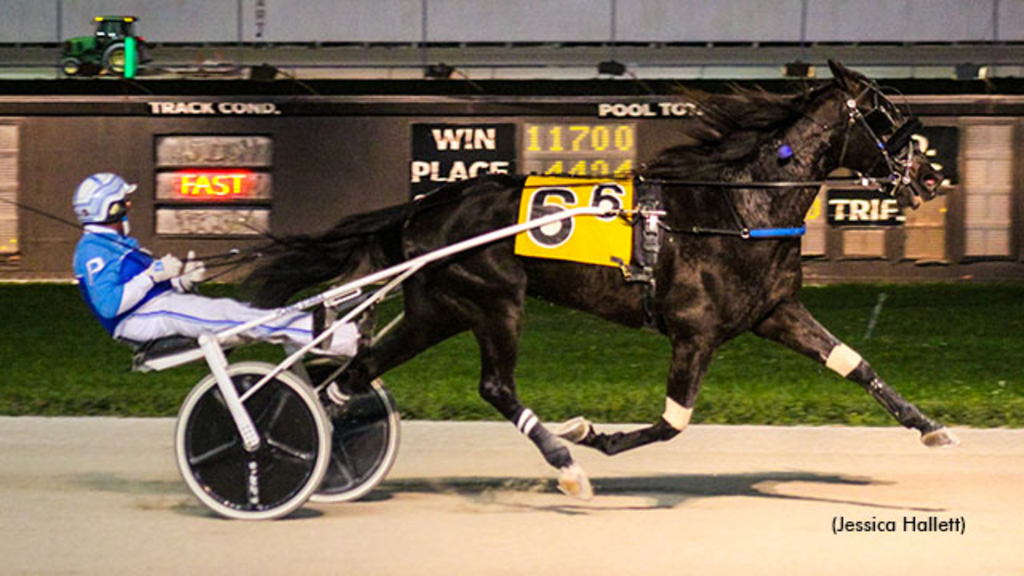 Toys For You, with owner/trainer Rick Plano handling the lines, extended his winning streak to three at Pompano Park on Monday night (Jan. 24), capturing the $14,200 Open Handicap Trot in 1:53.3.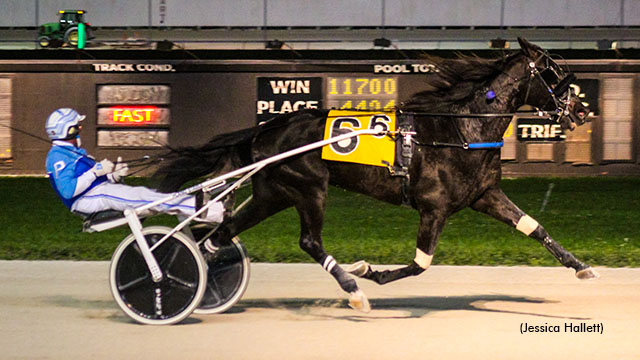 ​
Toys For You winning last week's Open on Monday, Jan. 17 at Pompano Park.
The outstanding six-year-old gelded son of Airzoom Lindy took charge around the opening turn and put daylight between he and main rival Timon AS (Peter Wenn) in posting fractions of :27.2, :55.4 and 1:24.1 on this chilly night before an effortless :29.2 finale left him 2-1/2 lengths clear at the wire. Celebrity Pegasus (Jack Killean) finished third, 3-1/4 lengths away, with Four Wheelin and Anchors Away completing the order of finish in this classy quintet.
In winning for the third time in four starts this year, Plano was searching for words trying to describe the winner.
"I just really don't know what quite to say! He's one of the best I have ever had and that goes back a whole lotta years," he said. "It was pretty chilly out there tonight by Florida standards and, when we got to the half in :55 and a piece, I was a little concerned. He's done that before but, if I recall, it was probably 20 degrees warmer. But he's a gamer and does it all on his own. I did the steering and he supplied the horsepower...that's about it."
Toys For You pushed his seasonal earnings for the month to $24,850 and lifetime bankroll to $161,954 to go along with his track record mark at Pompano Park of 1:52.2.
When Plano purchased Toys For You about a year ago, he was in events for non-winners of two races. The win on Monday was his 18th lifetime.
As the 1-5 toteboard favourite, Toys For You paid $2.60 to win.
The $12,600 Open II Trot went to Wild And Crazy Guy, handled by Wally Hennessey for trainer Jack Rice. Co-owned by Team Rice along with Vogel And Wags Nags and Adolphi Bloodstock, the 11-year-old gelding son of Crazed got picture perfect handling from Hennessey in rallying past the favoured The Lionking AS (Kevin Wallis) in 1:55.2. Keystone Apache, a stablemate of the winner, was third for David Miller while Cantab Lindy finished fourth. Sooo Handsome picked up the nickel in this octet.
Wild And Crazy Guy won for the 51st time in his career measuring 226 starts to send his lifetime bounty to $691,954. He paid $7.40 to win.
The $11,000 Open III Trot went to For A Dreamer, driven by Peter Wrenn.
The seven-year-old gelded son of Cantab Hall, hot property through the claiming box over the last month or so, used a :28.4 finale to rally by the favoured Primo Padre (David Miller) to score by 2-1/2 lengths in 1:55.3. Steel Schooner (Fern Paquet Jr.) finished third while Trix And Stones was next. The early leader, Cartier Zette, picked up the minor award in the field of eight.
Trained by Allen Saul for new owner Billy Muggleston, For A Dreamer won for the third time in four starts this semester, nudging his lifetime bounty to $252,929.
As the fourth choice in the betting at 7-1, For A Dreamer paid $16.40 to win.
The Monday night festivities began with fireworks -- toteboard fireworks -- as CC Big Boy Sam, driven by Andy Shetler, rallied from last turning for home to score a 26-1 upset win for owner/trainer Leopold Sawyers.
That event, incidentally, featured a field of six $4,000-$6,000 claimers, all 10 years old or older with combined starts exceeding 1,800 with earnings of more than $1,800,000.
The winner, a 12-year-old altered son of Nobleland Sam, making his 327th career start, won in 1:55.1, paying $55.60 to win and paving the way for a $75,000 Pick-5 guaranteed pool for the Tuesday program, since that wager went unsolved on Monday with a carryover of $12,642 spawning the lofty guarantee.
Another huge carryover is in the Super Hi-5 finale with that amount now at $57,172 going into the Tuesday card.
Post time is set for 7:20 p.m.
Repeats And Three-Peats Highlight Weekly Amateur Action
The Florida Amateur Driving Club continued their competitive and spirited racing on Sunday (Jan. 23) and Monday (Jan. 24) at Pompano Park and repeats and three-peats highlighted the action.
For starters, real estate mogul Brian Calvert improved on his lofty .339 batting average coming into his event by guiding Ricky Be Sharp to a 7-1/2 length win in 1:58.4 -- his last half :57.4. Muscle High (Joe Pennacchio) finished second with Kaffir Kemp (Steve Oldford) third.
The six-year-old gelded son of American Native won for the 34th time in only 78 career starts to send his lifetime earnings to $120,271.
Calvert, by the way, has "tinkered" in harness racing since the early 1990s but has revved up his participation in the FADC over the past few years and now has 20 lifetime wins.
The winner is trained by Donna Riedel for owner Johanna Calvert and paid $4 as the favourite.
The repeat performance was achieved by driver Gary Barbere as he steered his own P L Jerico to a wire-to-wire score in 1:58.3 over Phoenician (Tony Dinges) and The Big Muscle (Devan Miller), among others.
Stepping up a notch in class after winning last week, P L Jerico, a nine-year-old altered son of Amanofmanymissions trained by 86-year-old Odell Thompson, put together panels of :28.2, :59.4 and 1:28.4 along the way to win by 2-3/4 lengths for his 24th lifetime win.
Barbere has has 76 lifetime wins with the first one being 35 years ago.
P L Jerico rewarded his faithful with a $9.20 mutuel.
The three-peat occurred Monday night as Dein Spriggs guided his own Uva Hanover to a 1:58.3 victory over Gemologist (Tommy Santeramo) with Little Big Rigs (Calvert) next. Not only was this a three-peat, but a gate-to-wire one for the third straight time, as well.
Uva Hanover, an 11-year-old gelding by Cantab Hall, posted fractions of :28.2, :59.4 and 1:28.4 with the winning margin 1-1/4 lengths at the wire.
Vaulting over the $600,000 mark in lifetime earnings last week, Uva Hanover won for the 34th time in a career measuring 161 starts. He paid $7.40 as the lukewarm winner.
Spriggs is closing in on 500 career successes in the sulky with his total at 491, including his wins overseas.
The FADC is composed of more than 50 horsemen and women who donate 100 per cent of their earnings while driving in amateur events to charitable causes -- to date, that being more than $220,000.
(With files from Pompano Park & FADC)