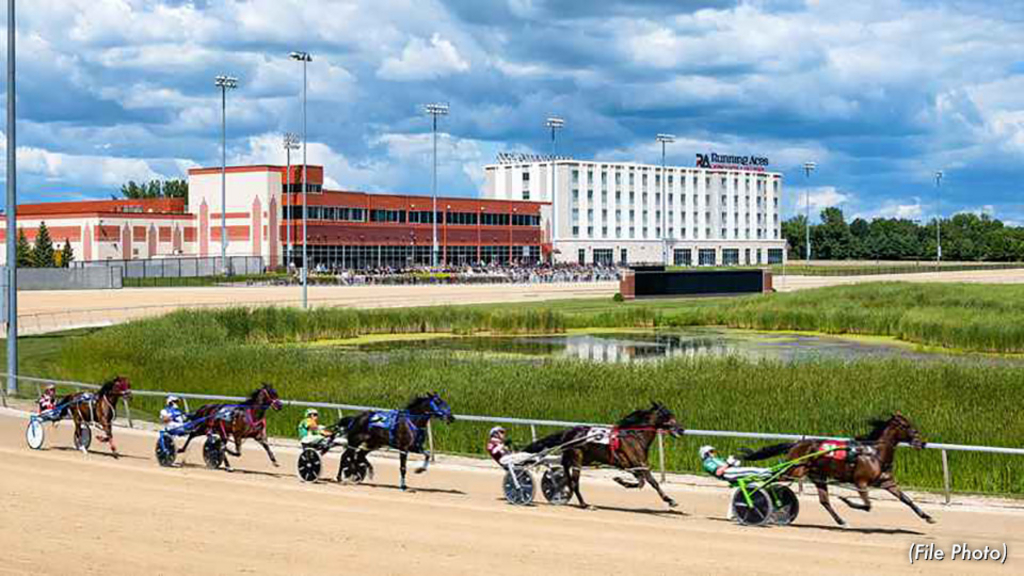 Running Aces Casino, Hotel & Racetrack is happy to announce the details of the upcoming 2022 season of live harness racing at the Minnesota five-eighths mile oval, which will mark the track's 15th year of racing.
The excitement of live action will get underway on Sunday, May 15 and will conclude on Saturday, Sept. 17 with a total of 56 nights of racing on tap.
The racing schedule will be similar to last season: featuring a Tuesday-Thursday-Sunday rotation for live programs throughout the summer. However, new for this season is a 7 p.m. (CDT) start time for all race cards, which will help position the export signal in more favorable timeslots in an effort to further boost exposure of the product and increase handle. There is also a special Wednesday card of racing on August 3 and special Friday and Saturday cards on closing weekend, September 16 and 17.
The later start time will also be helpful on hot summer days, allowing the heat to subside before the start of the racing program- thereby making it safer for the horses.
Purses for the 2022 season are projected to be well in excess of $5 million and will be the richest season so far in the track's history. The daily average of total purses will be near the $90,000 mark.
The purse totals will also be bolstered by over $237,000 in Late-Closer offerings including the return of the Dan Patch Free For All Pace which will carry a purse of $50,000 (GTD) for the final in July.
The season will build up to and culminate with the traditional Minnesota Night of Champions program in September, which will once again feature total purses of over $500,000 for the night.
Key Dates to know for 2022 Running Aces Season:
Stall Applications available on Website Now and are due by: Monday, March 14
Stall Allocations Projected Release Date: Tuesday, April 5
Backside Opens: Sunday, May 1
Pre-Season Qualifiers: Thursday, May 5 and Tuesday, May 10 at 11:30 a.m.
2022 Steve Wiseman Memorial Trot Final: ($35,000 GTD) Sunday, June 26
2022 Dan Patch FFA Pace Final: ($50,000 GTD) Sunday, July 24
2022 Ron Banks Memorial FM Pace Final: ($35,000 GTD) Sunday, Aug. 14
2022 Minnesota-Sired Consolation night: Friday, Sept. 16
2022 Minnesota Night of Champions: Saturday, Sept. 17
Please visit the Horsemen Resources tab on the Running Aces website, where you can find and view the 2022 Racing Brochure to learn more information about the upcoming season at Running Aces, including race conditions and purse structure, on- and off-track stabling information and much more.
All horsemen are reminded that completed and signed stall applications must be submitted by all trainers that wish to race at Running Aces, for those seeking stalls at the track and also for all those who plan to ship in to race. Please provide accurate information on your applications including the correct horses that you will be racing at Running Aces.
As always, trailer hook-ups and trailers are available for rent on a first come-first served basis (pending approval). Please indicate your request on your stall application.
Questions about Racing Applications, stalls, accommodations, Race conditions and any other Racing related inquiries should be directed to Racing Director Steve Carpenito at 651-925-4532 or via email: [email protected]
(Running Aces)