On behalf of Tioga Downs, operator Jeff Gural spent Sunday, December 11 handing over more than $100,000 to charities during cheque presentations. Although, Gural went on the record as saying that he is hoping his facility can soon be the one cashing in, albeit in a different form
.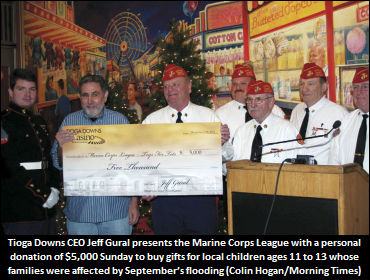 An article by the Morning Times explains that Gural and Tioga doled out the funds via cheque presentations to the Southern Tier Veterans Support Group, The Salvation Army, the Community Care Network of Nichols, the Community Hunger Outreach Warehouse (CHOW) and the Marine Corps League.
"We did well this year, despite being closed after the flood," Gural was quoted as saying. "So we're happy to give back to the community."
Besides the charitable endeavours, Gural also discussed the possibility that Tioga could be the location of expanded gaming in the future. New York Governor Andrew Cuomo announced last week that he will be pushing for expanded gaming --- which could lead to table gaming at Tioga --- in the new year.
"We had (Tioga was airing) the UFC with Jon 'Bones' Jones (on Saturday night). There had to be a thousand young people here and if we [had] blackjack and poker, after the fight a lot of them would have stayed," Gural was quoted as saying in an article by wetmtv.com.