Sale dates for 2012 have been announced for the Lexington Selected Yearling Sale
.
The sale, to be held as usual at the Fasig-Tipton Pavilion, will begin on Wednesday, October 3 and will continue though Sunday, October 7. The auction will coincide with the Red Mile's Grand Circuit meet.
In making the announcement, the sale's co-manager, Randy Manges, said that basically there's no reason to mess with success.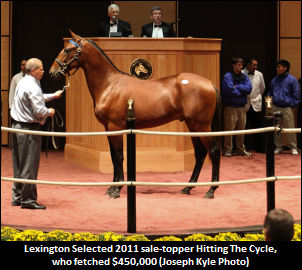 "What we're doing has worked very well for our consignors and buyers since we started," Manges said. "We're fortunate to have terrific consignors, one of the greatest horse sale facilities in the world, and to be able to conduct the sale in conjunction with the sport's premier race meet.
"The harness racing world comes to Lexington every year to see the best racehorses and buy the best yearlings. Our results from last fall certainly proved that."
The Lexington sale, which since its inception has posted the highest average of any yearling sale, averaged $34,019 in 2011 and showed an increase over the previous year of more than nine per cent. Lexington Selected also led all sales in $100,000 yearlings sold, with 49 falling into that category.
For 2011 sale results or more information visit lexingtonselected.com or contact sale managers Randy Manges (859-255-8431) or Geoffrey Stein (914-773-7777).
(Lexington Selected Yearling Sale)