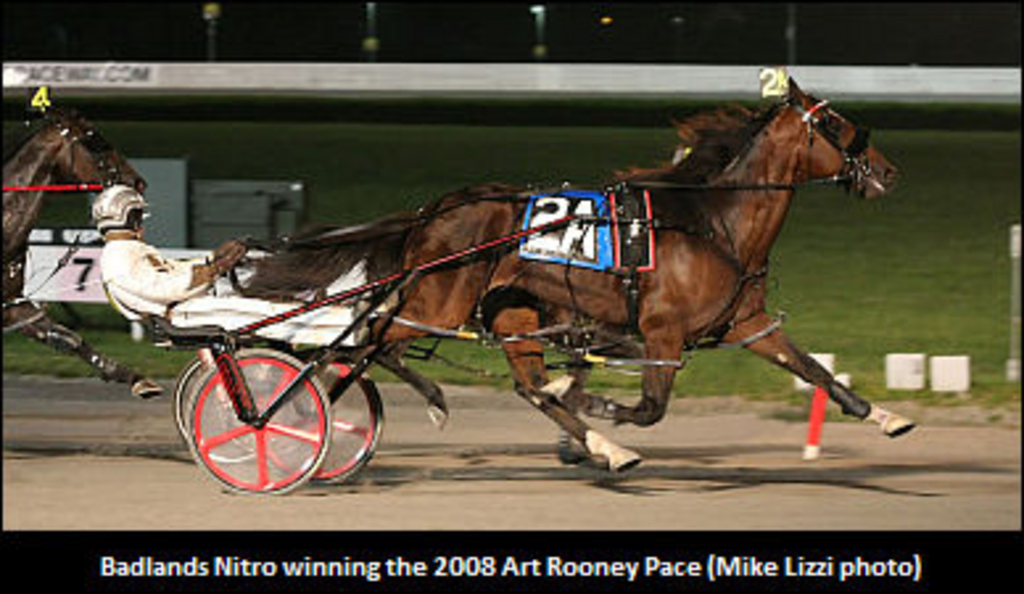 On Wednesday, November 9, John Celii and George Teague, Jr. announced that they have agreed to return Badlands Nitro p,3, 1:50f to Joe and JoAnn Thomson's Winbak Farm of New York for the 2012 breeding season
.
Badlands Nitro has career earnings of $1,605,638. At two, he equalled the World Record set by Artsplace of 1:51.1 on a five-eighths mile track. At three, he earned $1,416,734, including wins in the Hempt, the Art Rooney and the Battle of the Brandywine. He was second in the North America Cup final (to Somebeachsomewhere), the Cane Pace, the Little Brown Jug elimination and the Windy City Pace.
Badlands Nitro - 2008 Max Hempt
"We are excited about this opportunity. This agreement allows us to feature a Western Hanover line stallion for our New York breeding facility," Joe Thomson said. "Having the opportunity to stand this World Champion is a great way to reinforce our New York Sire offerings. After we saw his limited first crop of yearlings, we knew we should return him to the breeding shed."
"We evaluated several opportunities for Badlands Nitro," stated John Celii, co-owner and managing partner. "We chose Winbak because of the excellent job they are doing standing Badlands Hanover. After a year in the pasture, his fertility has improved significantly, he is ready to go."
To date, Badlands Nitro yearlings had the second highest average for pacing stallions at the 2012 Morrisville yearling sale; and Nitros Wiggle, the only yearling sold the first day at Harrisburg, reached $100,000.
Badlands Nitro's 2012 stud fee will be $5,000.
(Winbak Farm and John Celii)