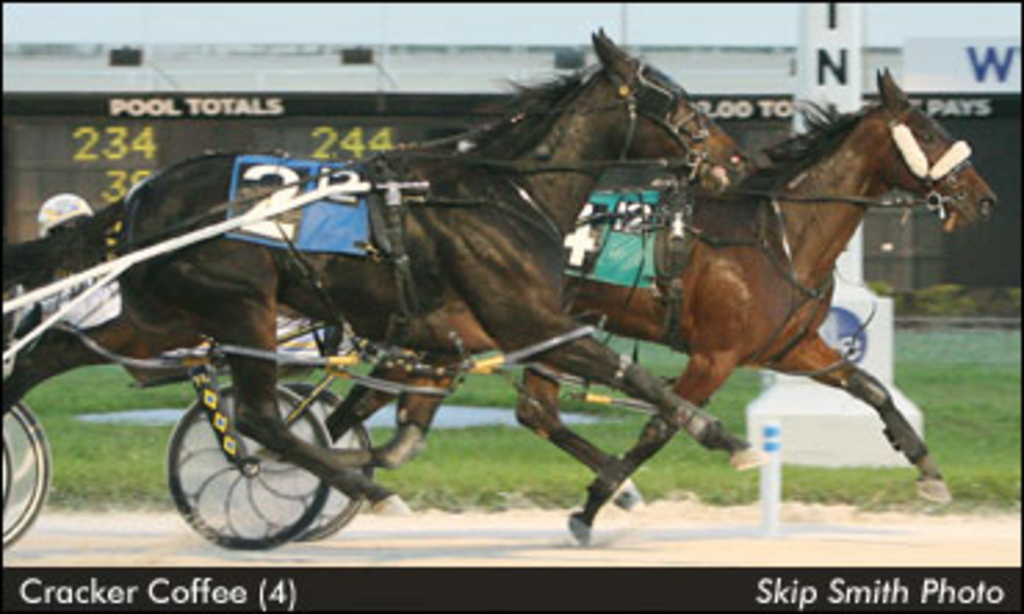 The rain held off until the evening's added money events were complete, and Saturday night at The Isle Casino Racing Pompano Park was made $100,000 sweeter for the connections of two-year-old pacing filly Cracker Coffee. The 2011 'Super Night' headline performer came through with a gritty effort to cap off an undefeated season
in the Florida Standardbred Breeders And Owners Association (FSBOA) 2011 campaign. Eight championship finals for the state-bred two and three- year-old trotters and pacers were held on Saturday, November 5 in the Breeders Stakes with individual race purses ranging from $62,700 to $64,500. Florida harness racing's richest annual night saw over $500,000 doled out.
The evening began with Cracker Coffee fighting off three separate challenges to win the two-year-old filly pace. In the stretch, driver Wally Hennessey called on his filly's last ounce of fight to hold off the furious late challenge of Quail, with Brian Sears in the bike. Gold Star Gidget, with Mike Micallef, was third. For sweeping all five of the two-year-old divisional stakes finals this year in the FSBOA campaign, Cracker Coffee earned the $100,000 bonus for her connections.
"We thought from the start that Cracker Coffee could be a special filly and since she came here in July, the hard work of [trainers] Kim and Jay Sears proved us right," breeder Russell Peavyhouse explained in a post race live TV trackside interview. "I'm a retired lawyer living here in Florida and I still really enjoy jogging horses and working with them. My brother Phil owns this filly and he put the finishing touches on her up north at South Lyon, Michigan."
Cracker Coffee, by Six Of Diamonds-Nasty As Can Be, concludes her two-year-old campaign in the state-bred program with $175,792 earned from six wins in nine career starts including a clean sweep of all five FSBOA stakes finals this year.
Brian Sears Enjoys A Terrific Homecoming
One of the sport's marquee drivers, Brian Sears, had a hugely successful homecoming on the 2011 Super Night program. The third generation horseman and son of Pompano based trainer Jay Sears piloted three winners from the eight divisional finals. Before heading north to make his mark in New Jersey, New York, Pennsylvania and on the major stakes trail, Sears was born and raised in Fort Lauderdale and started his career in the race bike at Pompano.
In the two-year-old and gelding pace final, Sears executed a perfect off the pace to score in 1:54.2 with Last Chance T. The Six Of Diamonds-Arriva Leru gelding earned his first career win at an opportune time in his eighth career start to catch Gold Star Raider, in rein to Mike Micallef, and Gold Star Spike, partnered by Gaston Lareau, in the closing strides.
Sears also made a perfectly timed third quarter move with Angela, by Six Of Diamonds-Tuff Catch, past the battling leaders to score a 1:52.4 wide open lengths win in the three-year-old filly pace championship over Youtorturemefern, driven by Gaston Lareau, and Gold Star Glitter, with Wally Hennessey, in the bike.
Last Chance T and Angela are both trained by Kim Sears for owners Jay Sears, Sandra Dunmire and Richard Dunmire.
"It's always great to come back home to pick up drives of this quality on Super Night," Sears observed in a live trackside TV interview. "I'm fortunate that people put me down to drive at all these tracks and it was great to get another big one at Woodbine last Saturday with Economy Terror in the Breeders Crown. It's always just as great to come back home to Florida too. Perhaps in 10 or 15 years I might have to consider moving back here full time since it's already starting to get cold up north."
In the three-year-old colt and gelding trot final, trainer Tom Wantz of DeLeon Springs, Florida stepped aside from race bike duty in favour of Brian Sears and the move resulted in a 1:57.2 pocket trip win for Its Bush Time. The son of Proud Bushy-Almas Supreme shaved more than five seconds off of his life's mark in defeating HP Maximus, in rein to Andy Santeramo, and Lugar, driven by Richie Simard.
Pompano's all-time leading driver, Bruce Ranger, was at his crafty best to bring home both winners in the two-year-old trotting divisions.
Matcan, a Matchem Hanover-Cans Money Maker gelding, stalked a fast tempo and took a life's mark of 2:00.2 over Sapelo, driven by Ed Hensley, and Coconspirator, with Mickey McNichol in the bike. Stewart Nemiro trains Matcan for owner Fred Monteleone of Pompano Beach and his campaign concludes with nine wins in 10 trips to the gate for season's earnings of just over $77,000.
Ranger also won the two-year-old filly trot with a controlling 2:03 tally behind Pinch Of Thyme over Feel The Haze, partnered by Mike Micallef, and Teal, driven by Brian Sears. Pinch Of Thyme, a daughter of Basil-Chicory Cinder, is trained by Mel Turcotte for Deerfield Beach, Florida owner Fred Morosini and this was her third win in nine career starts to increase her rookie season bankroll to more than $65,000.
The three-year-old filly trot produced a big upset as Sleigh Bells Ring, in rein to Richie Simard, won a tight photo over the traffic troubled 1-5 favourite, Seeking Jeanie, driven by Wally Hennessey. Sleigh Bells Ring, by Famously-Celebrity Descent, posted an opening half of :58.2 and got to the wire just in time in 2:00 for her first career win in 17 trips. Mark Friedman trains the winner for Victoria Friedman of Boca Raton, Florida. Little Peanut, driven by Robert Williams Jr., was placed up to third.
Super Night 2011 concluded with the $64,500 purse three-year-old colt and gelding pace championship. Mickey McNichol found a second over trip for the favourite, Melvyn, to score in 1:53.3 over the pacesetting Stevies Rays Dream, with Bruce Ranger up, and Gold Star Chelada, driven by Mike Micallef. Melvyn, by Mannart Howard-CR Charisma, earned a 1:50.2 speed badge at The Meadowlands before returning home to Florida for the conclusion of the state bred stakes. He's won eight times in 20 starts this year and this win pushed the season's bankroll for Melvyn to more than $95,000 for owner-trainer Rita Polese of Margate, Florida.
Since many of the usual Saturday night classes were pushed back to next week, upsized programs consisting of 13 races each have been drawn for Monday, November 7 and Wednesday, November 9 at Pompano.
Post time is 7:05 p.m. EST every Monday, Wednesday, and Saturday. Tuesday racing returns on November 22 when the four nights per week schedule takes effect through March of 2012 at The Winter Capital Of Harness Racing.
(Pompano Park)