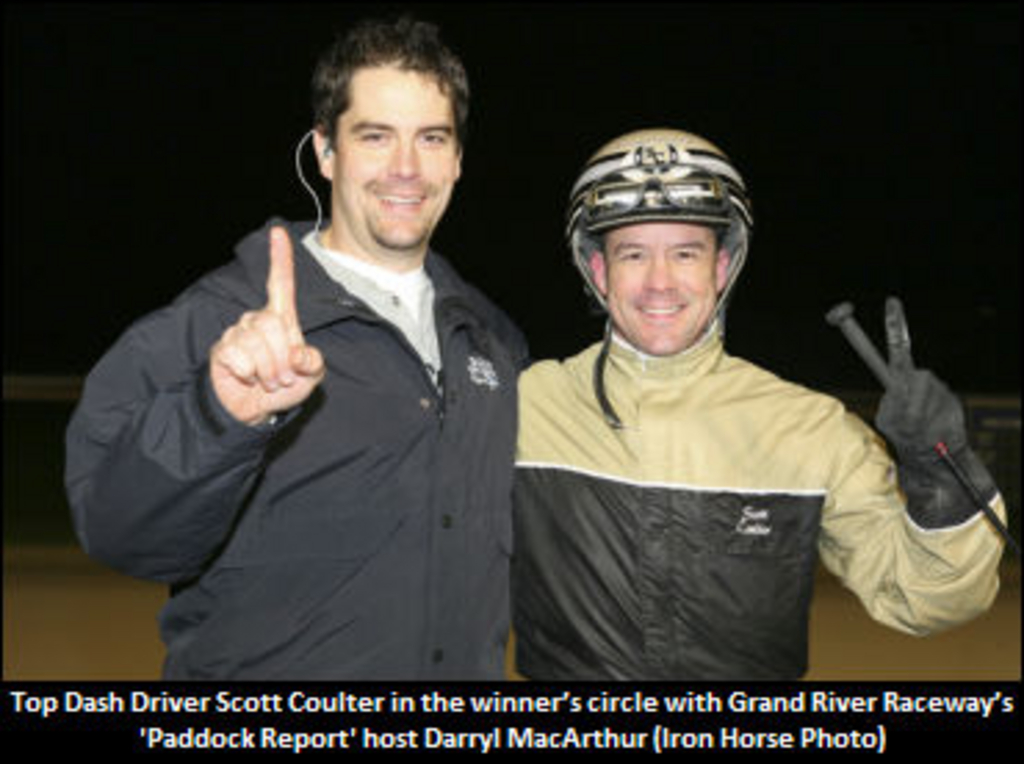 On Monday, October 31, Grand River Raceway wrapped up its 2011 season with a lively Halloween card
.
Scott Coulter was the victor of the hotly contested battle for the title of Top Dash Driver.
At the start of the card, only two wins separated Coulter (77) and Anthony MacDonald (75). MacDonald crept closer with a win aboard Dreamfair Van Dam in the ninth race, leaving him an opportunity to take the throne. But Coulter secured the title in Race 12 when he won with Tony O'Sullivan trainee Line Officer.
Coulter's achievement proved to be his first Grand River Raceway driving title. Dubbed the 'Tan Tornado' by track announcer Gary Guy, the 40-year-old reinsman is enjoying the best season of his career. He's currently fourth in the Canadian dash winning standings and tied with Scott Zeron as the current leading driver at Flamboro Downs. Earlier this year he celebrated his 3,000th driving win and recently surpassed $20 million in career earnings.
In the training ranks, Joe Pereira is the top dash winner of 2011 with 25 victories from 107 starts. This is his first dash title in Elora after securing last year's Top Percentage Trainer award.
Coulter, Pereira, and the rest of the top performers of 2011 will be honoured during the May 9, 2012 race card at Grand River.
Grand River Raceway 2011 Year In Review
In other closing night happenings, trainer Alan Fair and driver Brandon Campbell teamed up for an early double. Campbell guided the pocket-sitting Justa Camilion to her maiden-breaking voyage in the first dash of the card. It was her first career outing and the win paid a whopping $43.70.
Oceanview Sue was a 5-1 winner for Fair and Campbell in Race 3, as she defeated favourite Miss Kaylee Em by one length to record her 17th career victory.
The track wrapped up its October Handicapping Tournament with Terry Strongman of Waterloo, Ont. triumphing in the $500 finals. Strongman breezed past his 50 rivals with 47-1 zinger Tymal Torrance (driven by JR Plante) in Race 6. Strongman's final bankroll in the six-race contest totaled $127.30.
Racing will return to Grand River Raceway on Wednesday, May 2, 2012.
(GRR)