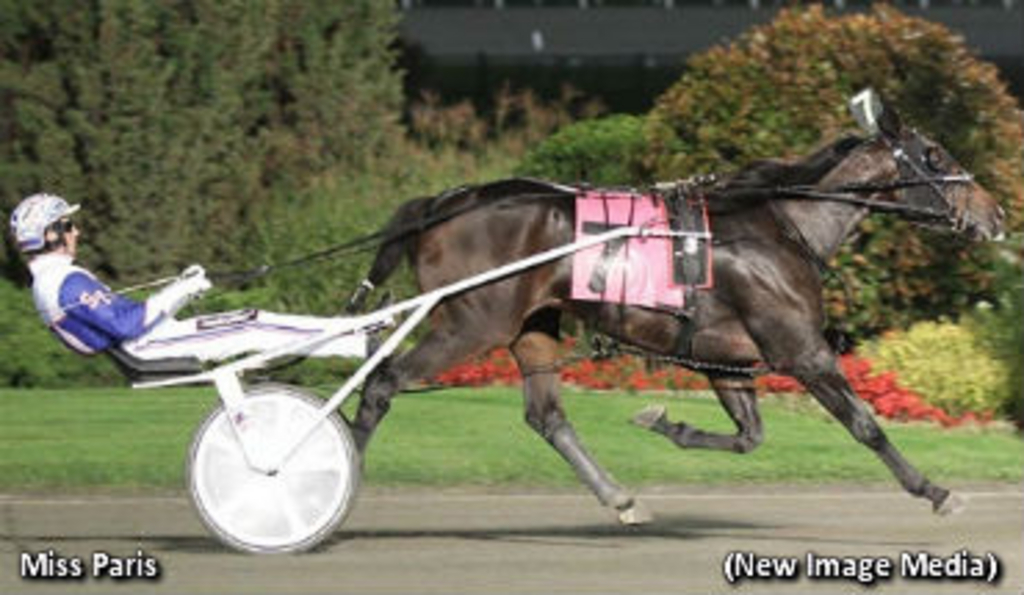 It was ladies' night at Woodbine Racetrack on Thursday evening, as the Rexdale, Ontario oval hosted OSS Gold Series Finals for two-year-old trotting fillies and three-year-old pacing fillies
.
All eyes were on 1-9 favourite Monkey On My Wheel in the $170,000 OSS Gold Series Final for three-year-old pacing fillies, but she was outpaced through the lane by Modern Connection who scored the 5-1 upset in 1:52.
Modern Connection blasted to the lead and threw down a :27-second opener before coming under attack in the backstretch. Monkey On My Wheel was the attacker, and she cleared to the top without a tussle. She led the field through easy middle splits of :57 and 1:24.3, but she bore out badly in the lane and began to tire. Modern Connection sprinted through the opening at the rail and used a :27-second final frame to win by half a length over Monkey On My Wheel. Camille closed well to finish third.
"It really couldn't have worked out any better for me," Zeron said following the win. "She made it to the lead easy enough and we were able to back off the fractions in the second quarter when Monkey On My Wheel come at me. She usually gets a good jump on us [Monkey On My Wheel], so I had to make sure I could stay right with her. Then when Monkey On My Wheel drifted off the rail it made it easier for me. I wasn't sure I would get there, but when you're racing for $170,000, you don't give up."
Dave Menary trains the Modern Art-Cambest Connections miss for Michigan partners Yousif Yousif of Chesterfield and Ameer Najor of Detroit. The victory improved this year's record to 2-3-2 in 13 starts and the $85,000 payday lifted her lifetime earnings to $675,483.
Zeron also piloted Miss Paris to a decisive score in the $130,000 OSS Gold Series Final for the two-year-old trotting fillies.
Counter Pointe sprinted to the lead in :27.2, and when she came under pressure from Circles in the backstretch she wasn't in a giving mood. Those two fillies battled to the mid-way point in :56.4 before Circles forged her way to the top. As soon as she cleared Zeron started up the engine on Miss Paris, and in a matter of strides the filly was in command of the tempo. She opened up daylight on the field at the three-quarter pole in 1:26.3 and used a :29.3 closing panel to win by 5-3/4 lengths in a career-best clocking of 1:56.1. Circles was second, with Counter Pointe taking home third prize.
"It worked out great," Zeron said. "I was a little bit worried with post seven, but last week she showed me that she could leave, so I wasn't too worried about it. I knew they would slow down a bit on the front because they went to the half so quickly. I angled her out and she took off from there, it was perfect timing and she did the rest."
Richard 'Nifty' Norman trains the improving daughter of Kadabra-Pizza Dolce for the partnership of Mel Hartman, Herb Liverman and David McDuffee. She's put together a 6-2-1 record in 11 starts this season while banking $286,437 along the way.
(With quotes from WEG)
To view results for Thursday's card of harness racing, click the following link: Thursday Results – Woodbine Racetrack.