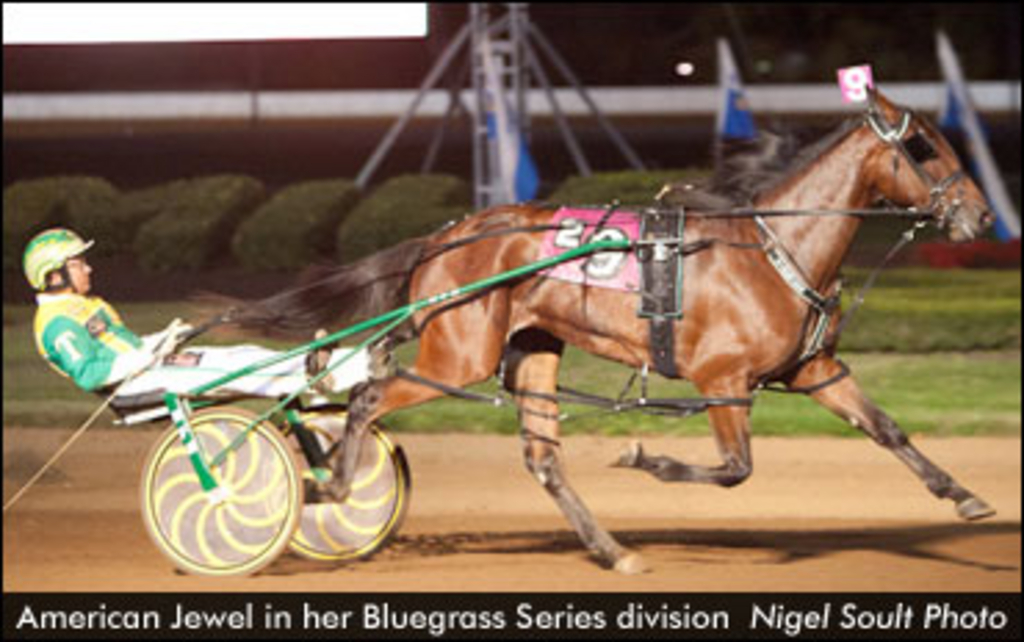 Undefeated World Champion American Jewel concluded another night of Bluegrass Series action at The Red Mile
. Friday night's card featured six divisions with two-year-old pacing fillies and trotting colts sharing the spotlight.
Two-year-old pacing filly American Jewel ($2.20) earned her eighth consecutive victory in the final $134,700 Bluegrass Series division of the night.
Driven by Tim Tetrick for trainer Jimmy Takter, Post 9 starter American Jewel waited patiently in fifth place before following the cover of Shelliscape
(Randy Waples) past the half-mile mark. The daughter of American Ideal-Trim Hanover fanned three-wide as they approached the third quarter station and took over command with an eighth of a mile to go. American Jewel cruised home for the easy 1:52.1 triumph over Podges Lady (Yannick Gingras) and Shelliscape.
With the win, American Jewel's bankroll climbed to nearly $650,000. The Eternal Camnation, Shes A Great Lady and Kentuckiana Stallion Management Stakes winner is owned and bred by Brittany Farms.
"You have to give Jimmy credit and Tim Tetrick -- he drove her great and Jimmy had her perfect," said George Segal of Brittany Farms. "He just floated out, gave her cover and came home."
"You hate to compare champions to champions and she is definitely a champion also. She's so effortless and I just love this horse," said Takter, when asked to compare the winner with three-year-old pacing filly See You At Peelers, who went undefeated in her first 22 career starts for the conditioner.
Takter said American Jewel may return to The Red Mile for more stakes action next week.
"We are going to talk about it," he said. "Of course you have to make sure she comes out of the race good. It wasn't as tough a mile as it could have been so it's possible she will race back next week. We're going to decide that."
Destinys Chance ($63) and driver Yannick Gingras split horses down the stretch to get up for a close, career-best 1:52 triumph in the other $134,700 Bluegrass Series for two-year-old pacing fillies.
Big McDeal (Jody Jamieson) fired off the gate from the eight-hole with Post 10 starter Destinys Chance dropping into the pocket during a speedy :26.1 opening quarter while Marty Party (Dave Palone) moved up to clear as they travelled past the half in :54.2. From there, 1-5 favourite Economy Terror (Brian Sears) advanced first over and was up to the leader's wheel by the 1:23.1 third quarter station. Economy Terror edged out in front down the stretch while Big McDeal rallied on the far outside and Destinys Chance slipped in between horses. Digging in, Destinys Chance pushed her nose out in front to score the narrow victory. Economy Terror was second with Marty Party and Big McDeal coming in third and fourth respectively.
"After the first quarter I thought we were cooked," commented Gingras in the winner's circle. "You know :26.1 here is tough and I was part of it. You don't mind them going :26 if you're sitting at the back so I didn't like my chances at that point."
Despite the speedy opening quarter, Gingras said his filly felt good around the final turn and just needed the racing room.
"There was a big hole there for a while [down the stretch], but then it was getting smaller and smaller as I was getting closer to it," he said. "Fortunately, there was just enough room. She's a nice filly having been used that hard and she still felt good around the last turn. Halfway down the stretch I had to grab a hold of her when it was getting tight and she still dug in and put her nose right in front. I think she can be a nice three-year-old filly. She started out a little slow, but she's got things figured out now. I'm looking forward to next week for now anyways."
The daughter of Four Starzzz Shark-Four Starz Sands is trained by Ron Burke for Randy Ringer. The Pennsylvania Sire Stakes Championship runner-up now has four wins in 10 starts her lifetime record.
Scary Good ($34.40) kicked off the stakes action for freshman trotting colts and geldings with his career-best 1:56.4 off the pace score in the opening $84,250 division for driver Brian Sears and trainer Frank Antonacci.
Scary Good sat fifth at the rail for most of the mile before kicking home in :27.2 to score by a head over Power Play (Dave Miller), who advanced first over from third. Pocket-sitter Nagini (Ron Pierce) finished just a half-length back in third while the winner's stablemate, Blazed (Tim Tetrick), was fourth.
"I think you're going to hopefully see quite a bit more from both of these horses," said Antonacci of his two starters. "Blazed is a great, big, rangey colt and I think he'll be a much better three-year-old. But this guy, Scary Good, he's just been good all along. He's never been worse than third [in six starts]. I've kind of been racing him off the pace and he loves to close, and he showed that tonight.
"I think they have the potential to be anything," continued the conditioner. "They're both big, beautiful horses that are bred extremely well. Cantab Hall and Muscle Yankee are stallions that can get you there so you've got to be positive thinking at this point."
The winning son of Cantab Hall-Yankee Topaz was a $95,000 yearling purchase at the Harrisburg Sale for the Lindy Racing Stable, Robert Rudolph, Murray Brown, and Gary Hoffman. He is being pointed to the Breeders Crown while his stablemate will head the final of the Kindergarten Classic Series.
In the next $85,250 division, Possess The Will ($11.20) equalled his mark of 1:55.1, set in a Pennsylvania Sire Stake event at Harrah's Chester two starts ago on Aug. 26.
With regular reinsman Tim Tetrick at the controls for trainer Jim Campbell and owner Fashion Farms, Possess The Will got away fourth and committed first over at the half-mile mark. The son of Donato Hanover-Aurora Hall brushed to command and held off the pylon-skimming Big Chocolate (Dave Miller) to win by one length while Gym Tan Laundry (Brian Sears) finished third.
"Timmy and I talked about the race before. He was sick in his last start up in Canada [where he finished fifth in the William Wellwood] so he hasn't had a real race since the race at Chester," said Campbell of the $135,000 Harrisburg yearling purchase. "We didn't want to be real rough with him, but I said to Timmy after you've got to pull out. He said he felt good tonight so he pulled and made a really nice brush. We couldn't be more happier with him than we are tonight."
Possess The Will has won three races so far in his career while never missing a paycheque in seven starts.
Campbell said his trainee, who is eligible to the Breeders Crown, will return for more Red Mile stakes action next week before getting a week off.
From Above ($18.60) earned his third straight win while making his first stakes start in the following $85,250 division for driver Chris Loney and trainer Greg Peck.
Catman Dude (Brian Sears) inherited the lead with Go Tapaigh (Chip Noble) and From Above sitting in second and third after Pekoe Fashion (Dave Palone) made a break on top at the half. Go Tapaigh also made a costly miscue after pulling the pocket and battling on top with the leader into the stretch. From Above, who began to fan wide around the final turn, was shown open road and rallied home for the career-best 1:57 triumph. Appomattox (Tim Tetrick) finished second, one and a half lengths behind, with Catman Dude prevailing in a photo for show.
"Right before the race when I scored him down I had envisioned leaving out of there and making [the others] do a little work because the colt doesn't seem to quit," said Loney. "I kind of got him a little fired up and I couldn't get him to quiet down and then he came right to me, went into the hole and settled down when Dave made a break. And then I moved out behind Chip when he pulled and he just swelled right up because he's not used to following somebody. Coming off the turn, I hollered at him and he just took off trotting."
The son of Donato Hanover-Maritas Victory, now three-for-four in his career, is owned by Peck, Jeffrey Snyder, Patricia Bolte, and the Guida Racing Stable.
"I still have a few adjustments to make because he's a little bit green," noted Peck, who had removed the colt's hopples prior to the win.
From Above may also return for next week's stakes.
"We'll sleep on it," said Peck. "It's getting towards the end of the year and he's only got a few starts left so we're certainly looking towards that."
After a back and forth battle for the top spot, Magic Tonight ($11.20) finally drew away for the eight length victory, establishing a new mark of 1:55.1, in a later $85,250 division.
Driver Ron Pierce sent the Andover Hall-Miss Possessed colt to command from Post 5 ahead of Pilgrims Power (Mike Lachance), but as they raced past the :27.4 opening quarter Pilgrims Power moved back out for the retake. With the backfield moving underway as they headed by the half in :56.4, Magic Tonight was flushed out of the pocket. He swept to command before the 1:27.1 third quarter mark and drew away from the field for his second win in four starts. American Gangster (Brian Sears) and Fushion Man (Dave Miller) rounded out the top three.
Noel Daley trains Magic Tonight for the Adam Victor And Son Stable.
"Noel and I go way back to when I was driving for Brett Pelling and he was training for him," explained Pierce when asked about the partnership. "When he took off on his own he used me as a driver and we've had a lot of luck.
"He always brings his horses around nice and slow as babies and I don't think there is anybody in the business that can bring a racehorse back from one year to the next after a layoff like him," he noted. "It seems like they are always better when Noel brings them back."