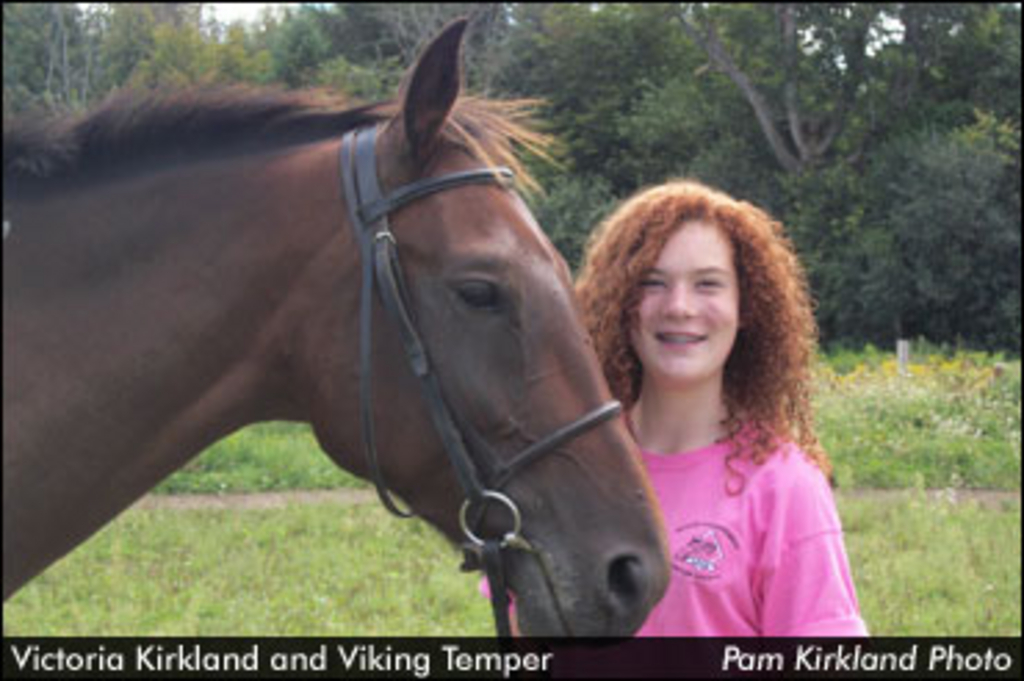 In less than one year, Victoria Kirkland, 15, has already established a bond with her Ontario Standardbred Adoption Society adoptee, Viking Temper. This summer she set one goal with hopes of strengthening that relationship: to explore the showing circuit
. With the help of the Ontario Standardbred Show Series' Junior Sponsorship Program, she did just that and even took home top honours in her first standardbred horse show.
The 2011 Ontario Standardbred Show Series is a sponsorship-funded series featuring four events throughout the summer, including the Standardrama Horse Show (Orono Fairgrounds - June 19), Oxer Stables Horse Show (Ancaster Fairgrounds - July 17), Standardbred Showcase (Grand River Raceway - July 31), and South Western Ontario Standardbred Horse Show (Railside Equestrian Centre - September 11).
This year's Standardrama show organizers, Sarah Hirtle and Tammi Hughes, created the Junior Sponsorship Program for young, underprivileged standardbred riders. Junior riders (under the age of 18 as of January 1, 2011) were asked to submit a 1,000-word essay for a chance to win new show clothes, show fees and trailer transportation to any shows held this year. Hall of Fame horseman Ron Waples, Ontario Standardbred Adoption Society director Heather MacKay-Roberts and Woodbine Entertainment Group announcer Ken Middleton judged the entries and deemed Oshawa resident Victoria Kirkland the winner for her heart-warming essay on Viking Temper. All other entrants received gift certificates and entry into the Standardrama show.
Kirkland took part in the Standardrama show with Viking Temper and took top honours in Showmanship. She also placed sixth in Equitation.
"I had a wonderful show experience, learned how to show, and what is expected of you in the ring," Kirkland told Trot Insider. "'Viking' loved the shows, he did an amazing job with the training, and he had lots of fun. We will definitely be showing again."
In fact, the organizers of Standardrama have agreed to sponsor Kirkland again next year, as she was only able to make it to one of the four shows due to extreme heat.
Read more about Kirkland and her bond with Viking Temper in her winning essay, which appears below. Kirkland's essay is followed by snip-its from the runner-ups.
Junior Sponsorship Program Winning Essay:
Hello, my name is Victoria Kirkland. I am writing in response to the Standardrama sponsorship program for junior riders. I am 15 years old and in grade nine. I am currently taking all of my courses online with the Trillium Lakelands District School Board, through the Department of E-learning in Lindsay, Ontario. I am currently on the honour roll, with my average being above 80 per cent. I have been employed for almost one year, working part-time as a teen page at the Oshawa Public Library, McLaughlin Branch. I am certified as a swimmer in Bronze Medallion, Standard First Aid, and CPR level C, and will be enrolling in Bronze Cross in September 2011. I have also been a member of Scouts Canada for six years and have earned my Chief Scout Award, which is the highest award in the Scouting division.
My family has been a foster family for four years and we are currently fostering two little children that I enjoy helping with. I enjoy many different sports like downhill skiing, lacrosse and horseback riding. I enjoy being a member of Oshawa Lady Blue Knights Lacrosse House League. This summer will be my second season. I also enjoy volunteering with Special Olympics Ontario, which my younger brother is an athlete in. I am an avid lover of animals and very much enjoy spending time outside with my horse. I have been involved with horses since I was eight. My mom had always talked about her experiences with horses and it sounded really fun and interesting. My dad was also part of the Toronto Police Mounted Unit, where he rode horses all day, every day.
I first became aware of the Ontario Standardbred Adoption Society when our family rescued (through a family contact) a four-year-old standardbred, and while researching his tattoo we were given the information that led us to the OSAS. After learning more about the OSAS and what they do, I knew that one day I wanted to adopt my own horse from this wonderful organization.
On September 18, 2010, I used the money I earned from my part-time job to adopt my own horse from the OSAS. I tried one other horse and didn't really feel a connection between us. When Viking Temper was suggested to me, I was really excited and went to go see him three times! Some things that attracted me to Viking were his sweet personality, how he is lovey, and how well-behaved he is with other people and horses. Viking and I are like two peas in a pod. Viking is the sweetest horse I have ever met and reminds me every time that I see him how lucky I am to be loved by this wonderful horse. He is very curious and mischievous; he likes to get into things. He is not the one that charges into something, but will sneak up to it to try to get a closer look. Viking will also follow me around the paddock, like a dog, which I think is so cute! Viking always brings out the best in me... he always wants to make me feel better. He also does little things to let me know that he loves me. When I am picking his hooves, he will reach around and nibble on my coat. He also comes running to the gate whenever I come out to see him. Viking enjoys working and he likes to please people. He will do whatever you ask, sometimes with a little tantrum, but then he gives in, only when you let him know that he is not winning.
I chose to adopt a standardbred from this organization was because I knew what they did and wanted to be a part of it and help a little standardbred, just like our other horse. Through another family contact, Viking's new home is in a quiet little North Oshawa barn with only five other horses. There is lots of space to run and play and be a horse. Viking has a wonderful personality that really reflects on the other horses there; they seem calmer around him and easier going. Viking's stall is right beside the window, because he loves sunshine and on his other side he has our other horse. The two horses are great buddies. They do whatever the other one does. Viking has helped our other horse, that we named Lucky Jeff, start to move on from his racing days and help develop his personality. Someone that helped me get here is our trainer/riding coach, Danielle Barry. She is coming out to our barn once a week to give me and Viking lessons to improve my riding and help with Viking's training. She is also helping to train our other horse, Jeff, and give riding lessons to my brother as well.
A goal that I would like to achieve with Viking is to explore the showing circuit. I have never really shown before and I am excited to try. We are also looking to become more naturally trained, like Parelli, or other natural horsemanship. I am very interested in the natural horsemanship training because it seems gentler and creates more of a bond between you and the horse. That is something that I want for me and Viking. Another area that Viking and I are willing to try is competitive trail riding. Competitive trail riding sounds interesting to me because I enjoy being outside in the forest and I like racing and playing games. I also like the idea of competitive trail riding because it seems like something that would strengthen our bond. I think that Viking would be perfect for this because he is fast and listens well. He is also very aware of his surroundings and does not spook easily. I know that Viking and I will be lifelong friends.
If I were to be selected for the Standardrama sponsorship program for junior riders, I would promise to give my best effort and try my hardest at everything I did. From this experience, I hope to learn a lot about showing, how the show world works and how to present yourself and your horse in a show way.
Thank you for your consideration of my application and I hope to hear from you soon!
***
Honourable Mention:
My name is Jamie Heffernan and I'm 15 years old. And I have a confession to make... I ride an off-track standardbred. It started off very innocently. I'd climb on dad's racehorses and he would lead me around the barnyard, then I put a standardbred bridle on one with lead shank reins. Before I knew it I had put a riding horse bridle on one with real reins and a saddle. It snowballed from there, next thing I knew I was taking riding lessons on 'real' riding horses. Meanwhile, in the closet at home I was riding a standardbred. I was a little scared to confess this at the riding stable because they didn't even know what a standardbred was. But as my lessons progressed, I realized I wanted to bring my racehorse to my riding lessons because she was more willing and eager to please than the 'schoolies' I was taking lessons on. Working up my nerve, I asked my coach if I could bring Ginger to my lesson. I'm sure she had many doubts about this adventure but she said yes. It was the start of a beautiful partnership…
***
Honourable Mention:
My name is Je'zel LeBlanc. I am 16 years old. I attend R.S Mcglauclin CVI in Oshawa, Ontario. I have been enrolled in the French immersion programme for 10 years, so I am able to speak fluently in French and I am currently learning Spanish. My favourite subjects are Spanish and Drama, as they are very exciting --- you're always learning something new that may not have occurred to you before and you can always be yourself while trying something different! I currently care for a seven-year-old boy named Aaron, who has Autism. Aaron is capable of doing many things on his own, but there are a few things I help him with such as improving his speech, with daily and nightly routines. Sometimes it is very hard to communicate with Aaron because he cannot express himself verbally the way we can. Aaron looks forward to his weekly visits to the barn, he really enjoys himself and my family and I really enjoy sharing this experience with him. The horses are very aware of Aaron, so sometimes they do not mind when we run through the paddock enjoying the fresh air and screaming at the top of our lungs, just to be wild and free as they are...