Due to severe flooding in New York State's southern tier, the final three race nights of Tioga Downs' 2011 season of live racing had to be cancelled. Over the 10 days which followed the devastation in the area, both Tioga's employees and Jeff Gural came to the aid of local agencies trying to
help families affected by the disaster.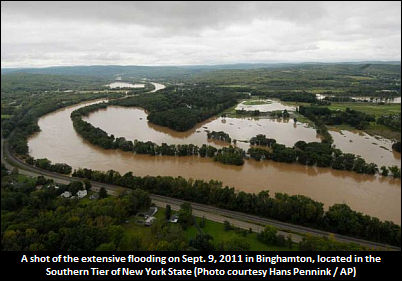 Gural, the chairman of American Racing and Entertainment, personally donated $75,000 to aid in the relief, while the Tioga Downs' horsemen's group, the STHHA, donated $25,000. This past Saturday night, Tioga hosted its Sha-na-na concert, and the track donated all ticket proceeds to local agencies to aid the flood relief victims in the local area.
The days after the water receded and families were able to get into their homes near the racetrack to begin cleaning up what was left behind, employees of Tioga delivered food and water during the afternoon hours. For the past 10 days, the maintenance and track facility staff has been working hours on end to help the families near Tioga with their clean up. Tioga has directed these families to leave all of their items which need thrown away, anything from couches to dryers, on the curb of the road and the maintenance staff will be by with a dump truck and front end loader to haul it away for them at no charge.
"The flooding in our area has been devastating and we have agreed to continue aiding in the clean-up of our area until our neighbors are back on their feet," said Jason Settlemoir, VP of Racing and Simulcast at Tioga.
Tioga also reached out to its suppliers and bought supplies for the local Fire House which has been set up as a relief area in Nichols. Some of the supplies donated by Tioga and its suppliers have been 20 cases of breathing masks, gloves, paper towels, Clorox, bathroom tissue, mops, and numerous other items.
(Tioga)