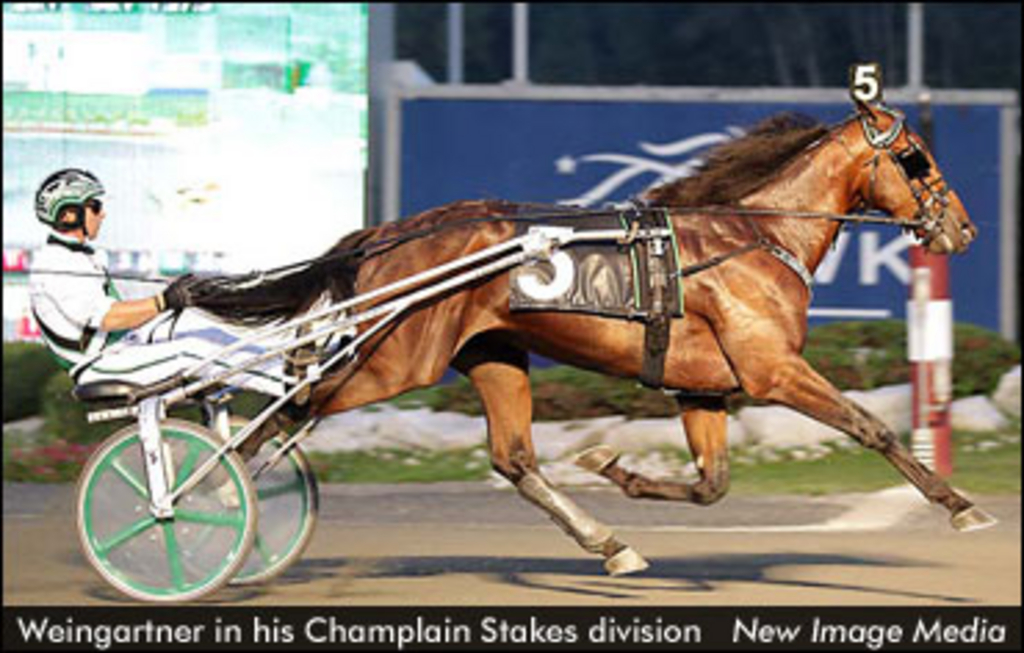 Twenty-five rookie colt and gelding trotters rolled into Mohawk Racetrack Friday night to contest three Champlain Stakes divisions. Takter trainees Weingartner and Guccio shared the spotlight with Julie Miller's pupil Money On My Mind
.
The first $101,671 division went to Weingartner for trainer-driver Jimmy Takter.
Weingartner clocked a :28.1 opening panel before Power Play (Andy Miller) was pulled from the pocket. The pair cleared to the front before the half in :58.1 and held command past the three-quarters in 1:27.3.
At the top of the stretch, Takter tipped Weingartner out from the pocket to take the lead halfway down the lane. The freshman got under the wire in 1:55.4 with a four and a half length lead over Leave Your Mark (Trevor Ritchie). Power Play faded to third.
"He is a very quick horse and has a lot of ability," said Takter following the win. "He is a big horse and he is a ways from being fully developed. He is a like a 14, 15-year-old that is six-foot and hasn't grown into his body yet. He is a fantastic horse. We liked him early and he just keeps getting better and better."
Takter says his colt was able to settle on a helmet, but as they turned for home he was ready to win.
"In the last turn he was so full of trot I was a little worried because he was a little more anxious than I wanted him to be at that spot," he said. "When I tipped him out, he actually ripped the bridle off me in the stretch. I had plenty of horse left."
The son of Donato Hanover-Inspired Society has three wins, one second and one third-place finish in seven lifetime starts and boasts $281,689 in career earnings. The colt's biggest victory was the $400,000 Peter Haughton Memorial on August 6 at The Meadowlands.
Weingartner, a $170,000 yearling at the 2010 Harrisburg, is owned by Toronto's John Fielding, Louie Camara of Puslinch, Ont., Brixton Medical Ab of Sweden and Christina Takter of New Jersey.
The bay paid $7.80 to win as the second choice.
Team Takter doubled up in the second $103,670 Champlain division with Guccio finding the winner's circle for the first time in 1:55.4.
With Takter in the sulky, Guccio's stablemate Nothing But Class cut the first quarter in :28. Into the backstretch, driver Marcus Johansson took Guccio to the lead, but before he could clear, Prestidigitator (Sylvian Filion) moved wide to take command, clocking the half in :58.1, then hitting the three-quarter pole in 1:27.3.
As the freshmen turned for home, Guccio converted from the pocket to score the victory by one and three-quarter lengths over Prestidigitator with favourite Mr Ridgetaker (Trevor Ritchie) rounding out the triactor.
"He raced great," said Johansson following the victory. "I knew he was a good horse, he is just immature and he proved to me he was as good as I thought he was."
Johansson says the colt's best quality is his attitude, but only when he behaves.
"When he doesn't behave his attitude works against him," he said. "The days where he does behave, I can't fault him on anything. It was a great day, he felt like he could have gone on for another lap."
In five outings, the son of Yankee Glide-Southern Senorita has one win and one second-place finish on his record. The maiden-breaking score lifts the colt's career earnings to $57,085.
The bay, a $50,000 yearling purchase at the Lexington Select sale, is also owned by Christina Takter and John and Jim Fielding.
Guccio paid $8.90 to win as the third choice.
Money On My Mind delivered as the 1-2 favourite in the final $101,671 division for trainer Julie Miller.
Norway Hanover (Chris Christoforou) hit the quarter pole in :28.3, but a parked out Midfield Magic (Mike Saftic) was forced to make a bid for the lead.
As Midfield Magic cleared to the front, Andy Miller tipped out Money On My Mind from fourth and took command before the midway point in :58, then cut the three-quarters in 1:27.3.
The pair opened up an 11 and a quarter length lead to stop the teletimer in 1:56.3. No Less Than Magic (Scott Zeron) finished second and Strike The Cheque (Ross Battin) was third.
"He felt really good when I moved him and then he was just kind of on his own from there," said Andy Miller following the win. "He loves his job. He's got a couple little things where if he gets spooked or something he might take off, but he is getting better all the time about it."
The son of Cantab Hall-Repititions has three wins, two seconds and one third-place finish in six lifetime outings. The two-year-old gelding, a $62,000 yearling purchase at the Harrisburg sale, now boasts $137,567 in career earnings for Black Horse Racing of New Jersey.
The bay paid $3 to win.
For results from Friday's harness racing card, click on the following link: Friday Results - Mohawk Racetrack.
(WEG)