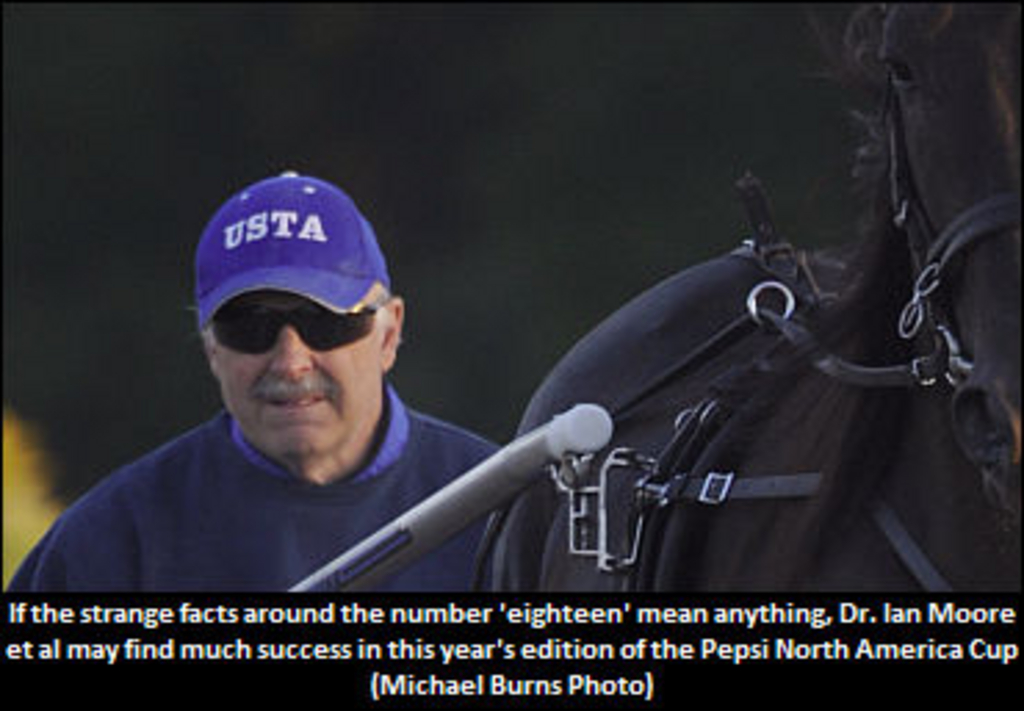 In the second of Saturday's three eliminations for the Pepsi North America Cup at Mohawk Racetrack, the Dr. Ian Moore-trained colt Eighteen will start from Post 5 with driver Paul MacDonell
. Moore owns the horse with hockey Hall of Famer Serge Savard and the R G McGroup. The same group was behind 2008 Little Brown Jug winner Shadow Play.
Eighteen was winless from nine starts last season at two, but he appears to be on an upswing this year, with two wins and a second from five starts. When asked if his colt was on the way up, Moore laughed and said, "Hope so."
"He was a big-bodied colt and he was still a nice two-year-old; nice enough to go in (1:) 52, (1:) 53 and most all his last quarters were 27 (seconds) and a bit.
"He grew into his body this winter and developed into a nice colt and is getting better every time he races. I still don't think we've quite found the right equipment for him. He was on the last turn (in last week's Somebeachsomewhere Stakes, where he finished fourth in 1:50.2) and he threw in a couple steps and lost a couple lengths, lost momentum.
Somebeachsomewhere Stakes - Roll With Joe - 1:49.3
"That's sort of been the pattern with him, even as a two-year-old. I tighten up the hopples one week and he's good the next week and you begin the week after and so on and so on. First win he had, first start, he got a little rough in the stretch, too. So I took up the hopples and he was OK.
"So I don't know; it seems to sometimes be around shoeing time and sometimes not. I did find that one of his hopples was a half inch longer than the other. I don't know how that happened. I'm going to try a couple new pieces of equipment on him Saturday. He's always carried his head to the left, but not really on one line (which might suggest he is trying to get away from something on his right). He's always turned his head to the left ever since I've had him and I've had a line pole on him all along.
"He just touched one ankle, the right-front ankle, just a little bit on Saturday when he got rocky. Prior to it, he never touched anywhere or wore a boot. I'll try a headpole on him and see if that makes any difference."
Moore says the colt has a great outlook on racing.
"He's got a great attitude," he said. "The thing about him, he can leave real good, he's right on the gate, no problem. In the stretch, in that quarter, he's not tired. He's used to training a mile and a half all the time."
The colt's name is derived from co-owner Savard's number from when he was a member of the multiple Stanley Cup winning Montreal Canadiens, and another related angle.
"Also, the day we won the Jug with Shadow Play, he (Savard) came up to me and said, 'You know we couldn't lose, Doc. It's the 18th of September, the 18th race and that was my number when I played hockey -- 18. I thought that would be a good name for a horse, so that's why we named him that."
Oh, by the way, the North America Cup elimination race will be Eighteen's eighteenth career start (counting qualifiers) and the $1.5 million North America Cup final is June 18.
The fields for the three elims are listed below.
Elim No. 1 (Race 3)
PP - Horse - Listed Driver
1 - Mach Of Ballykeel - Sylvain Filion
2 - Rock To Glory - David Miller
3 - Big Jim - Phil Hudon
4 - Powerful Mist - Tim Tetrick
5 - Bestofbest Hanover - Jack Moiseyev
6 - Rockabillie - Sylvain Filion
7 - Custard The Dragon - Montrell Teague
Elim No. 2 (Race 4)
PP - Horse - Listed Driver
1 - Feel Like A Fool - Brian Sears
2 - Betterthancheddar - Brett Miller
3 - Up The Credit - Jody Jamieson
4 - Grams Legacy - Brian Sears
5 - Eighteen - Paul MacDonell
6 - Lookinforadventure - Brett Miller
7 - Townslight Hanover - Scott Zeron
8 - Shadyshark Hanover - Tim Tetrick
Elim No. 3 (Race 6)
PP - Horse - Listed Driver
1 - Mystician - Jody Jamieson
2 - Roll With Joe - Randy Waples
3 - Keystone Velocity - Jody Jamieson
4 - Western Alumni - Randy Waples
5 - Dutch Richman - Tim Tetrick
6 - Wink N Atcha - Brian Sears
7 - Big Bad John - Brett Miller
8 - Foreclosure N - Sylvain Filion
---
This story courtesy of Harness Racing Communications, a division of the U.S. Trotting Association. For more information, visit ustrotting.com.