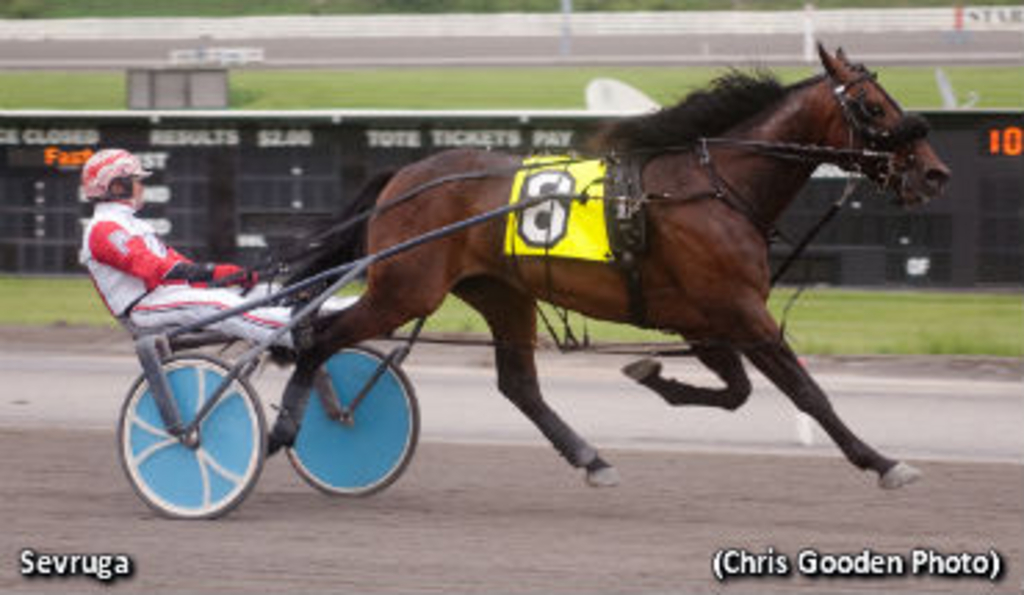 Sevruga, who was named for a type of caviar, showed that he may indeed be an exquisite delicacy Monday at The Meadows when he blew away a division of an $80,000 Pennsylvania Stallion Series event
, scoring by 17-1/4 lengths in a stake-record clocking of 1:55.1.
The stake for three-year-old colt and gelding trotters was contested over four divisions, with High Pan Tolerance, S J Better Days and Walltocousins also capturing $20,000 splits.
Tyler Raymer, who trains Sevruga and owns with Jim Meittinis, said the duo privately acquired the SJs Caviar-Stunning Lindsey gelding several months ago and wanted to give him a name that reflected his pedigree.
"We named him Sevruga because it's the finest caviar at an inexpensive price," Raymer said. "I thought it sort of fit because we didn't give a lot for him. We'll leave the price secret."
Although Monday's stake was only the third start of Sevruga's career, Dave Palone confidently pulled the pocket with him down the backside and guided him to his lopsided victory. Somedancer Hanover and Otto finished second and third, respectively. The time knocked 2-2/5 seconds off the stake record established last year by Southwind Nitro.
Raymer said Sevruga probably has earned his shot at the bigger purses of upcoming PA Sires Stakes.
"He has the physical attributes but didn't have the mind," Raymer said. "He got more of a mind when we gelded him. Did I think he would go 1:55.1 right now to break his maiden? Not really."
High Pan Tolerance saved ground for much of the mile but found room wide in the stretch to prevail for Aaron Merriman in a career-best 1:57.3. He was 1-1/2 lengths better than Cadence Hall. Picasso Spur finished third.
"He was running in too bad for me to be first over," Merriman said. "If I'd been out with him for two turns, I think it would have been a little tough on him. He had plenty of trot, and when he straightened out in the stretch, he did the rest on his own. A little patience paid off this time."
Ray Schnittker trains High Pan Tolerance, a homebred son of Cantab Hall-No Pan No Gain who pushed his career bankroll over $100,000, for Peter Pan Stables.
S J Better Days used a strong, uncovered bid en route to his victory for Brian Zendt in 1:58.2. Bloomington was a closing second, a neck back, with early leader Super Blaze third.
"We always thought he was a nice three-year-old, but he won't trot quite perfectly," Zendt said. "He showed today he has plenty of trot, but I almost lost him halfway through the stretch when he was on top. He ran sideways and started hopping. He should be good for the stallion series and the fairs all year."
Boots Dunn conditions S J Better Days, an SJs Caviar-Chaka Khan gelding, for Dunn Stable.
In the $22,500 Winners Over $10,000 Life/Preferred Pace, Here We Go Again triumphed for the eighth time in 13 seasonal starts, deploying an impressive first-over move to fashion a sharp victory by a neck in a lifetime-fastest 1:50.3. A game Object Of Art finished second for the sixth time in his last seven starts while Hennessy Hanover was third. Palone drove for trainer Ron Burke and Here We Go Again Stable.
Merriman and Eric Ledford each piloted three winners on the 16-race card. Tuesday's program features a $207,909 PA Sires Stake for sophomore colt and gelding trotters that marks the seasonal debut of Pastor Stephen, last year's divisional champion.
(The Meadows)