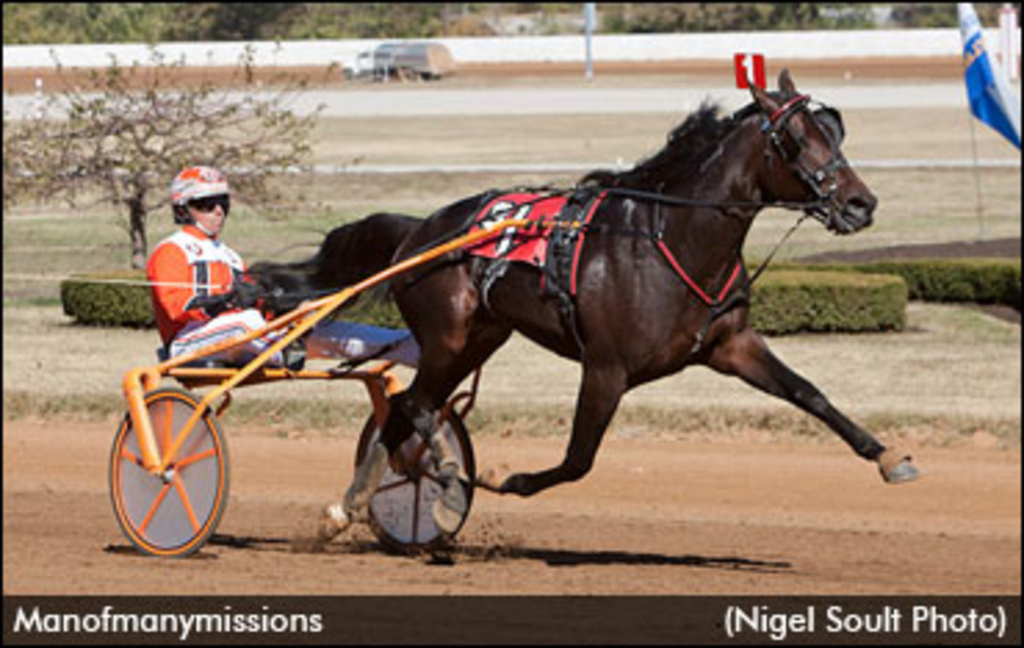 The lightly-raced and lightning-quick Manofmanymissions may have lost last year's divisional honours by one vote in the United States, but he's predicted to be the fastest sophomore trotter
this year in the USTA's Experimental Speed Ratings.
Manofmanymissions, a son of Yankee Glide-Armbro Vanquish trained by Erv Miller and driven by brother Andy, stashed away $432,900 in 2010. Since then the talented trotter added new owners - including Kentuckiana Racing Stable, Ken Jackson, Jack Hood and Jerry Silva - who join Mystical Marker Farms LLC and M Biasuzzi Stable Inc. on the papers. The $215,000 yearling purchase made just six starts but scored four wins including a thrilling 1:53.2 world record performance in the 2010 Breeders Crown at Mohegan Sun Pocono.
"He's got a ton of go and never quits. He doesn't know where the end of the mile is," said Andy Miller after Manofmanymissions' record-shattering performance that bettered the previous mark by eight lengths - one and three-fifths seconds. "He was pretty comfortable today. He coasted around there."
Stan Bergstein has assigned a speed rating of 1:51 for Manofmanymissions, with O'Brien Award winner Blue Porsche right behind him in second at 1:51.1. The only filly to break the top ten was Crys Dream, divisional champion both north and south of the border. Her speed rating is 1:52.3.
The top ten trotters are listed below.
Horse - 2010 Record - 2011 Speed Rating
1. Manofmanymissions - 1:53.2f - 1:51
2. Blue Porsche - 1:54.1s - 1:51.1
3. Chapter Seven - 1:55f - 1:51.2
4. Pastor Stephen - 1:56s - 1:51.3
5. Dejarmbro - 1:55f - 1:51.4
6. Neal - 1:54.4 - 1:52
7. Live Jazz - 1:56.4h - 1:52.1
8. Leader Of The Gang - 1:55.2s - 1:52.2
9. Crys Dream (f) - 1:54.3s - 1:52.3
10. Luckycharm Hanover - 1:55.3 - 1:52.4