Western Fair's Greg Blanchard has accepted an invitation to join the broadcast team behind Saturday night's Breeders Crown at Pocono Downs
.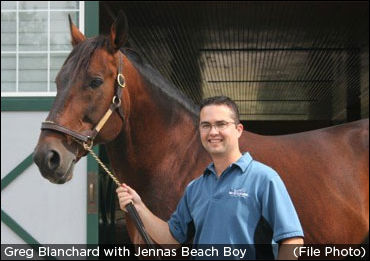 Blanchard, who began his new duties at Western Fair Raceway as announcer and assistant raceway manager two weeks ago, will be responsible for post-race interviews and commentary from the winner's circle when the 12 Breeders Crown championship races are presented in a live two-hour show in full HD on MavTV in the United States.
Two-time Emmy Award winner Bruce Casella of ESPN will produce the show, which will be co-hosted by Lou Tilley and Steve Ross. Heather Moffett and Jennifer Sherlock will also be providing interviews with the connections of the Crown starters throughout the program. The broadcast will focus on four of the Breeders Crown races.
"It's definitely an honour to be asked to help with the coverage. I remember watching the Breeders Crown as a youngster on ESPN and it certainly is our industry's biggest one-night showcase. I'm also thankful to the folks here at Western Fair for allowing me to take part considering we've got our opening weekend coming up soon," said Blanchard.
Blanchard is no stranger to handling live interviews on big race nights, having been an integral part of the Woodbine Entertainment Group's broadcast team for 10 years.
A promo of the event may be viewed by clicking here.
(Western Fair)