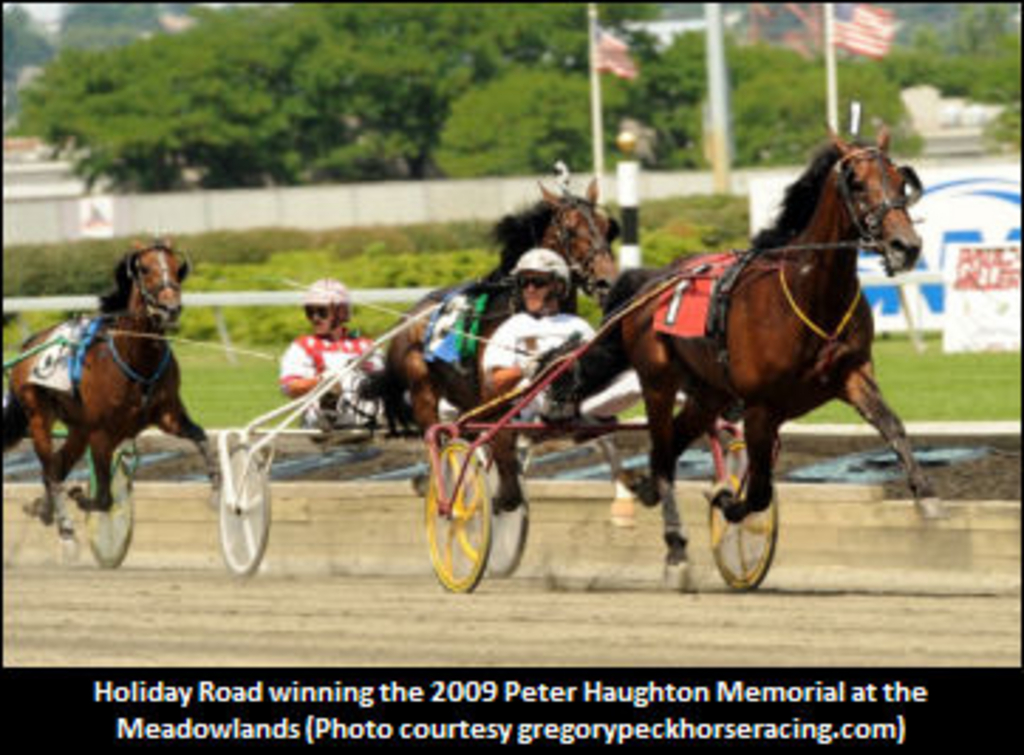 Gearing up for Mohawk Racetrack's September 11 eliminations for the rich Canadian Trotting Classic, trainer Greg Peck had his high-profile Yankee Glide colt Holiday Road prepping over the Campbellville oval this morning
during the nine-race qualifying session.
In rein to Paul MacDonell in Race 1, the career winner of five of 10 races and over $426,000 in purses left from Post 4 and was first at every call.
The 2009 Peter Haughton Memorial winner cut the fractions in :29.1, :59.3 and 1:28.3, and trotted home in :28.4. He posted a four and a quarter-length victory in 1:57.1.
"He was very good (today)," Peck said during a post-race interview with the Woodbine Entertainment Group. "I only got to train him once since the Hambletonian because he popped a splint Hambletonian day. He picked a bad day to do it, that's for sure."
Peck also said, "He's a great big strong horse with a great shoulder and a has a high wither and that's where a horse gets a lot of its power and that's what he has going for him."
Peck also noted during the interview that Holiday Road was not kept eligible to the Simcoe Stakes on September 4.
The back end of the qualifying session featured five dashes (Races 5 through 9) for two-year-olds.
Race 5 saw the Anette Lorentzon-trained and Peter Wallinder-driven Ken Warkentin colt Calipari post a six and three-quarter-length victory in 2:00.2.
The sixth dash of the morning was the scene of a half-length win in 1:59.2 by SJs Caviar filly Raising Rhonda, who was driven by Steve Condren for trainer John Kopas.
Life Sign filly Imagine Semalu captured Race 7 by more than 10 lengths in 1:56 for driver Paul MacDonell and conditioner Pierre Touchette.
The familiar pair of driver Mark MacDonald and trainer Casie Coleman clicked in Race 8 with the Mach Three colt My Man Charley, who paced to a two and a quarter-length win in 1:56.2.
The final session dash went to the Bjorn Noren-trained and Paul MacDonell-driven Angus Hall colt Attorney Hanover, who won by one length in 2:00.
To view the charted results from the qualifying session, click here.
(With quotes from WEG)